The Lamington is an Australian classic cake treat consisting of a basic vanilla sponge cake smothered in a rich chocolate ganache and rolled in sweet coconut.
The Classic Australian Lamington
Lamingtons are a beloved confection found in every bakery in Australia. They consist of a fluffy vanilla sponge cake coated in rich chocolate. This ganache is the perfect canvas for snowy flakes of sweet coconut while adding a more exotic flavour to the confection. Bite into the pillowy soft sponge cake and let the coconut flakes fall where they may.
January 26 is Australia Day and it's also a great day for baking Aussie treats such as the Lamington and Melting Moments. Some of our favourite memories are the times we spent in the land down under, demolishing Aussies meat pies and chicko rolls from the shops by beach.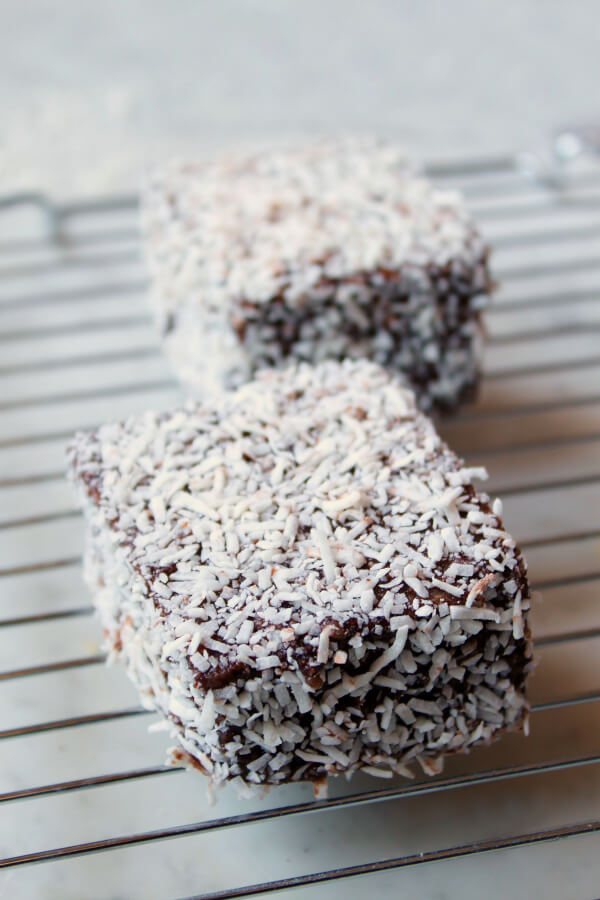 Australia Day
The day is celebrated by getting together for one of two quintessential Aussie past times; either a picnic or a barbeque. A day on the river banks or beach, followed by 'crackers' (or fireworks) as darkness sets in. I'm not talking about tossing a couple of snags (sausages) or prawns on the barbie, or even fancy sangas (sandwiches). Australians bring out all sorts of lamb bits, seafood, salads and sweet treats. They make quiches and puddings and tarts. They know how to celebrate their national day for sure.
Who Invented the Lamington?
The Lamington is named after Lord Lamington, Governor of Queensland from 1896-1901. However, the inventor of such a delectable dessert is up for debate. The most popular story is that Lord Lamington's chef, the French-born Armand Galland, dipped leftover sponge cake in melted chocolate to serve at short notice. Since coconut was a rare ingredient in Australia at the time, the new invention created quite a stir among the guests.
History of the Lamington
The first documented mention of Lamington Cake was in 1896 at an event held in honour of Lord Lamington while the first published recipe appeared in 1901 in the Queensland Country Life newpaper. Today, this Aussie icon is found in many bakeries, shops, and is a popular item for school and charity fundraisers. We attended more than a few of these 'Lammo Drives' during our time in Australia.
How to Make a Great Lamington
No worries, it's not at all complicated. Making the vanilla sponge cake and cutting it into equal pieces are probably the most difficult tasks. Once the sponge cake has dried for a 6-8 hours, they are ready to be smothered in chocolate ganache and rolled in coconut flakes. Some lamingtons have a middle jam or cream layer, multiple layers of chocolate, or are coated in white or pink chocolate. These are fun ways to dress up this Aussie classic.
Tips For Making Great Lamingtons
Sift all ingredients to ensure an even cake crumb and smooth ganache.
Line the bottom of the cake pan with parchment paper to ensure the cake comes out cleanly.
Cut the sponge cake and allow it to dry for 6-8 hours.
Try to work quickly so the coconut will stick to the chocolate.
If you run out of coconut during the 'lamination' process (haha), do not continue covering the cake pieces in chocolate.
How to Make Lamington Chocolate Sauce
The chocolate sauce that is best for Lamingtons is a very thin ganache which requires simple pantry ingredients. Made of only cocoa powder, icing sugar (powedered sugar), butter, and milk it's an easy way to get loads of chocolate flavouring onto each side of the cake. The thin consistency is important because it allows the chocolate to soak into the sponge cake. Who doesn't like a cake entirely covered in chocolate?
How to Store Lamingtons
Store the Lamingtons in an air tight container and consume within 7 days. Additionally, they freeze incredibly well and will keep in an air tight container in the freezer for up to 3 months.
Pin This Awesome Lamington Recipe HERE.