This Cabbage Roll recipe features rice and beef filled cabbage leaves covered in a dill-icious tomato sauce and baked to perfection. Make your own cabbage rolls like a Baba.
Ukraninan Food Fascination
I didn't grow up with a Baba to teach me how to make cabbage rolls, but I did grow up eating them. I think local Babas (Ukrainian grandmothers) took pity on us, because once in a while a tray full of home made, hand rolled goodness showed up on our counter. To a hungry cabbage-roll-loving kid, those food gifts were like gifts from God.
My own Grandmas were of French, German and Hungarian backgrounds, so their cooking came with it's own special perks, like home made tourtière, sauerkraut and poppy seed roll. My Hungarian Grandma did make a cabbage and beef mince casserole she called 'lazy cabbage rolls'. Being Hungarian, her seasoning of choice was a liberal amount of paprika! I suspect that my own mom had 'no time' for such time consuming dishes, though she would spend all day making a batch of her fabulous home baked bread and sewing.
Learning How to Make Cabbage Rolls
When I was finally ready to begin rolling my own cabbage rolls, I asked for instructions from some Ukrainian relatives and friends but I never really found a recipe that contained the flavours that I liked. Since many of them suggested using canned tomato soup as a sauce base (and I am morally opposed to cooking with a can of soup), I knew that it was up to me to experiment on my own. One bit of advice that found very helpful was to boil the whole cabbage (core removed) in a large, salted stockpot of water. The cabbage leaves separate and soften, making it much easier to roll them over the filling and ensures that they are soft and tender in the final dish.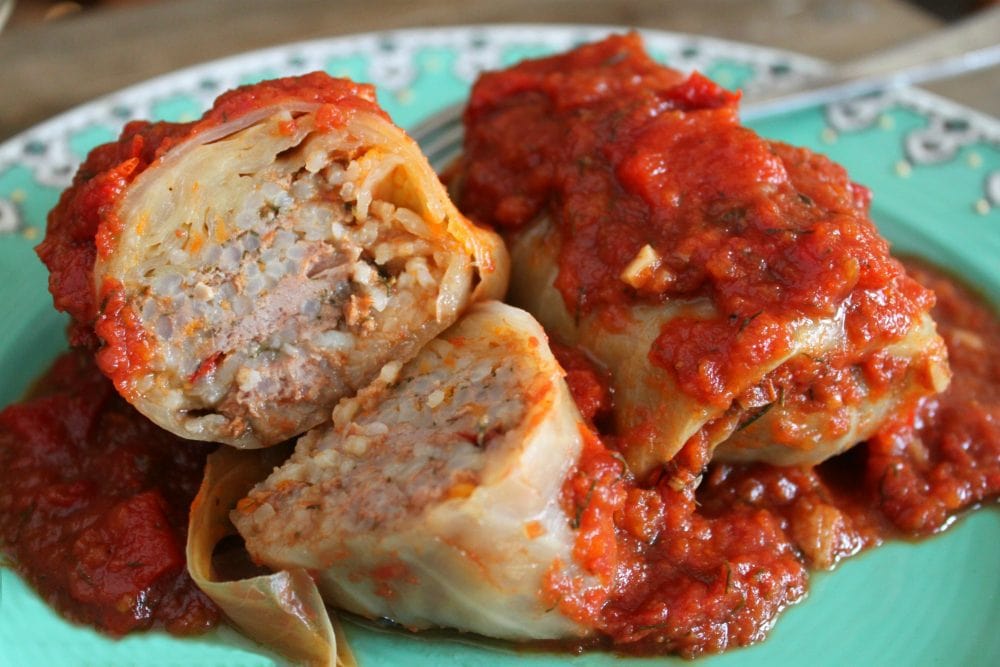 Inspired Cabbage Rolls
These cabbage rolls feature a good amount of dill, an herb which grows abundantly in my mother's garden. There's plenty of dill in the filling and in the tomato sauce not only because it tastes great, but because my mom is always drying and giving me jars of her dill. I'm expecting another jar of it to show up in my Christmas stocking again this year…
There's really no need to include the roasted red peppers, I just added them because I had some in the fridge that I needed to use up. You can omit them from the sauce, if you wish. What really makes a difference in taste though, is using a high quality tomato sauce or passata (not tomato soup!). I make my passata every fall, it's one of my least favourite but most rewarding three days of preserving because enables us to enjoy the taste of summer tomatoes all winter long.
Rollin' with Dish 'n' the Kitchen
Pesto Provolone and Bresaola Stromboli
Yield: 1-9 x 13 pan approx. 6 servings
Cabbage Rolls with Dill and Roasted Red Pepper
This Cabbage Roll recipe features rice and beef filled cabbage leaves covered in a dill-icious tomato sauce and baked to perfection. Make your own cabbage rolls like a Baba.
Total Time
1 hour
45 minutes
Ingredients
1 head of cabbage; cored
1 750 ml jar passata (tomato sauce)
4 garlic cloves; minced
1 cup white rice (I used basmati because that's what I had. You can use long grain too)
1/2 cup dried dill
3 roasted red peppers; peeled and diced (optional)
500 g lean ground beef
salt and pepper
Instructions
Immerse the whole cabbage in a pot of boiling salted water. Remove each leaf once it starts separating from the cabbage and drain.
In a bowl, combine 1/4 cup passata, 2 garlic cloves, salt, pepper, rice and 1/4 cup dill into the hamburger and mix well
Add garlic, 1/4 cup dill, diced peppers to the bottle of passata, cover and give a good shake.
Pour a small layer of passata into the bottom of a 13 x 9 pyrex baking dish.
If there is still a thick vein at the base of the cabbage leaves, snip it out with a pair of kitchen shears.
Take a large handful of the ground beef mixture and compress into an oblong meatball shape.
Place the oblong meatball just above where you snipped out the thick vein, fold the sides over and begin to roll upward.
Place in baking dish seam side down. Repeat for each roll, leaving a small bit of space in between each in the baking dish.
Pour the rest of the passata over top of the rolls, filling the dish until just the tops of the rolls are out of the passata. You can add a bit of water if you don't thing it will be enough.
Cover with foil and bake for an hour at 350 F.
Nutrition Information:
Yield:
6
Serving Size:
1
Amount Per Serving:
Calories:

319
Total Fat:

12g
Saturated Fat:

4g
Trans Fat:

0g
Unsaturated Fat:

6g
Cholesterol:

74mg
Sodium:

149mg
Carbohydrates:

26g
Fiber:

5g
Sugar:

8g
Protein:

29g
Nutritional calculation was provided by Nutritionix and is an estimation only. For special diets or medical issues please use your preferred calculator.