Make your own favourite Bengali street food with leftover Tandoori Chicken, cucumber raita, and mango chutney in this mouthwatering Chicken Wrap Recipe.
It All Begins with Tandoori Chicken
So many great recipes feature grilled Tandoori Chicken, including the most famous of all: Butter Chicken. When you have leftover Tandoori Chicken, the sky is the limit! Use it for a quick lunch on a fresh salad, scatter it on your favourite pizza, use in a casserole or bake it into a pasta dish. Today, I'm sharing with you my favourite use of leftover Tandoori Chicken. This is a simple chicken wrap recipe for delicious Kati Rolls.
What is a Kathi Roll?
Kathi Rolls are a delicious quick snack from the streets of West Bengali. There, vendors fill the streets with the tantalizing aromas of all sorts of grilled kebabs and hungry customers line up thoughout the day. Like many street foods, there are a few stories behind the creation of Kathi Rolls. The most likely is that the vendors needed a way to give the hot grilled kebabs to hurried customers on their way to work. They wrapped them in a warm paratha and Kathi Rolls were created!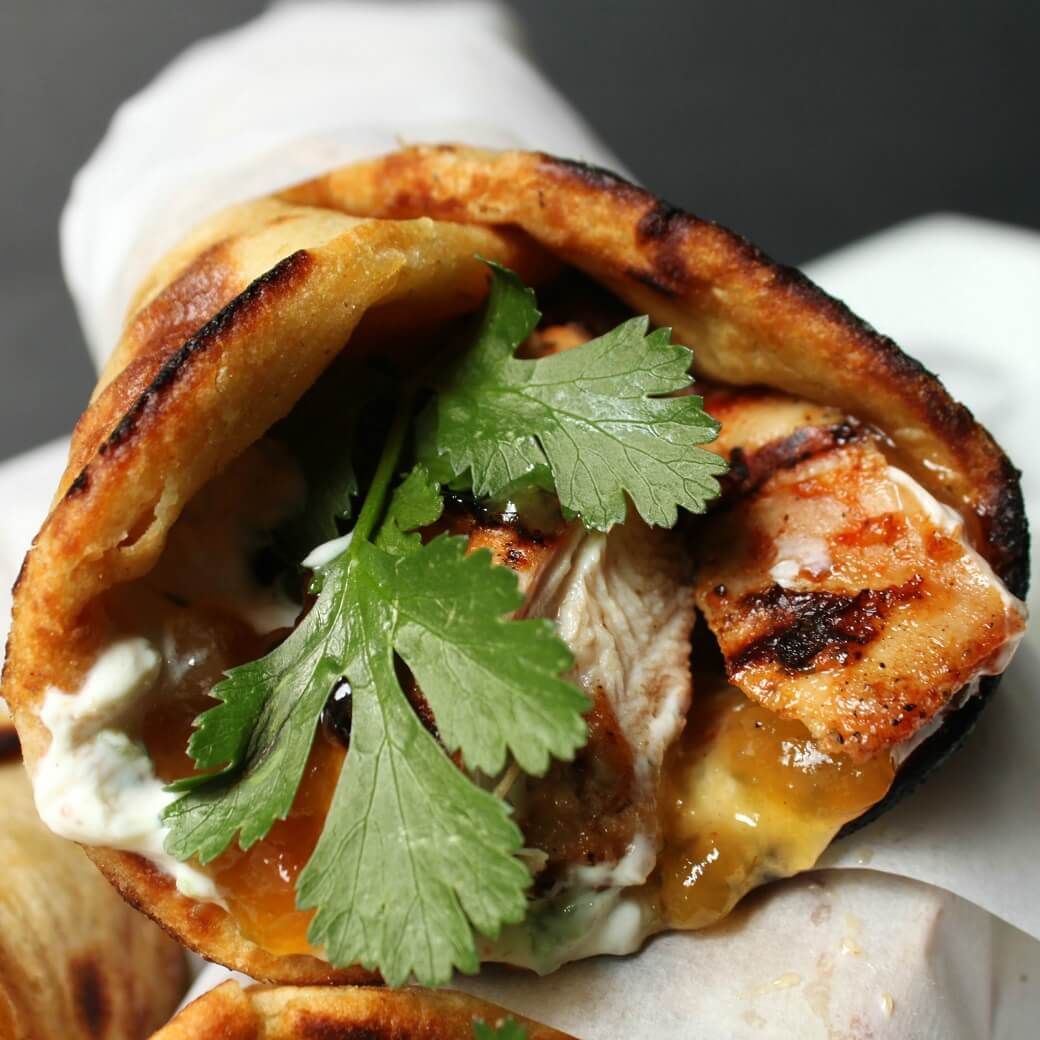 What is in a Kathi Roll?
Kati Rolls are unlike any plain old chicken wrap. Originally, they consisted of a grilled beef kebab surrounded by delicious paratha bread. Now, there are many variations on the original but the one constant that remains is the use of paratha. A Paratha is a shallow fried unleavened bread made by repeatedly folding the dough layers together with oil or ghee. Sometimes these layered flat breads are stuffed with potatoes, paneer, onions, or peppers. Once the kebab has been grilled, it is taken off the skewers and tossed with onions, chillies and sauces. Then, it goes on the reheated paratha (often topped with egg) and finished with more sauces, vinegar, julienned carrots, or some chaat masala.
Kathi Roll Variations
These days there are many variations on the original Kathi Roll, both in the filling and the wrap itself. Egg, potato, paneer, mixed vegetables and curried chicken or mutton make great Kathi Roll fillings. The humble Kathi Roll has crossed culinary boundaries as Thai or Szechuan curry rolls and as the 'Kathitto' a Mexican-inspired burrito.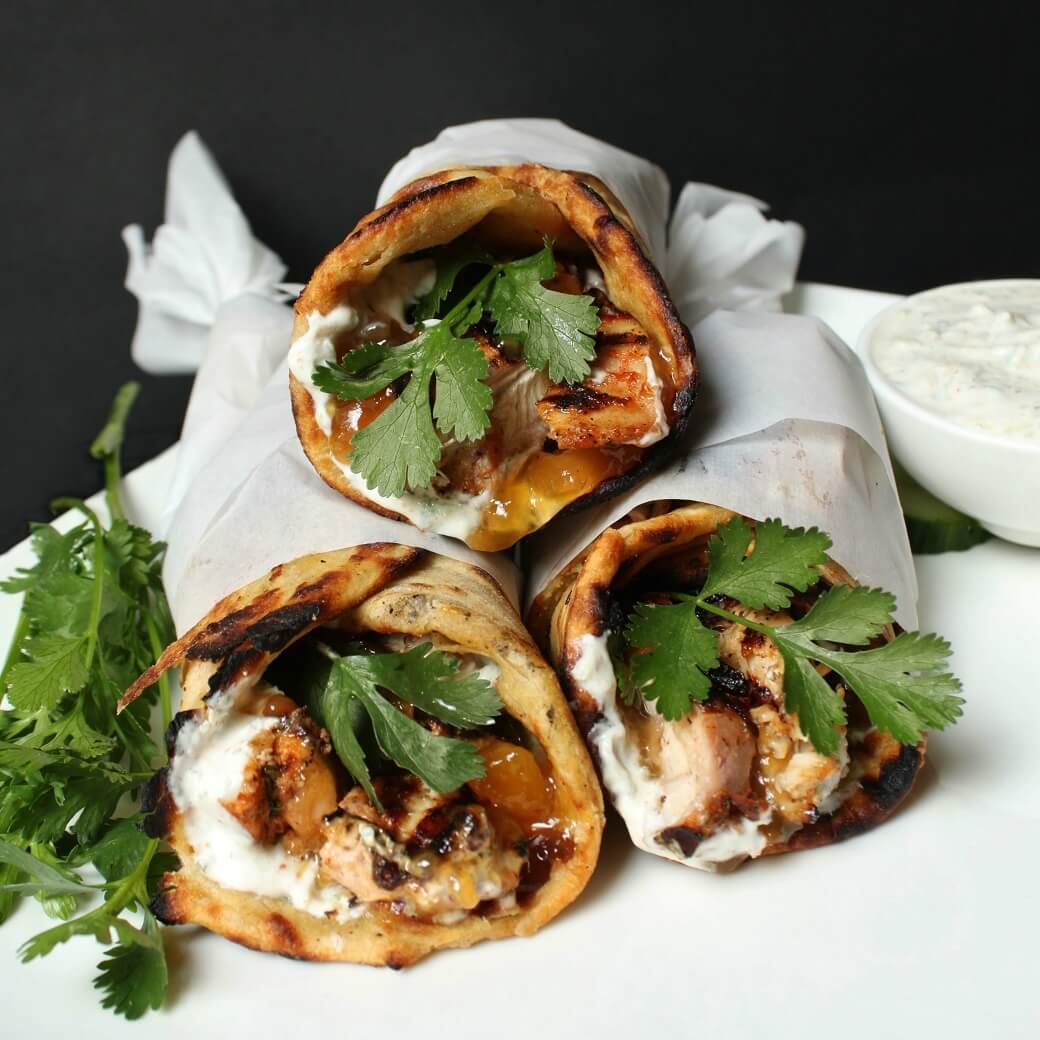 Yield: 4 Kathi Rolls
Easy Grilled Tandoori Chicken Wrap Recipe
Make your own favourite Bengali street food with leftover Tandoori Chicken, cucumber raita, and mango chutney in this mouthwatering Chicken Wrap Recipe.
Additional Time
5 minutes
Ingredients
4 cups reheated leftover strips of Tandoori Chicken
4 Paratha; reheated in a pan
fresh cilantro
1/2 cup mango chutney (use as desired)
1/2 cup cucumber raita (use as desired)
FOR THE SIMPLE CUCUMBER RAITA
1/2 cup plain yogurt
1/4 cup grated cucumber
Pinch of cumin
Salt to season
Instructions
FOR THE RAITA
Combine yogurt, cucumber, and seasonings in a small bowl. If you are using right away no need to dry the cucumber but if you are making this ahead of time, grate 1/2 cup cucumber and let it sit in a bit of salt for an hour. Place it in a paper towel then squeeze out the excess moisture.
FOR THE KATHI ROLLS
1. Place the warmed chicken on top of the paratha.
2. Add mango chutney, raita, and cilantro.
3. Roll up the ingredients in the paratha and wrap in a square of parchment paper.
Nutrition Information:
Yield:
4
Serving Size:
1
Amount Per Serving:
Calories:

656
Total Fat:

26g
Saturated Fat:

10g
Trans Fat:

0g
Unsaturated Fat:

13g
Cholesterol:

157mg
Sodium:

697mg
Carbohydrates:

63g
Fiber:

9g
Sugar:

27g
Protein:

43g
Nutritional calculation was provided by Nutritionix and is an estimation only. For special diets or medical issues please use your preferred calculator.