Honey Teriyaki Sauce has the perfect balance of sweet & savoury with a slight bite of ginger and sake. This versatile sauce is great in a range of dishes and takes only minutes to make.
Here at Dish 'n' the Kitchen, I love sharing easy recipes for spice mixes, such as this Quick Homemade Taco Seasoning, and delicious barbecue sauces (Rhubarb Barbecue Sauce) made from scratch. You're going to love this new sauce recipe!
Honey Teriyaki Sauce
Making your own Honey Teriyaki Sauce from scratch is easier than you think and once you do, you'll never go back to store bought sauce. It's such a wonderful balance of flavours, you'll want to brush it onto everything!
This Honey Teriyaki Sauce is going to become your 'go to' Teriyaki Sauce from now on, I promise. Whip this baby up using simple, pantry staples in about ten minutes flat.
That's about the same amount of time for your husband to cut an onion for the stir fry….
What is Teriyaki Sauce?
Though most people think of Teriyaki as a sauce, in Japan it's more about the style in which the food is cooked. 'Teri' or tare means 'luster' or 'glaze' referring to the sheen of the sauce once it has been cooked onto a protein. 'Yaki' refers to direct cooking methods such as grilling, broiling, or pan-frying.
Traditional Japanese Teriyaki contains soy sauce, mirin, sake, and sugar while Western versions may or may not contain either mirin or sake (or both), garlic, ginger, sesame oil, and additional sugar or honey.
Japanese Teriyaki will never contain cornstarch, while Western Teriyaki Sauces include it as a thickener.
Simple Ingredients
Why honey? Because it's natural…and delicious! Many recipes call for a combination of brown sugar and honey while some use only brown sugar. I've used only honey in this Teriyaki Sauce which gives it a slightly lighter hue than if I had used brown sugar.
Garlic and Fresh Ginger are pretty straightforward. Find them whole from the grocery store and chop them up or buy the minced garlic and ginger. No judgement here, as long as your happy with the flavour I am too.
Pineapple Juice is not a traditional Japanese ingredient in Teriyaki Sauce, however it is a common ingredient in Hawaiian style Teriyaki. I love the gentle kick of acidity and sweetness it brings to the sauce.
Additionally, if you are planning to use this Honey Teriyaki Sauce as a marinade, pineapple juice contains bromelain enzymes which soften meat by dividing proteins like collagen.
Sesame Oil is fairly easy to find in any well stocked grocery store. Buy the dark toasted kind, not the light non toasted oil. Though it has a high smoke point and can be used for sauteing, it is mostly used as a flavour accent nearer the end of cooking.
Sake is an ingredient that you may not always have on hand. In a pinch, you can use mirin, Chinese cooking wine (Shiaoxing), or even dry sherry. Or, use both mirin and sake, as in traditional Teriyaki.
There is a water component to the sauce. If you aren't using pineapple juice you can easily substitute 3/4 cup water for both water and pineapple juice portions. To add acidity in this case add 1-2 tbsp Chinese black sweet vinegar or a touch of balsamic.
Sesame seeds area great way to finish this sauce and any dish using Honey Teriyaki Sauce but if you don't have them, they aren't necessary.
So Easy to Make!
As I mentioned, this is one easy sauce that takes mere minutes to make. Just place all the ingredients (minus 3 tbsp pineapple juice) in a small saucepan and set to simmer.
Mix the cornstarch into the pineapple juice and then whisk the mixture into the simmering sauce. Stir and allow to thicken, then remove from the heat.
How to Use This Sauce
There are so many ways to use this Teriyaki Sauce. It's perfect on many proteins, including pork, chicken, fish, and tofu.
Yakitori or Kushiyaki – Use it as a marinade or brush onto grilled skewered meats.
Brush on sushi or cooked eel.
As a sauce for rice bowls, noodles, and grilled vegetables.
It is a great stir fry sauce (add the sauce to the wok after everything has finished cooking to prevent burning).
Add it to meatballs and use as an appetizer.
As a dip for dumplings, chicken croquettes, fingers, or nuggets.
Teriyaki Chicken Wings or Crispy Air Fryer Teriyaki Chicken Legs
Mix it into ground beef or pork for burgers.
How to Store Honey Teriyaki Sauce
This sauce will last a long time (up to a month) when stored in a jar in the fridge.

Yield: 1 cup - 250 ml
Simple Honey Teriyaki Sauce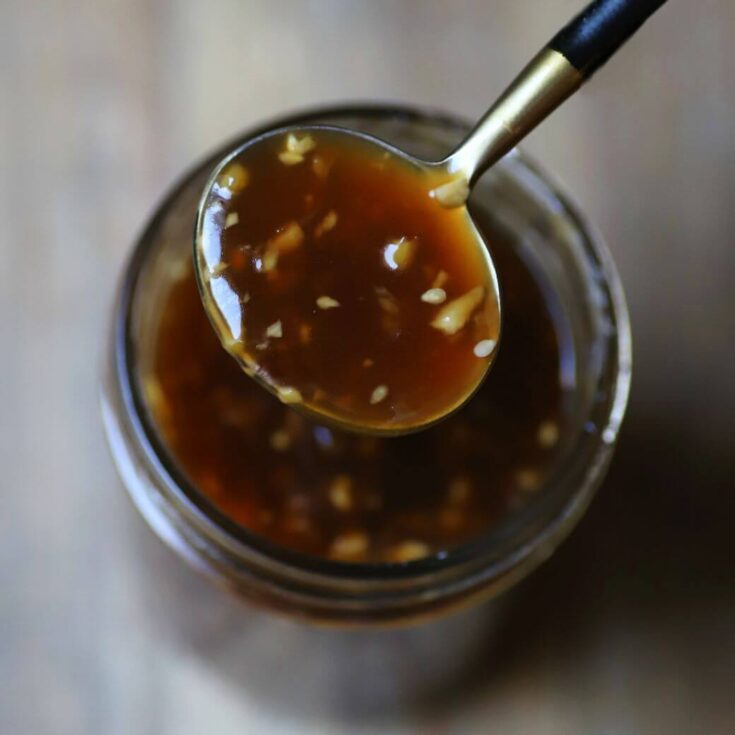 Honey Teriyaki Sauce has the perfect balance of sweet & savoury with a slight bite of ginger and sake. This versatile sauce is great in a range of dishes and takes only minutes to make.
Ingredients
1/2 cup water
1/3 cup pineapple juice (+ 3 tbsp)
1 teaspoon sesame oil
1/4 cup soy sauce
1 tbsp sake
1 tbsp garlic; minced
1 tbsp ginger; minced
4 tbsp honey
1 tbsp cornstarch; reserved
Instructions
Place all ingredients (except 3 tbsp pineapple juice and cornstarch) in a saucepan.
Allow the contents to come to a boil over medium heat. Meanwhile, mix 3 tbsp pineapple juice and cornstarch in a cup.
Pour pineapple juice cornstarch slurry into the boiling mixture and stir.
Allow to thicken, then remove from heat.
Notes
This teriyaki sauce also makes a wonderful marinade. To use as a marinade simply omit the cornstarch and allow the sauce to cool to room temperature before use.
Nutrition Information:
Yield:
4
Serving Size:
1
Amount Per Serving:
Calories:

111
Total Fat:

1g
Saturated Fat:

0g
Trans Fat:

0g
Unsaturated Fat:

1g
Cholesterol:

0mg
Sodium:

879mg
Carbohydrates:

24g
Fiber:

0g
Sugar:

19g
Protein:

2g
Nutritional calculation was provided by Nutritionix and is an estimation only. For special diets or medical issues please use your preferred calculator.