Homemade Horchata de Arroz is a simple, yet refreshing drink made with rice water and condensed milk accented by a sprinkle of cinnamon. This authentic Mexican Horchata recipe is just like they make in Mexican restaurants, taquerías and ice cream shops.
Craving Mexican? You'll find all sorts of delicious authentic and inspired recipes here on the blog. From Chilaquiles Verdes to Tex-Mex style Crock Pot Taco Meat and refreshing Pineapple Margaritas or Agua de Jamaica, there's a flavour for every craving.
Homemade Horchata
The best descriptive word for this Homemade Horchata is CREAMY. There is just no other word that describes the incredible texture. Smooth is close, creamy and delicious is better.
The milky flavour of this rice milk is combined with sweet condensed milk and ultra creamy evaporated milk to enhance the lovely velvety texture and flavour.
Mexican vanilla extract and hint of cinnamon enhance the sweetness of the milk and round out the flavours of this beloved classic.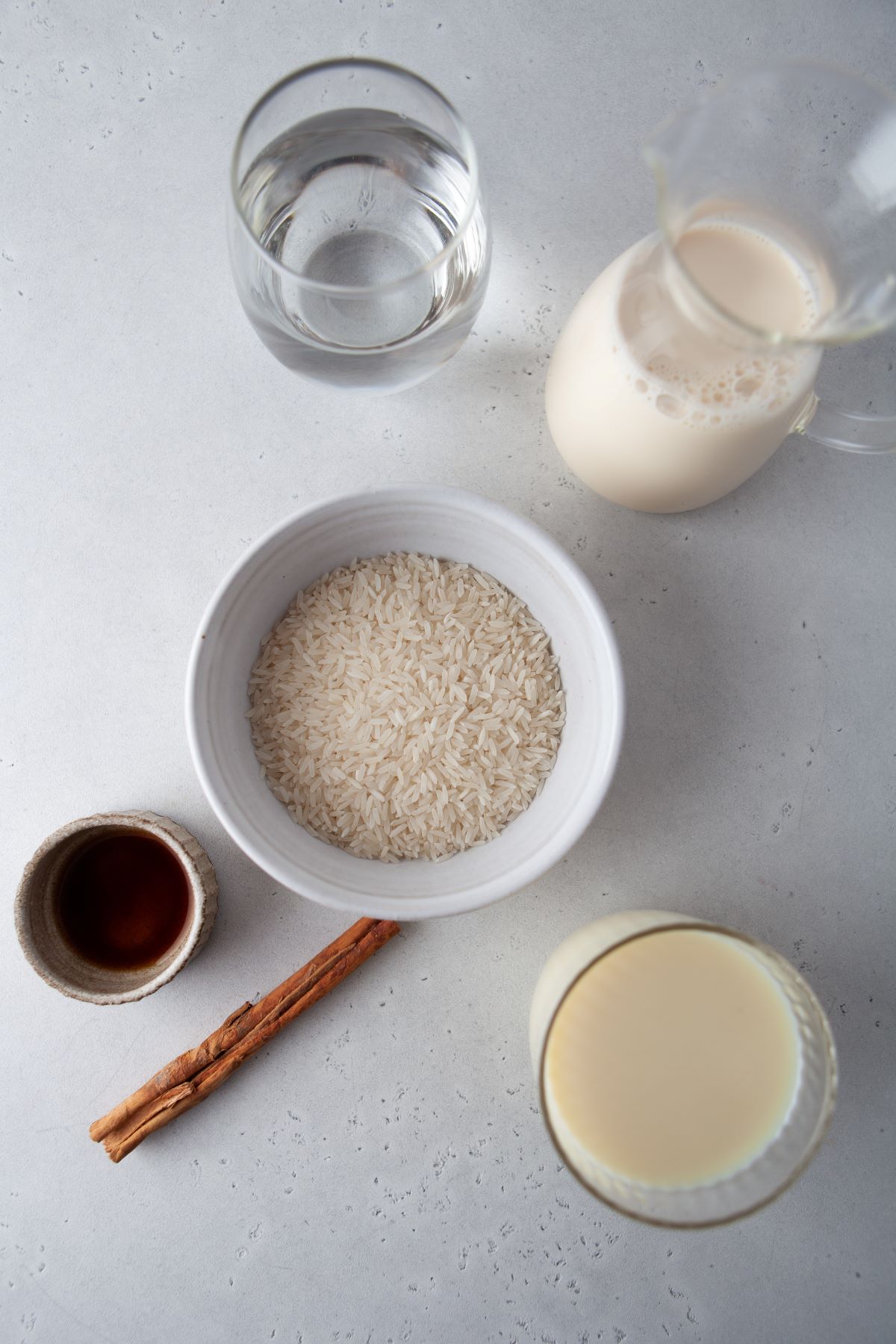 What is Horchata?
In general, Horchata (or·chaa·tuh) is a plant based drink made from ground and strained grains, nuts, or seeds. It can be served hot or cold.
Did you know that this popular Mexican drink has African origins? Made from soaked, ground, and sweetened tiger nuts, horchata de chufa or kunnu aya was (and still is) an important source of protein for West Africans.
From West Africa, the beverage traveled to Valencia Spain then onto the new world with the Spanish explorers. Of course, rice was more readily available there than tiger nuts, so horchata de arroz became the most popular version in the new world.
Since authentic horchata is grain, nut, or seed based it is naturally dairy free. However, more recent Mexican recipes contain dairy in the form of condensed and/or evaporated milk.
You can make it using a dairy free, more old school rice only recipe or mix it with almond milk or any other nut milk.
Ingredients for Homemade Horchata
Sure, you could head out to your local latino grocery store and pick up a bag of pre-made horchata mix but why would you? With a little planning, you can whip up your own batch in the time it takes to make packaged horchata. Plus, you can control the ingredients and sugar level.
long grain white rice
water
vanilla extract
stick of cinnamon
sugar
condensed milk
evaporated milk
Long grain white rice is the most basic rice out there. It's the basic bitch of rice. Sure, you could try short grain rice but it probably won't break up as easily as long grain.
Don't even attempt this drink with basmati or jasmine rice, they will interfere with the flavour profile. Long grain white rice has the right amount of starch and is the only rice that will break down properly for horchata.
Adding vanilla and cinnamon bark or ground cinnamon is entirely up to you. Both grow in Mexico and are authentic (and popular) flavourings in Mexican cuisine. In fact, both are delicious when also paired with a little bit of spice and chocolate like in this Spiced Mexican Hot Chocolate.
Additional sugar is also a matter of personal preference, as the condensed milk is quite sweet you may not feel more sugar is needed.
Condensed Milk vs. Evaporated Milk
Have you ever stood in the canned milk aisle at the grocery store wondering if the recipe you want to make requires condensed milk or evaporated milk? Lucky for you, this homemade horchata recipe contains both!
For future reference, there are many differences in the two shelf stable canned milk products. Both contain concentrated cow's milk where at least 60% of the water has been removed.
Condensed Milk, also known as Sweetened Condensed Milk, is rich and thick, with a caramel color and an additional 40-45 % sugar. It's essentially a milk syrup.
Evaporated milk is basically just condensed milk (with no additional sweetener) that is heated until 60% of the water has been removed. There are skim, low-fat, and whole milk varieties of evaporated milk.
How to Make Homemade Horchata
It may surprise you how easy it is to make horchata at home. It takes a little bit of time to soak the rice, but the bulk of this horchata recipe comes together in minutes.
The first thing you need to do is rinse the rice. Place it in a fine mesh strainer and rinse it with cold running water over the sink. Once the water turns clear you are ready for the next step.
Place the rice in a large bowl and cover it with cold water. Soak the rice overnight or for at least 8-10 hours. The rice will absorb the water and have a fluffier, softer texture.
The next day, add all of the ingredients (rice, cinnamon stick, vanilla extract, condensed and evaporated milks) to the jug of a high powered blender.
Blend the rice mixture until it is smooth and no rice grains remain. Next, strain the rice mixture into a serving pitcher through a fine mesh strainer. Add the remaining cold cups of water.
Mix the horchata well, then serve over ice. Garnish with a cinnamon stick, slice of star fruit, star anise, or slice of coconut.
How to Serve Homemade Horchata
The most popular way to serve horchata in Mexico is over ice garnished with a cinnamon stick or fresh fruit. However, it can also be enjoyed warm with coffee or liquor.
Horchata Variations
In central and south America, there are many variations of horchata that may contain grains, nuts, seeds (besides tiger nuts and rice), and other infusions.
In Alvarado (an area of Veracruz, MX) horchata contains an infusion of marigolds.
Horchata de ajonjoli is a version with toasty ground sesame seeds, sugar, vanilla, and cinnamon. This Puerto Rican drink is also contains evaporated milk, coconut milk, and rum.
Horchata de melón – contains ground melon seeds and rice water.
In Ecuador, Horchata lojana is a sweet infused drink made from a variety of herbs and flowers including escancel or bloodleaf, lemon verbena, lemon grass, mint, chamomile, lemon balm, rose geranium, among others.
The South American countries of El Salvador, Costa Rica, Honduras, and Nicaragua, semilla de jicaro contains ground jicaro seeds and rice, ground cocoa, cinnamon, sesame seeds, nutmeg, tiger nuts and vanilla. Sometimes, ground peanuts, almonds and cashews are also added.
Yield: 8 servings
Homemade Horchata de Arroz (Mexican Rice Drink)
Homemade Horchata de Arroz is a simple, yet refreshing drink made with rice water and condensed milk accented by a sprinkle of cinnamon. This authentic Mexican Horchata recipe is just like they make in Mexican restaurants, taquerías and ice cream shops.
Total Time
10 hours
10 minutes
Ingredients
1/3 cup long grain white rice
6 1/2 cups water (plus more for soaking)
1/4 cinnamon stick
1 tsp vanilla extract
1 can condensed milk (14 oz)
1 can evaporated milk (12 oz)
ice
2-3 tbsp sugar (optional extra sweetening)
Instructions
Place the rice in a fine mesh strainer and rinse it until the water running off becomes clear.
Place the rice in a bowl and add just enough water to cover the rice.
Allow the rice to soak overnight (8-10 hours).
Combine ingredients (rice, cinnamon stick, vanilla, condensed and evaporated milks) in a high powered blender and process until smooth.
Strain the blended mixture through a fine mesh screen into a serving pitcher.
Add rest of the water, mix well and serve over ice.
Nutrition Information:
Yield:
8
Serving Size:
1
Amount Per Serving:
Calories:

124
Total Fat:

4g
Saturated Fat:

2g
Trans Fat:

0g
Unsaturated Fat:

1g
Cholesterol:

15mg
Sodium:

63mg
Carbohydrates:

19g
Fiber:

0g
Sugar:

17g
Protein:

4g
Nutritional calculation was provided by Nutritionix and is an estimation only. For special diets or medical issues please use your preferred calculator.