Mejadra is the ultimate dish in vegan comfort food. It's made with rice, warming spices, lentils, and topped with crispy fried onions.
What is Your Comfort Food?
Comfort food. What does this phrase mean to you? For many it means familiar flavours that have survived the special and not so special times in their lives. A familiar flavour that brings you back to another time or place. It sets your soul and mind at ease. Just think about digging into a creamy, cheesy bowl of homemade mac 'n' cheese. What kind of feelings does this imagery conjure up? Warmth, love, belonging, peace? I'm obviously speaking from my own experiences here. You may have your own dish that gives you similar feelings or you may just not be as addicted to food as I am.
Wikipedia defines Comfort Food as such:
"A traditional food which often provides a nostalgic or sentimental feeling to the consumer and
is often characterized by a high carbohydrate level and simple preparation. The nostalgic
element most comfort food has may be specific to either the individual or a specific culture."
Comfort Food Spans the Entire Globe
Here in North America classic comfort foods include the aforementioned mac 'n' cheese, cookies, poutine, gravy and biscuits, chicken noodle soup, pasta dishes, pie, fried chicken, etc. All dishes that are quite high in carbohydrates and fat. It's no wonder there's a higher percentage of obese people in North America. So what about other countries? Do they have their own comfort foods? According to the Wikipedia definition they do. I just listened to a podcast called Eat This Podcast where the host was talking to an Egyptian lady, now living in London, who opened up an Egyptian street food themed restaurant called Koshari Street. Koshari is a popular Egyptian street food that unites the people regardless of class or religion. It's a comforting mixture of lentils, rice, pasta, and chickpeas with a spicy tomato sauce on top. Not really something that interests my tastes or conjures up 'comfort food' but then again, I didn't grow up in Egypt.
Mejadra is a Middle Eastern Comfort Food
One comfort food from another country that I have recently tried and adored is Mejadra. Mejadra is a 'one pot' dish complete with Middle Eastern flavours but what really makes the dish are all the fried onions piled on top of the rice and lentils. It is served both warm and cold, sometimes with cucumber yoghurt or plain sour cream. In Jerusalem, it is a popular picnic dish. The Mejadra recipe that I used came from Jerusalem, by Yotam Ottolenghi.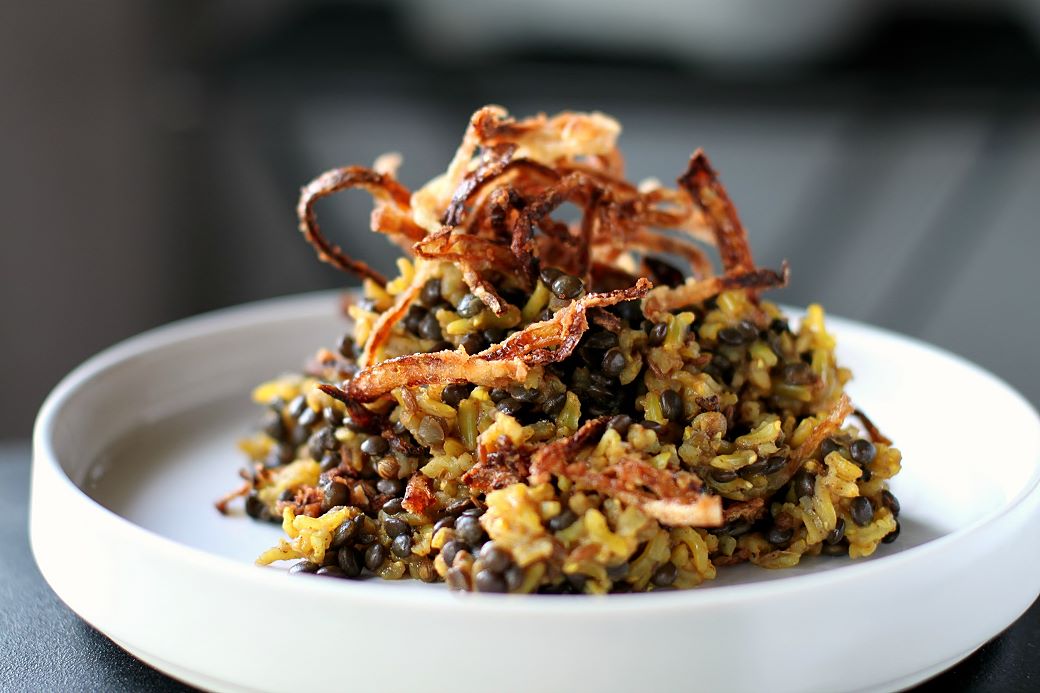 More Comfort Food From Dish 'n' the Kitchen:

Yield: 4 servings
Ottolenghi Style Comfort Food - Mejadra
Mejadra is the ultimate dish in vegan comfort food. It's made with rice, warming spices, lentils, and topped with crispy fried onions.
Total Time
1 hour
10 minutes
Ingredients
1 1/4 cups green or brown lentils (I used Beluga lentils in my dish)
4 medium sweet onions; sliced
3 tbsp all-purpose flour
1 cup sunflower oil
2 tsp cumin seeds
1 1/2 tbsp coriander seeds
1 cup basmati rice (I used brown basmati and adjusted the time accordingly)
2 tbsp olive oil
1/2 tsp ground turmeric
1 1/2 tsp ground allspice
1 1/2 tsp ground cinnamon
2 tsp sugar
1 1/2 cup water
Salt and freshly ground black pepper
Instructions
Place the lentils in a small saucepan, cover with plenty of water, bring to a boil, and cook for 12 to 15 minutes, until the lentils have softened but still have a little bite. Drain and set aside.
Peel the onions and slice thinly. Place on a large flat plate, sprinkle with the flour and 1 teaspoon salt, and mix well with your hands.
Heat the sunflower oil in a medium heavy-bottomed saucepan placed over high heat. Make sure the oil is hot by throwing in a small piece of onion; it should sizzle vigorously.
Reduce the heat to medium-high and carefully (it may spit!) add one-third of the sliced onion. Fry for 5 to 7 minutes, stirring occasionally with a slotted spoon, until the onion takes on a nice golden brown color and turns crispy (adjust the temperature so the onion doesn't fry too quickly and burn).
Use the spoon to transfer the onion to a colander lined with paper towels and sprinkle with a little more salt. Do the same with the other two batches of onion; add a little extra oil if needed. Warning: This step will take quite a while to complete but it is really worth it because the onions make the dish.
Wipe the saucepan in which you fried the onion clean and put in the cumin and coriander seeds. Place over medium heat and toast the seeds for a minute or two.
Add the rice, olive oil, turmeric, allspice, cinnamon, sugar, 1/2 teaspoon salt, and plenty of black pepper.
Stir to coat the rice with the oil and then add the cooked lentils and the water.
Bring to a boil, cover with a lid, and simmer over very low heat for 15 minutes. (Because I used brown basmati, the rice needed a bit more liquid and time to finish).
Remove from the heat, lift off the lid, and quickly cover the pan with a clean tea towel. Seal tightly with the lid and set aside for 10 minutes.
Finally, add half the fried onion to the rice and lentils and stir gently with a fork.
Pile the mixture in a shallow serving bowl and top with the rest of the onion.
Nutrition Information:
Yield:
4
Serving Size:
1
Amount Per Serving:
Calories:

815
Total Fat:

63g
Saturated Fat:

6g
Trans Fat:

0g
Unsaturated Fat:

54g
Cholesterol:

0mg
Sodium:

109mg
Carbohydrates:

58g
Fiber:

10g
Sugar:

20g
Protein:

10g
Nutritional calculation was provided by Nutritionix and is an estimation only. For special diets or medical issues please use your preferred calculator.