Mejadra is the ultimate dish in vegan comfort food. It's made with rice, warming spices, lentils, and topped with crispy fried onions.
What is Your Comfort Food?
Comfort food. What does this phrase mean to you? For many it means familiar flavours that have survived the special and not so special times in their lives. A familiar flavour that brings you back to another time or place. It sets your soul and mind at ease. Just think about digging into a creamy, cheesy bowl of homemade mac 'n' cheese. What kind of feelings does this imagery conjure up? Warmth, love, belonging, peace? I'm obviously speaking from my own experiences here. You may have your own dish that gives you similar feelings or you may just not be as addicted to food as I am.
Wikipedia defines Comfort Food as such:
"A traditional food which often provides a nostalgic or sentimental feeling to the consumer and
is often characterized by a high carbohydrate level and simple preparation. The nostalgic
element most comfort food has may be specific to either the individual or a specific culture."
Comfort Food Spans the Entire Globe
Here in North America classic comfort foods include the aforementioned mac 'n' cheese, cookies, poutine, gravy and biscuits, chicken noodle soup, pasta dishes, pie, fried chicken, etc. All dishes that are quite high in carbohydrates and fat. It's no wonder there's a higher percentage of obese people in North America. So what about other countries? Do they have their own comfort foods? According to the Wikipedia definition they do. I just listened to a podcast called Eat This Podcast where the host was talking to an Egyptian lady, now living in London, who opened up an Egyptian street food themed restaurant called Koshari Street. Koshari is a popular Egyptian street food that unites the people regardless of class or religion. It's a comforting mixture of lentils, rice, pasta, and chickpeas with a spicy tomato sauce on top. Not really something that interests my tastes or conjures up 'comfort food' but then again, I didn't grow up in Egypt.
Mejadra is a Middle Eastern Comfort Food
One comfort food from another country that I have recently tried and adored is Mejadra. Mejadra is a 'one pot' dish complete with Middle Eastern flavours but what really makes the dish are all the fried onions piled on top of the rice and lentils. It is served both warm and cold, sometimes with cucumber yoghurt or plain sour cream. In Jerusalem, it is a popular picnic dish. The Mejadra recipe that I used came from Jerusalem, by Yotam Ottolenghi.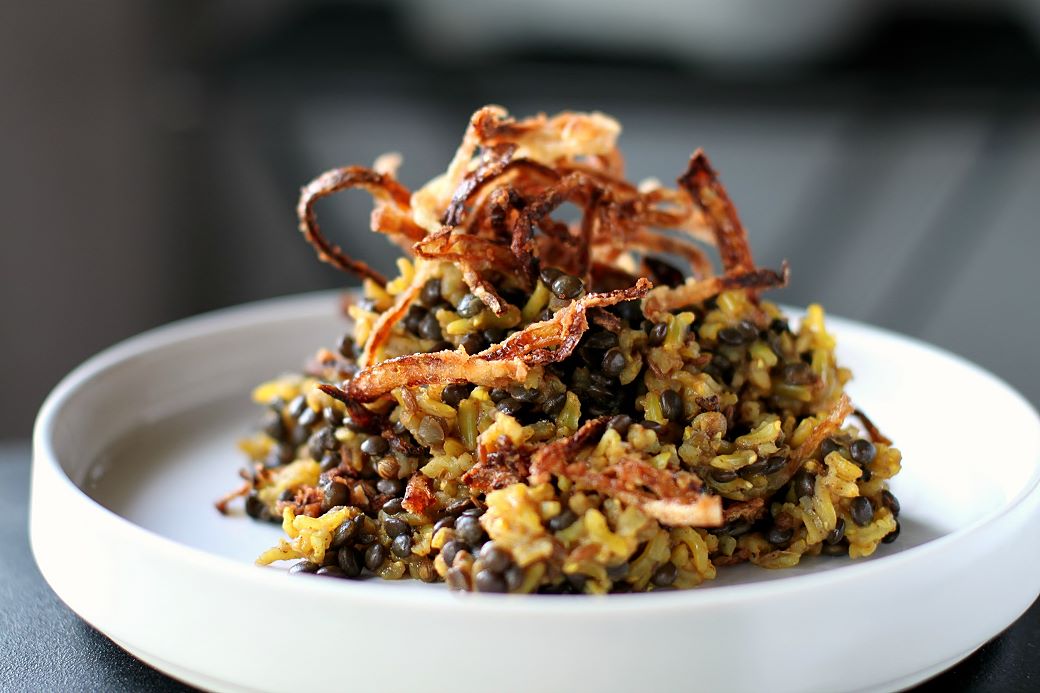 More Comfort Food From Dish 'n' the Kitchen: