Maligne Canyon Wilderness Kitchen offers Jasper travelers a warm and authentic modern smokehouse experience in the Canadian Rockies.
That Fresh Rocky Mountain Air Experience
Did you know that there is a company from Canmore that bottles fresh mountain air and sells it to overseas buyers? They are capitalizing on a market whose product we, as Canadians, take for granted: clean air. Clean air aside, I highly doubt if the nuances that make mountain air so special can be captured at all. The fresh, crisp air accented with the scent of pine and the humidity of a breathing forest can really only be experienced in person. It stirs your soul and whets your appetite.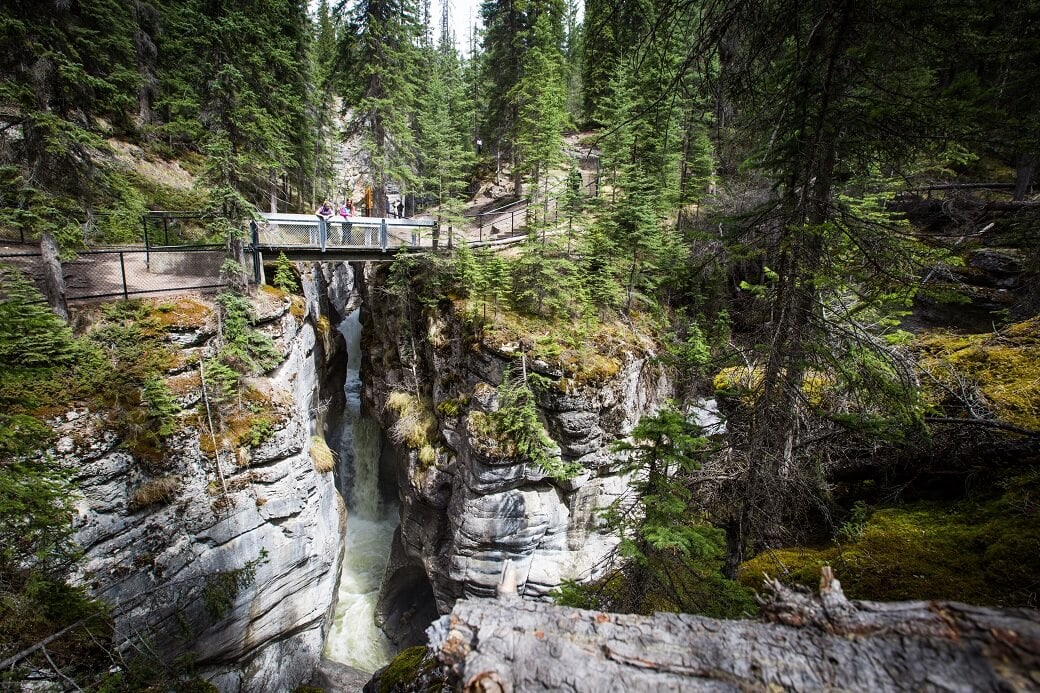 Satisfying That Mountain Craving
For a food lover, the best part of vacationing in the Rocky Mountains is working up a healthy appetite. There's nothing better than arriving ravenous at a restaurant that serves regional food in a comfortable and unpretentious setting. Located just steps from the Maligne Canyon trail head, Maligne Canyon Wilderness Kitchen is the place to rest your weary feet and indulge in some of Alberta's finest farm raised proteins and produce.
Maligne Canyon Wilderness Kitchen Menu
Maligne Canyon Wilderness Kitchen promises a 'warm and authentic modern smokehouse experience'. I would go a step further than that and add 'in the Canadian Rockies'. We are, after all, visiting one of the most gorgeous places on Earth and the smokehouse menu is a good reflection of Alberta's terroir. On the menu you'll find such items as Hickory Smoked Sunrise Farms Chicken and a Bison Burger with Noble Meadows Farm Goat Cheese. The Beverage list contains outstanding Canadian wines and Alberta beers which pair wonderfully with hickory smoked meats.
Executive chef Stuart Allen brings his Tennessee background to the forefront at Maligne Canyon Wilderness Kitchen. All meat is smoked with hickory wood, while his Alabama-style White BBQ Sauce lends an authentic strong and spicy kick as you add it.
A Rocky Mountain Smoke House
Maligne Canyon Wilderness Kitchen's location at the head of the Maligne Canyon trail easily makes it a unique pre or post hike stop. Grab a delicious bagged lunch for your day hike or settle in for some local entertainment. You don't have to love hiking to enjoy a beverage on the patio with stunning canyon views. Have a few too many bevvies while relaxing by the fire tables? Grab the handy shuttle back to civilization during dinner hours (PRO TIP: the last shuttle leaves MCWK at 10 pm).
What To Do In Jasper National Park
With over 11,000 square kilometers of mountainous park land to explore, Jasper National Park is the largest National park in the Rocky Mountains. Some of the most popular travel destinations within the park include:
Athabasca Glacier Tour: A small hike to the foot of Athabasca Glacier, or ride right onto the glacier on a specially outfitted Ice Explorer bus. While you're there, do the Columbia Icefield Skywalk…if you dare!
Photography: Photographers take note, the Maligne Lake vista (including Spirit Island) is one of the most photographed areas in JNP. There are many waterfalls to visit within the park, all you have to do is pick one. It's pretty difficult to find a non-photogenic corner of the park!
Boating: Want a closer look at Spirit Island? Take a Maligne Lake cruise.
Hiking: Serious about hiking? JNP is a hiker's dream…prepare yourself for an overnight adventure on the Skyline trail while starts Maligne Lake and finishes near the Jasper townsite. Of course, there are many popular day hikes to choose from as well.
Food: Jasper has a small, but vibrant food scene…a great place to try locally farmed and uniquely Alberta ingredients.
How to Find Maligne Canyon Wilderness Kitchen
From the east end of the town site of Jasper, follow Highway 16 east for 3 km and take the turnoff for Maligne Lake Road to the right. Proceed over the iron bridge across the Athabasca River and stay left at the fork in the road. Follow the road to Maligne Canyon (on your left side).
Summer Hours (May 4 – September 30) Daily from 8:00 am to 10 pm
Winter Hours (October 1 – May 1) Sunday – Friday 9 am to 4 pm; Saturday 9 am – 10 pm
More Fun in the Canadian Rockies with Dish 'n' the Kitchen
TRIBUTE: A Craft Spirits Festival in the Rockies
Small Businesses Matter – Alberta Food Tours