These pretty little Sugar Star Cookies have a white chocolate coating decorated with simple sliced pistachios. They make the perfect holiday cookie treat. Stack them up or arrange them to resemble Christmas trees for a festive holiday table centerpiece.
Who's ready for a bit of holiday baking inspiration? There are so many tasty treats on the blog…from these super easy Gingerbread Cookies to the very popular Cranberry Bars. You can start making your Christmas baking list right here on the blog.
Pretty Dipped Sugar Star Cookies
No matter how you bake them, star shaped Sugar Cookies are a Christmas baking essential. These cut out star cookies are one of the easiest to make, bake, and decorate. They have that distinctive melt in your mouth buttery goodness and light texture that is a requirement for the best sugar cookies.
There's no need for multiple colours of royal icing in piping bags or finicky decorations. These star cookies are dipped in melted white chocolate and decorated simply, with bright green pistachio slices and sugar pearls.
Sugar Star Cookies make a great addition to any cookie exchange or cookie tray. However, they are lovely stacked and dusted with confectioners' sugar (or powdered sugar) to create individual Christmas trees. Or, create a stunning and festive centerpiece by arranging the cookies into a large evergreen tree shape.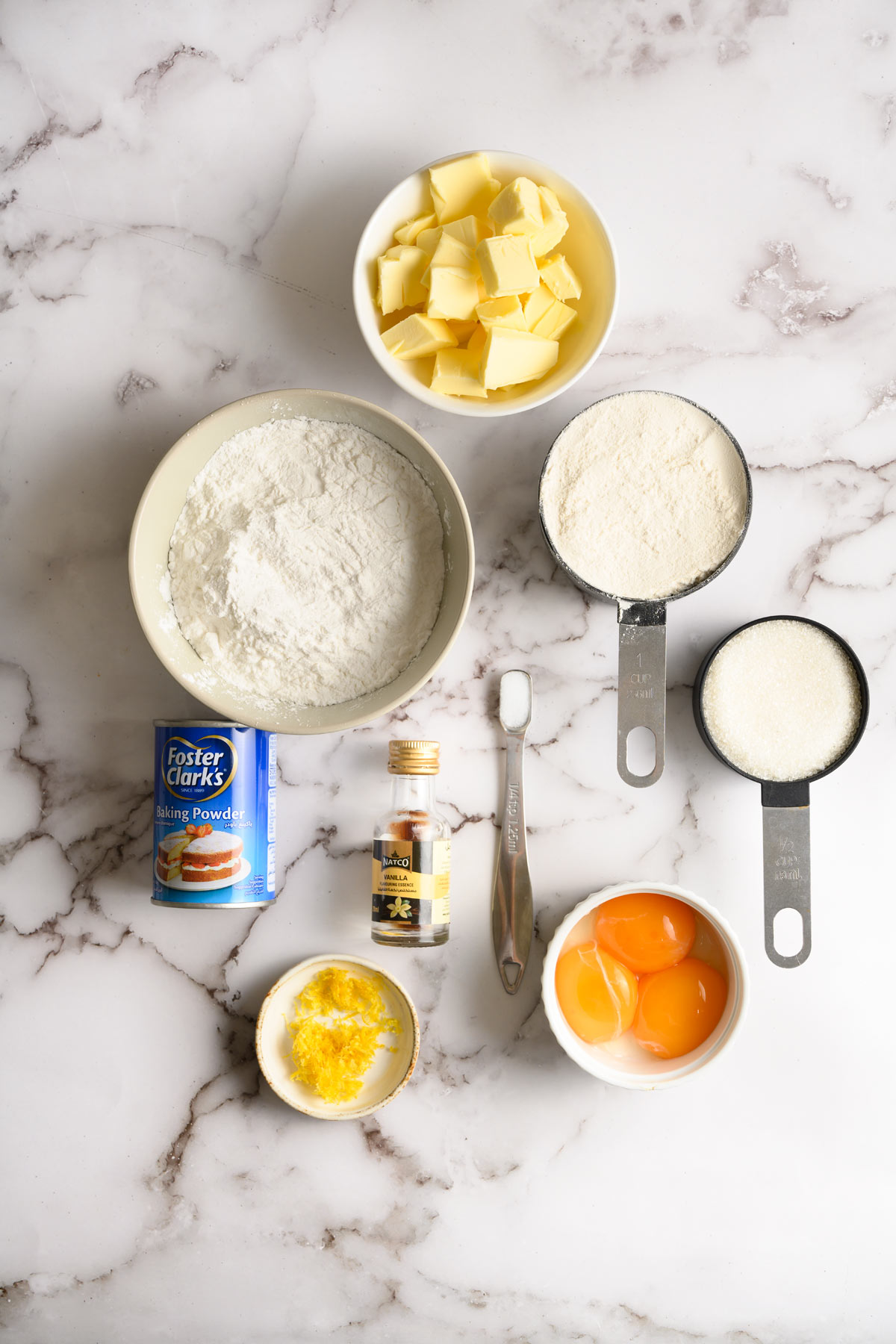 Sugar Cookies vs. Shortbread
I think sometimes there's a bit of confusion about the difference between sugar cookies and shortbread. While both are classic Christmas Cookies, there are a few important differences.
Shortbread are a classic biscuit originating from Scotland. They are made with three ingredients only; butter, sugar, and flour. They may be baked in a circular shortbread mold, then cut into triangular segments. Alternatively, they can be individual round biscuits, or cut into plain rectangles (or fingers). Traditional Scottish shortbread is not decorated. However, North Americans like to add on a candied cherry or small amount of sprinkles.
Sugar Cookies contain a leavening agent (baking powder), eggs, salt, and other flavour additions such as lemon zest, white sugar or brown sugar, and sometimes corn starch. They are a style of 'cut out' cookie and can have almost any shape depending upon the cookie cutter. These are the brilliantly decorated cookies that bakers create using skilled piping techniques.
Ingredients
Corn Starch
Flour
Baking Powder
Salt
Butter
Sugar
Egg Yolks
Vanilla Extract
Lemon Zest
White Chocolate Chips
Sliced Pistachios
Sugar Pearls
Corn starch may be a surprise ingredient to some bakers; however it is an essential ingredient in sugar cookies. It mixes with the flour and absorbs some of the gluten, giving the cookies a very light, fluffy texture. It also allows the cookies to hold their shape while baking.
The baking powder is the only leavening agent in this cookie recipe as there are no egg whites, only egg yolks which give the dough a beautiful richness.
Feel free to substitute brown sugar for white sugar or orange zest for the lemon zest. You could also substitute your favourite extract for the vanilla. Play with the flavours to create your own version or follow the recipe. It's up to you.
Of course, the decoration ingredients are also a suggestion. You can dip the cookie tops in white chocolate, milk chocolate, or dark chocolate. Feel free to substitute the sliced pistachios for almonds or leave them out to make a nut free version. If you make these star cookies, post and tag me on social because I'd love to see your decorating ideas!
How to Make Sugar Star Cookies
Begin by whisking the dry ingredients (cornstarch, flour, baking powder, and salt) together in a large bowl. Set aside. Next, add the room temperature butter, egg yolks, and sugar to the bowl of a stand mixer fitted with a paddle attachment. Beat together on medium speed for 2-3 minutes; until they become light and fluffy then add the vanilla extract and lemon zest to the mixer bowl and mix until combined.
With the mixer on the lowest setting, carefully add the dry mixture to the mixing bowl a little at a time. Mix on low until just combined. Do not overmix.
Next, transfer the dough to a silicone mat or piece of parchment paper. Use a floured rolling pin to evenly roll the dough to 1/4 inch thick. Alternatively, cover the dough with a second sheet of parchment paper and use a rolling pin to roll the dough.
Place the rolled dough on a cookie sheet, cover with plastic wrap, and freeze for 20 minutes. While the dough is chilling, preheat the oven to 350F.
Now, let's cut some cookies! Carefully remove the top layer of parchment paper off of the chilled dough. Use a lightly floured star cookie cutter to cut out the dough, fitting the stars together tightly like a puzzle. Remove the excess dough and set aside.
Slide the parchment paper with cookies directly to a baking sheet. Bake the cookies at 350ºF degrees for 8 minutes, keeping a close eye if you have cookies of different sizes. During baking, the cookies should puff up slightly but still hold their shape.
When the star cookies are done baking, they should have a slight change in colour but not be too dark. Allow them to cool slightly, then remove and place on wire racks to cool.
Gather leftover dough into a ball and let rest in refrigerator another 15 minutes then roll, freeze, cut, and bake as directed.
Let's Decorate Sugar Star Cookies!
Firstly, melt the chocolate. For hard chocolate with a beautiful satin sheen, the chocolate should be tempered. Find out more here. However, feel free to just follow the melting directions on the chocolate package.
Dip the top side of each star cookie, then decorate with sliced pistachios and sugar pearls before the chocolate hardens. You may want to dip 5 or so at a time and decorate them in batches. Refrigerate 10-15 minutes or until the chocolate is set.
How to Store Sugar Cookies
The cookies will keep in an airtight container in the fridge for 4-5 days. They also freeze well, making them a great 'bake ahead' cookie for the holidays.