Look no further, this is THE BEST braised short ribs recipe you will ever try, guaranteed. Made with a few quality ingredients, low and slow is the way to go!
Valentine's Day Food Memories
Even though my hubby and I go out to eat together quite often, there has only been one time in our whole married history (almost 20 years!) when we have gone out for dinner on Valentine's Day. I remember it quite well, even though it was roughly 8 years ago. Hubby booked us a dinner for two at Redwater Grille on MacLeod Trail and I thought I was the luckiest lady on earth because we were going to have a special Valentine's day menu, set by the the chef. It's funny to think back now, after all the chef's tasting's and special events I've been to, and remember how excited I was about my very first 4 course dinner. I am a very lucky lady, indeed.
Here's a Tip…
What I remember of the dinner was that it was tasty but that the service was quite rushed. It wasn't as good as it could have been, had we not visited on a holiday. I also remember several instances (Redwater included) where servers at upscale restaurants of my youth (I count being in your 20's as 'youth') acted slightly 'ageist' towards hubby and I and it was incredibly frustrating. I suppose they assumed that we were not worth much effort because we had no money to offer as tips. The truth is my hubby has always been a good tipper, if the service is as expected.
Everybody's Working this Holiday
Years later,  I am familiar with how the restaurant industry has a love/hate relationship with important holidays. These days always reflect record covers which is great. However, there's  a set menu to memorize, along with the dozens of people asking for substitutions on the set menu. There are also many special requests for marriage proposals (on Valentines's Day) while your own sweetheart (if he/she hasn't left you) is alone at home watching Netflix.
Home for the Holidays
We've made the decision to enjoy holiday dinners at home with the family and have never regretted it. I usually make something special, such as a lobster dinner with fresh pasta, or boiled crab. This year I bought some really meaty beef short ribs and braised them with a whole bottle of wine. These Braised Short Ribs couldn't be simpler. Really…what could go wrong when you cook with a whole bottle of wine?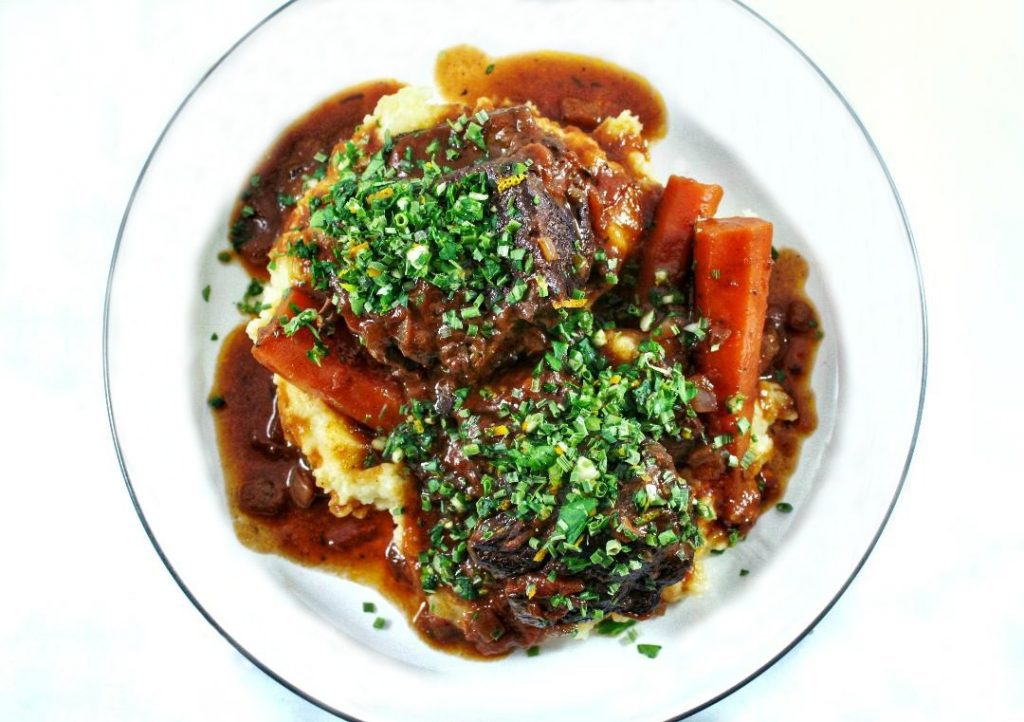 Meaty Dishes from Dish 'n' the Kitchen
Blueberry Balsamic Braised Beef Short Ribs
Red Wine Braised Short Ribs with Gremolata
Print
Red Wine Braised Short Ribs with Gremolata
Slow cooked ribs scattered with a bit of fresh gremolata.
Ingredients
8 meaty bone-in beef short ribs
salt and pepper
olive oil
3 cloves garlic; minced
1 medium onion; small diced
8 sprigs fresh thyme
1 lb carrots; peeled & halved (if large)
750 ml bottle red wine
2 cups grape or cherry tomatoes; sliced in half
FOR THE GREMOLATA
1 cup fresh flat leaf parsley; finely chopped
1/4 cup fresh chives or use freeze dried chives
2 cloves garlic; minced
1 tbsp orange zest; finely chopped
salt and pepper
Method
FOR THE RIBS
Drizzle olive oil into a large pot and brown the ribs off in batches.
Season with salt and pepper and transfer to a plate.
Add onion, 2 sprigs thyme, and garlic to the pot and cook until onion becomes translucent.
Add the wine and tomatoes; bring to a boil.
Replace the ribs and scatter the carrots around them. Add in the remaining sprigs of thyme.
Cover and simmer on low 3 1/2-4 hours until the meat is ready to fall off the bone.
Remove off heat and strain the liquids through a sieve into another pot.
Simmer until reduced by half.
Return short ribs and carrots to the pot. Serve over potato mash.
FOR THE GREMOLATA
Combine all ingredients in a bowl, season with salt and pepper.  Scatter over short ribs to serve.