When this Incredibly Delicious Easy Beef Bulgogi meets the heat, magic happens. The thin sliced tender beef sirloin is marinated with a slightly sweet, smoky, and savoury marinade. Within 15 minutes, dinner is ready!
This post first appeared over at BBQing With The Nolands where I'm a contributor.
During the summer months, I like to barbecue several times a week to make up for the loss of char during the winter! I can never decide whether to make an afternoon of it, smoking Chicken Thighs over low and slow charcoal or to just whip up a quick turmeric marinade for quick grilled Turmeric Chicken Kabobs. It's all delicious in my books!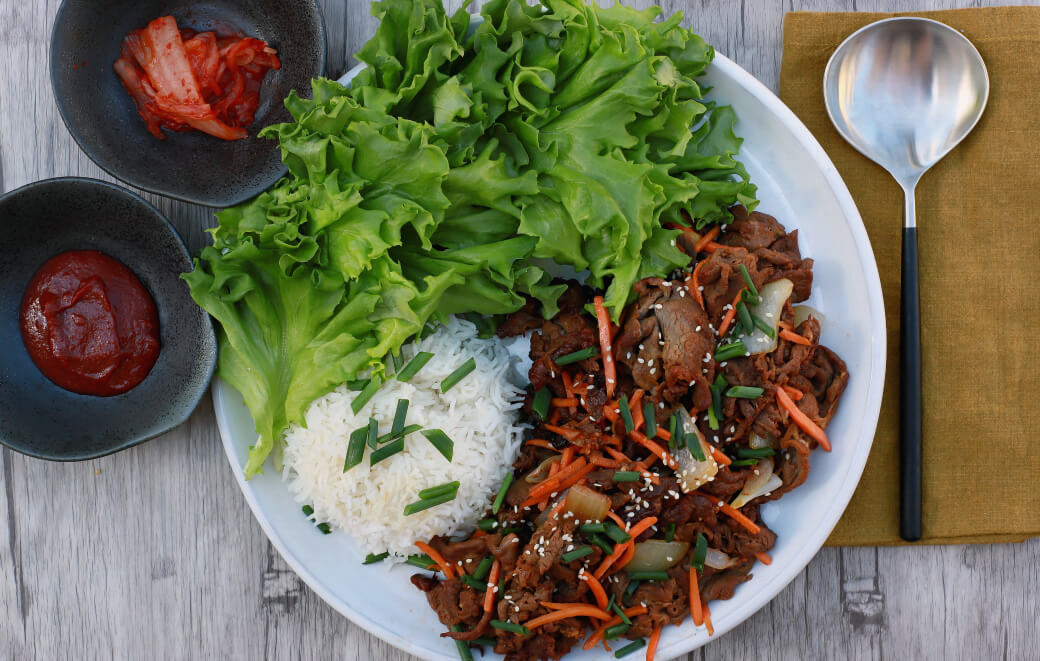 My Easy Beef Bulgogi Recipe
My Bulgogi recipe contains the secret to the ultimate flavourful marinade. The quick cooking thin sliced rib eye is tender with a slightly sweet, smoky, and savoury flavour. The mouthwatering tender beef just oozes flavour, hitting all the sweet, salty, savoury, and slightly spicy notes Beef Bulgogi is known for. It's sure to become your newest barbecue go-to recipe!
What is Bulgogi?
Bulgogi, pronounced 'Buul-GOH-ghee' is a term that encompasses many recognizable Korean BBQ dishes. Basically, it consists of meat (gogi) that is quickly cooked over a fire (bul). Sometimes the meat is marinated, sometimes it isn't. It can be grilled as a full steak, pounded meat, on skewers, or as thin slices.
Bulgogi dishes range from seasoned steak cooked over charcoal to sweet or spicy (sometimes both) marinated sliced beef with added vegetables and/or clear noodles.
Generally, most Bulgogi recipes feature beef as the star protein. However, pork and squid are also used.
This Bulgogi Recipe goes beyond basic grilled steak. The marinade really takes that meat to flavourtown. Yes, this phrase has been (over) used many times but let's add one more time to the pile.
The Perfect Marinated Bulgogi
There are many recipes for bulgogi marinade out there. In order to create the most flavourful bulgogi recipe, I made sure to use all of the most favourite authentic Korean flavours.
SWEET – This flavour is not found in all Korean dishes but it is a popular component of Korean cooking. The sweet flavour of this recipe comes via three ingredients; Brown sugar, grated apple, and Korean red pepper paste called gochujang. Once the meat has been slightly caramelized by the heat, there's a fourth component of sweetness.
However, this dish is not overly sweet because of how well balanced the other flavours are.
SALTY – the salty umami punch of fermented soy sauce is a familiar component in many Asian cuisines, Korean included.
SPICY – though we do love a lot of spice at our house, this recipe is not overly spicy especially when we are talking in terms of Korean food. There is a slight warming from the gochujang and adding the gochugaru (Korean red pepper flakes) is entirely optional, though highly recommended.
GARLIC – don't be shy, everyone is eating the same dish. In my opinion, garlic is a Korean ingredient that must not be missed.
ACID – what makes this meat so incredibly tender is the acidic component of the marinade. Traditional recipes use Asian pear to add acidity but regular apple, kiwi, minced onions, and even cola can be used.
How to Cook Beef Bulgogi
Once you have infused all those great flavours into the beef, it's time to BBQ it up! As the beef has been sliced into strips, it's best to break out the grilling basket. Brush it with a bit of oil, then pre-heat it on your grill.
Next, you can either stir fry the vegetables in the basket, or in a frying pan on your stove. I did mine on the stove because I used matchstick carrots.
Set the veggies aside while you add only half of the beef to the grilling basket. To get that signature caramelized char, arrange the beef in a single layer in the pan and let it sit for a few minutes before moving. Remove the cooked beef, then repeat with the second half of the meat.
When the meat is done, mix in the onions and carrots, then top with toasted sesame seeds and sliced green onions.
If you don't have a barbecue or grilling basket, don't worry! This bulgogi recipe can also be pan fried in a large pre-heated cast iron pan or even broiled in a hot oven.
Ways to Serve Bulgogi
Simply put, Beef Bulgogi is great on plain rice with a side of kimchi. We ate ours as a lettuce wrap, topped with kimchi and a little extra gochujang because I was too lazy to whip up some ssamjang.
This barbecued beef is so tasty, however, it has become quite the fad to use it in many dishes, creating the ultimate Korean fusion.
BBQ Bulgogi Pizza
Bulgogi Beef Tacos
Bulgogi Kimbap – all the great flavours of bulgogi in sushi form!
Beef Bulgogi Salad Rolls
Beef Bulgogi Bowls
In a soup…called Jeongol.
As a topping on a salad
In a wrap
Beef Bulgogi Poutine
Yield: 6 servings
Beef Bulgogi Recipe
When Beef Bulgogi meets the heat, magic happens. The thin sliced tender beef sirloin is marinated with a slightly sweet, smoky, and savoury marinade. Within 15 minutes, dinner is ready! 
Total Time
8 hours
35 minutes
Ingredients
MARINADE
1/2 apple pear or green apple; grated
1/4 cup soy sauce
2 tbsp sesame oil
2 tbsp brown sugar
3 tbsp minced garlic
2 tbsp minced ginger
2 tbsp gochujang (Korean chili paste)
1 tsp gochugaru (Korean chili flakes)
1 1/2 pounds boneless rib eye steak *see note
TO GRILL
1 medium onion; cut into 1 inch pieces
2 medium carrots; cut into matchsticks or sliced.
olive or canola oil
TO SERVE
butter lettuce; 18 fresh lettuce cups
1 tbsp white sesame seeds; toasted
4 green onions; chopped
1 cup kimchi (Fermented Korean Spicy Cabbage
Instructions
FOR THE MARINADE
Mix marinade ingredients (except beef) together in a bowl.
Add marinade and beef to a ziploc bag and massage a bit so the marinade coats the meat evenly.
Marinate at least 4 hours or overnight. Start it right away in the morning for the perfect marinated beef flavour.

TO GRILL
Pre-heat grill to medium-high.
Lightly oil a grilling basket and place on grill.
Add the onions and carrots to the grill basket and stir fry until carrots become slightly soft and the onions are translucent. Remove from heat and set aside.
Working in two batches, place half of the meat in a single layer in the grill basket and grill until charred and cooked through. Repeat with the next batch of meat.

TO SERVE
Combine the cooked meat, onions, and carrots together. Place on a serving platter. Scatter sesame seeds and green onions over top.
Serve immediately with cooked rice, or in lettuce cups topped with kimchi and extra gochujang or ssamjang.
Notes
Sliced Beef Notes - The easiest option is to buy pre-sliced steak from a Korean butcher or get your butcher to slice it for you.
If you buy a solid piece of boneless rib eye steak, you'll need to slice it yourself. Freeze it for 30 minutes to an hour then slice across the grain into 1/4 inch slices.
Nutrition Information:
Yield:
6
Serving Size:
1
Amount Per Serving:
Calories:

493
Total Fat:

30g
Saturated Fat:

11g
Trans Fat:

0g
Unsaturated Fat:

18g
Cholesterol:

88mg
Sodium:

1104mg
Carbohydrates:

26g
Fiber:

6g
Sugar:

15g
Protein:

33g
Nutritional calculation was provided by Nutritionix and is an estimation only. For special diets or medical issues please use your preferred calculator.