Perfectly roasted cabbage wedges are incredibly easy and delicious. Enjoy this unsung hero of the vegetable world in a new and tasty way!
Do you have plans to try out this amazing roasted side? Make it a meal with juicy Applewood Smoked Chicken Thighs and super creamy Buttermilk Mashed Potatoes. In love with cabbage as much as we are? Try out this Fried Cabbage with Bacon or Braised German Red Cabbage.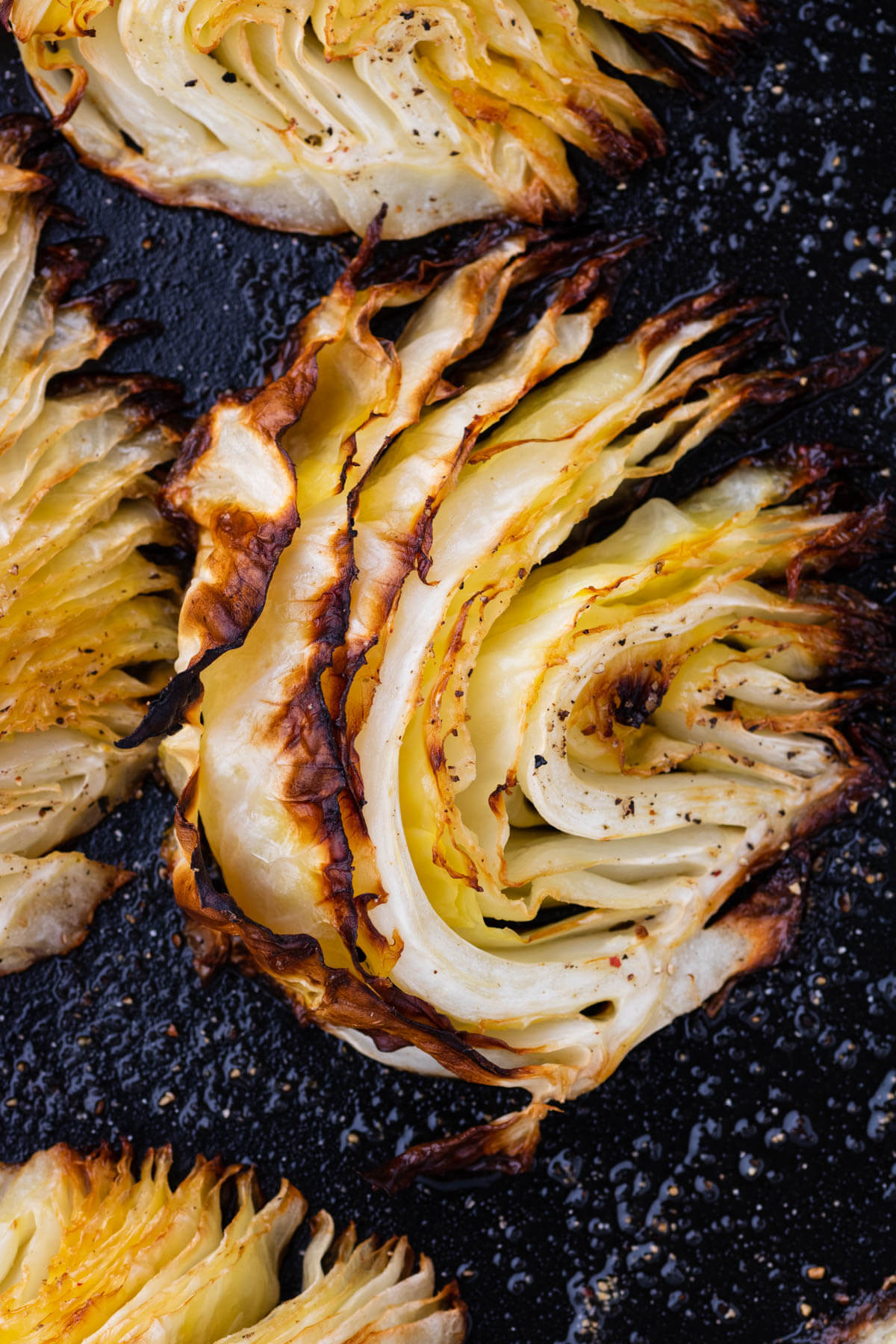 Simply Roasted Cabbage Wedges
Three ingredients, high heat, and one extremely satisfying side dish. Roasted Cabbage really is simplicity at it's finest.
The flavour of the cabbage transforms as it is roasting and so does the texture. That characteristic bitter cabbage flavour becomes replaced with sweetness while still retaining a slight bitter edge (depending on how long you roast it for) that is oh, so endearing.
Best of all, anyone can make this dish from non cook to chef, and low income to bajillionaire. Money is no object when it comes to cabbage.
Shining the Spotlight on Cabbage
I've always felt like cabbage, as a whole, has a bad reputation. It belongs to the 'bad boy' gang of cruciferous vegetables, widely notorious for their digestive side effects.
There are many ways to eat cabbage; cabbage rolls, in a stir fry, coleslaw, braised, in borscht, and fermented into sauerkraut just to name a few. Those who love cabbage, let me hear you say it loud and proud!
We have been eating thoroughly roasted cabbage for 4 years now and I'm still so entirely enamoured with this dish. We will eat an entire head of cabbage between the three of us and that isn't even a joke.
Cabbage is healthy. Cabbage is Cheap. Roasting it is a unique way to transform this vegetable into a stunning side dish you could find on any restaurant menu.
Health Benefits of Cabbage
Besides being easy on the wallet, consuming this leafy green vegetable comes with many benefits.
Cabbage is low in calories (22 kcal/89 grams). Ever heard of the cabbage diet?
This Brassica is packed with vitamins…especially Vitamin K and Vitamin C. Others include Vitamins B6 and A.
Important minerals and micronutrients such as Manganese, Calcium, Potassium, Magnesium, Iron, Folate, and riboflavin.
It's high in fibre. You know what that means…toot toot! (more on this later).
Lastly, cabbage contains a host of powerful antioxidants, including polyphenols and sulfur compounds.
With all these great components, cabbage is the rock star ingredient that everyone needs in their daily diet.
I love it when something so delicious might also keep my weight in check, keep me regular, reduce inflammation, keep my heart healthy, improves my digestion, and helps fights off diseases like cancer.
Heck, it may even lower my cholesterol and blood pressure. At my age, I call that a win.
Passing Gas with the Brass(icas)
Cabbage belongs to the 'Brassica' family of vegetables, often also referred to as 'Cruciferous' vegetables.
Other members of the Brassica/Cruciferae boy band include mustard, broccoli, Brussels sprouts, cauliflower, kohlrabi, rutabaga, turnips and leafy greens such as kale, collard greens and Swiss chard. Even wasabi and horseradish are cruciferous vegetables!
All of these vegetables are notorious for one thing and there's no delicate way to put it. They are responsible for farts. I'm sure this is no surprise to you but maybe you'd like to know why?
It all starts with sulfur-containing compounds known as glucosinolates. All cruciferous vegetables have them. When you chew (or chop) them, the mechanical action breaks them down and releases other bioactive products that are mostly absorbed within the small intestine.
Cooking the vegetables (especially boiling) inhibits the breakdown of glucosinalates and the bioactivity is deferred further along the digestive tract.
It is there that glucosinolate degradation finally occurs, resulting in a wide range of metabolites, including ones containing sulphuric compounds. READ MORE.
What Cabbage Variety is Best for Roasting?
The cabbage in this recipe is common green (or cannonball) cabbage. However, feel free to experiment with other varieties such as Red Cabbage, Choy Sum, Chinese Cabbage, frilly Napa Cabbage, or Savoy Cabbage.
This method of cooking doesn't stop at just cabbage. It works on other Brassicas including Brussels sprouts, cauliflower and broccoli.
How to Make Oven Roasted Cabbage Wedges
The most difficult step of this process is cutting the cabbage. Please be careful and use a sharp knife and cutting board.
You don't have to keep the cabbage in wedges, it just looks nicer for presentation. Alternatively, you can chop the cabbage up into large chunks before roasting.
To prepare the cabbage into wedges, cut the cabbage through the middle starting at the stem end. Remove most of the core from each half of cabbage by cutting in an upside down 'v' (leave some core so the leaves remain attached).
Slice each half through the stem again, then repeat so there are 8 cabbage wedges in total.
Preheat the oven to 400F. Drizzle olive oil over the bottom of a shallow dark roasting pan and place the wedges cut side down on the oil. Slide them around on the prepared baking sheet to coat, then flip them over and slide again.
Give them another generous glug of oil, then season with salt and pepper. You are ready to roast, baby!!
How Long Should I Roast Cabbage Wedges For?
The cabbage you see in the pictures is roasted so that the outside is becoming crispy, while the inside remains tender. It was roasted for 45 minutes. However, we like it almost obliterated.
Dare to go even farther (an hour or more!) with your roasted cabbage (brown to black colours for reference) and you will be rewarded with heaps of flavour.
The Science Behind High Heat Roasting
Just when you thought the food science lesson was over for the day, here we are. I could skip over this lesson but it's the whole reason this dish is so damn awesome!
Believe it or not, the darkened bits do not form as a result of the Maillard reaction (which generally occurs only between 280F to 330F. At higher oven temperatures, such as the temperature used in this recipe, direct caramelization occurs.
Simply put, the sugars within the cabbage break down under sustained high heat. They actually caramelize and if you leave it long enough, they undergo breakdown via pyrolysis, or burning.
4 Helpful Tips for Roasting Cabbage
Use high heat. An over preheated to 400F is perfect.
Use a dark roasting pan and do not line it with parchment. Go all in for cabbage.
Be liberal with the olive oil, otherwise you end up with 'oven dried' cabbage.
Season with salt and pepper, as always.
Variations on a Good Thing
Roasted Cabbage is FAB on it's own. I hate to be a broken record, but DAMN! However, if you like to dress it up a little here are a few tried and true ways to make it snazzy.
Drizzle hot honey over top. Absolutely mind blowing.
Pair it with a creamy and chunky blue cheese sauce.
Pour over some Romesco or Chimichurri.
Eat it with roasted walnuts and balsamic vinegar.
Add some grapes half way through the roasting period. Roasted grapes are amazing!
Melt a strong cheese over top during the last few minutes of roasting.
Storing and Reheating Roasted Cabbage Wedges
Cabbage doesn't keep forever. Believe me, I've tried.
I like to keep a raw head of cabbage in the fridge, specifically for roasting purposes for up to a month. If the outer leaves get dodgy, just peel them off until they are shiny fresh again.
Once it is roasted, cabbage will also keep for at least a week in the fridge. Much longer, if you are my mother (seriously though, don't try this).
I wouldn't recommend freezing it, as there will be still a significant water content. This will cause textural issues after thawing.
Simply reheat leftover roasted cabbage in an oven (350F), frying pan or microwave.
Yield: 4 servings
Roasted Cabbage Wedges (Oven Method)
Perfectly roasted cabbage wedges are incredibly easy and delicious. Enjoy this unsung hero of the vegetable world in a new and tasty way.
Ingredients
1 medium green cabbage
olive oil
salt and pepper
Instructions
Preheat oven to 400 F.
Cut the cabbage through the middle starting at the stem end.
Remove most of the core from each half of cabbage by cutting in an upside down 'v' (leave some core so the leaves remain attached).
Slice each half through the stem again, then repeat so there are 8 wedges in total.
Drizzle olive oil over the base of a dark roasting pan.
Place wedges down and rub along the oil, then flip the wedges over again. Season with salt and pepper.
Roast for 30 minutes, then carefully flip the wedges over and drizzle with a bit more olive oil.
Roast for another 15-30 minutes depending on how dark you prefer the cabbage.
Nutrition Information:
Yield:
4
Serving Size:
1
Amount Per Serving:
Calories:

39
Total Fat:

3g
Saturated Fat:

0g
Trans Fat:

0g
Unsaturated Fat:

3g
Cholesterol:

0mg
Sodium:

77mg
Carbohydrates:

2g
Fiber:

1g
Sugar:

1g
Protein:

0g
Nutritional calculation was provided by Nutritionix and is an estimation only. For special diets or medical issues please use your preferred calculator.