Spinach Stuffing Balls are a great make ahead side dish for your holiday dinner. Warm them up while the turkey is being carved then enjoy!
Make ahead side dishes are an absolute lifesaver during the holidays. Use the search feature on the blog (type in Thanksgiving) and you'll find several options.
Our favourites are these Stuffing Balls and Braised German Red Cabbage. Of course, a generous bowl of Buttermilk Mashed Potatoes is an absolute must have on the holiday table.
Spinach Stuffing Balls
I classify these Spinach Stuffing balls as a 'throwback recipe' or Vintage recipe because they have been a part of my holiday dinner table for decades.
Our family LOVES stuffing. They always request this side in addition to the stuffing that is already in the turkey. The worst thing ever is to run out of stuffing at a turkey dinner!
These savoury stuffing balls are loaded with classic stuffing flavours that everyone loves, such as sage and poultry seasoning. They have a perfect crusty outer layer and a tender, moist interior.
However they differ from classic stuffing because they contain grated Parmesan, eggs, and chopped spinach.
Ingredients
bread cubes
spinach
eggs
Parmesan Cheese
Butter
Poultry Seasoning
Salt and Pepper
While I generally promote and encourage from-scratch cooking, I make an exception for this recipe. Yes, I use packaged stovetop stuffing mix!
You can crumble and dry out your own bread cubes but the stuffing mix has the perfect size of very small bread cubes. If you can find them somewhere else, feel free to use them.
It used to be that the seasoning would come in a separate package alongside the bread cubes. I would just toss it and season it myself. Now, the cubes are already seasoned so you may not even need to use salt, pepper, or poultry seasoning.
Frozen Chopped Spinach is a lifesaver! I keep a package in the freezer at all times and it is perfect for adding to this recipe and others. Frozen kale will work in a pinch.
Parmesan Cheese. So worth it to get the real deal and use a fine grater for best results. Again, if you only have the packaged stuff, use that in the recipe.
How to Make Spinach Stuffing Balls
If you can make a meatball, you can make these stuffing balls! Begin by preheating the oven to 350 F.
Next, crack the eggs into a large mixing bowl. and beat them with a whisk for a minute or two before adding the rest of the ingredients.
Using your hands, form the mixture into 1 1/2 inch balls. Feel free to moisten your hands with some water to prevent the mixture from sticking.
Place a baking rack on top of a baking sheet. Arrange the balls on the baking rack and bake for 12-15 minutes or just until they begin to turn colour.
Make Ahead and Reheat this Side Dish
As mentioned, this is the perfect side dish to make ahead of the big day. Simply allow the Spinach Balls to cool to room temperature after baking.
Then, place them all in a freezer bag or air tight container. Refrigerate for 4-5 days or freeze until needed.
To reheat from frozen, allow to thaw overnight in the fridge. Then, reheat them in a covered casserole dish at 350 F as the turkey is being carved.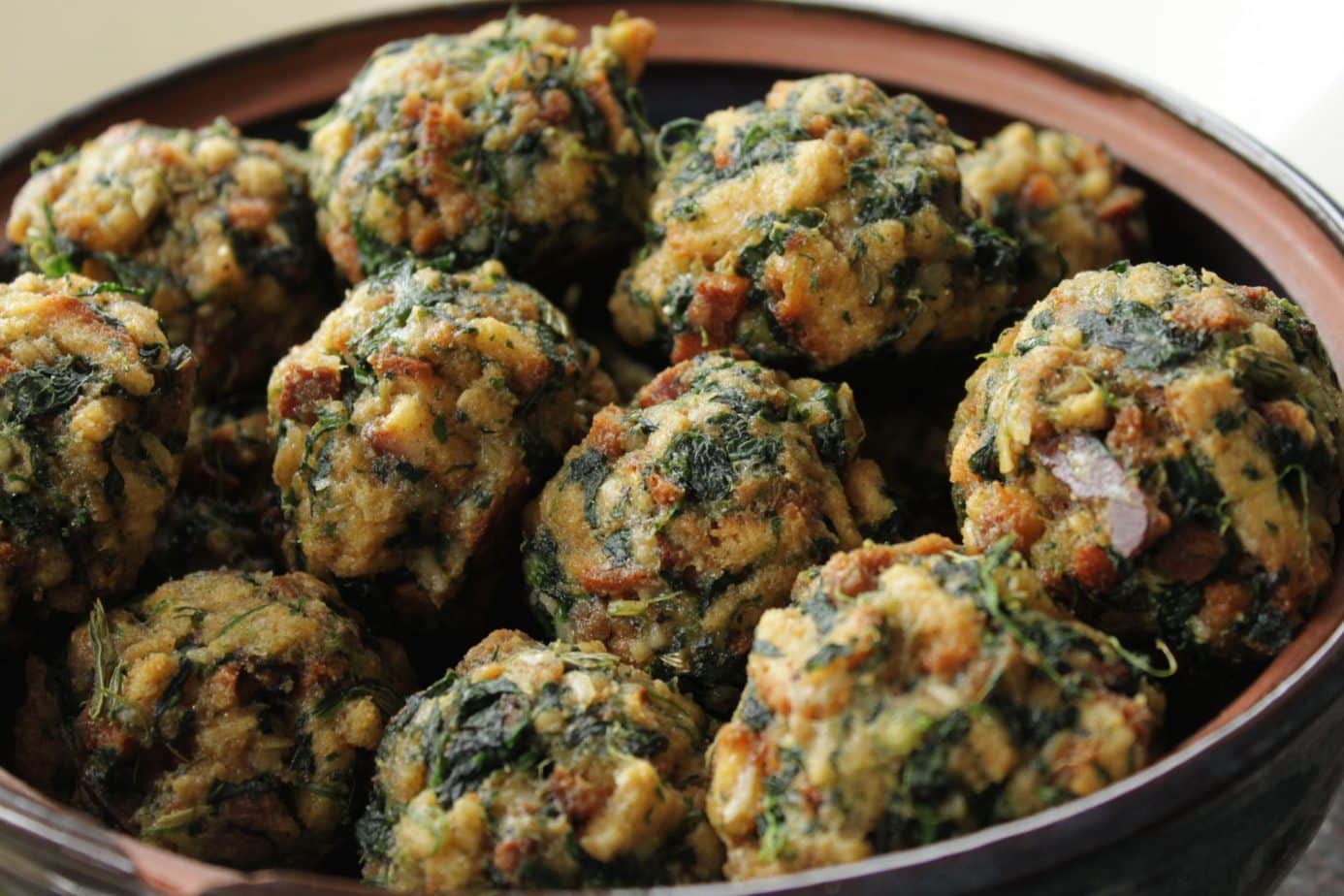 Delicious Stuffing Ball Variations
Spinach and Parmesan Cheese are delicious in these stuffing balls but there are many ways to change the flavour combination.
Go Greek! Try adding feta cheese, oregano, garlic and lemon zest.
How about Italian…I'm thinking Pecorino with sun dried tomatoes and basil!
Go Swiss! Smoked gouda and mushrooms maybe?
Or…change it up by adding a bit of sausage meat, some shredded cheddar and parsley.
The possibilities are endless. What flavour combinations can you think of?
Join Me for Saturday Brunch!
Join the Saturday morning newsletter and get cozy with a cup of coffee. Inside you'll find free recipes, giveaways, and more. It's such a delicious way to start the weekend!
By clicking subscribe, you agree to share your email address with the site owner and receive emails from the site owner.
Helpful Items for this Recipe
This post contains affiliate links. As an Amazon Associate, I earn a small portion from qualifying purchases at no extra charge for you.
Cheese Grater (Red)
OXO Good Grips 3-Piece Stainless-Steel Mixing Bowl Set
Baking Sheet with Rack Set