Spinach Stuffing Balls are a great make ahead side dish for your holiday dinner. Warm them up while the turkey is being carved then enjoy!
Spinach Stuffing Balls
Today I'm going to give you a 'throwback recipe'…because it's Thursday. Get it?I've been thinking about my early days as a mom recently, perhaps it's because several of my friends are just starting to have babies or maybe it's because my own children are no longer 'little ones'. Back in the day, let's say 20 years back, there was no Google.  Any sort of parenting advice that I received came from my mother, books, or my network of mom friends.
Pre-Blogging Busy Momma
The same went for cooking. In my younger days as a university student mom our meals were simple. I sometimes relied on pre packaged ingredients.  What can I say? As a cash strapped, naïve, 'just off the farm' young mom with little time to cook, packaged food was awfully convenient. We ate a lot of canned soup, zoodles, hot dogs, and mac 'n' cheese. I balanced our diets with a salad or fruit. I wasn't completely clueless. On the weekends I had a bit more time to experiment and often made muffins, lasagna, and always a roast beef for dinner.
Spinach Stuffing Balls Make a Great Side Dish
I remember looking for an easy side dish for a Thanksgiving feast one year. My parents were driving the two hours to visit us for a special meal in our tiny apartment in Saskatoon. I wanted something a bit different than the usual mashed potatoes, carrots, and stuffing to go with the turkey. Also, sneaking spinach into something yummy and hand held was an important part of my repertoire as the mom of a young toddler. I think I must have found this recipe on the side of the stuffing box, but I'm not quite sure.
Return of the Spinach Stuffing Balls
I made these stuffing balls again recently for a large family get together and my son's fiancée begged to take the leftovers home. It's been so long since I've made them I wasn't sure if they were still relevant in our house in the present day, but they were still quite popular. The next time I make them I will play around a bit with the seasoning as I found them incredibly salty. I think that this is one of those dishes that can easily be converted by using quality whole food ingredients instead of pre-packaged nonsense.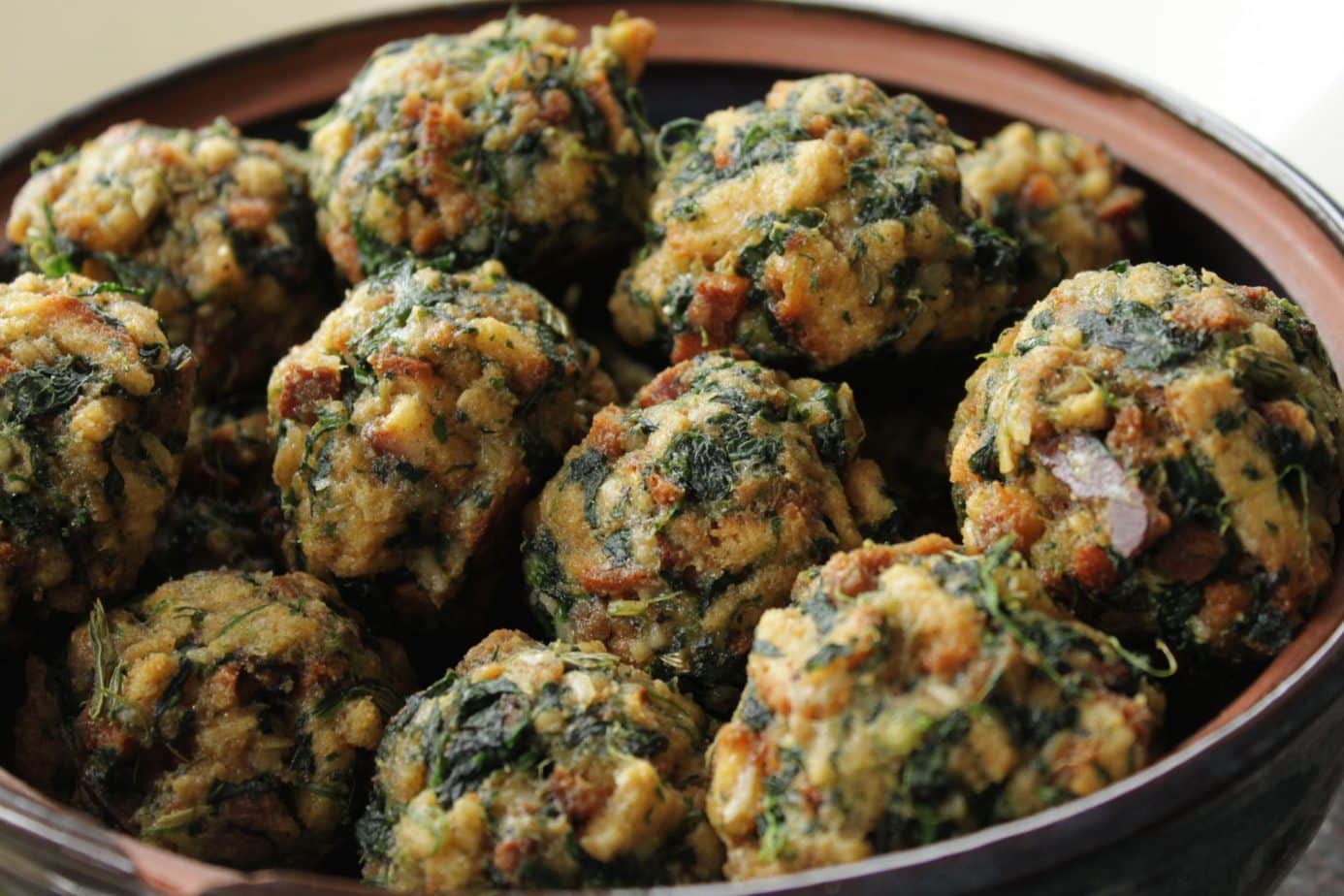 Join Me for Saturday Brunch!
Join the Saturday morning newsletter and get cozy with a cup of coffee. Inside you'll find free recipes, giveaways, and more. It's such a delicious way to start the weekend!
By clicking subscribe, you agree to share your email address with the site owner and receive emails from the site owner.