These Strawberry Rhubarb Muffins are jam packed with fruity goodness and bursting with flavour. They're easy to bake up and stay moist for days.
Did you know rhubarb has been a prairie staple for hundreds of years? Even though it's also known as the 'pie plant', there are many other ways to enjoy its tart flavour. Try it in a savoury barbecue sauce slathered over grilled pork chops or chicken or simply roast it with vanilla and strawberries for a sweet treat.
Strawberry Rhubarb Muffins
These golden beauties are filled with tasty fruit and accented with crunchy walnuts. You can leave off the streusel topping, but why would you? It doesn't take too long to make and really adds another dimension of texture and flavour to the muffins.
The classic Spring combination of fresh strawberries and tart rhubarb really shines in these muffins. This dynamic duo is a favourite of mine and I want to bake it into everything!
This recipe is a throwback to an older cranberry muffins recipe that I couldn't get out of my mind. They were perfect in every way; taste, texture, and crumb. I had to see if the recipe would also work with strawberries and rhubarb.
Thankfully, the final result was amazing! I'm happy to say the recipe produced perfectly soft, tender, moist muffins. These tasty muffins are irresistible and my family gobbled them up that same day.
Ode to a Muffin
Muffins are the unsung heroes of the breakfast world. They are a part of the 'quick bread' baking category. Muffins are an individually sized, baked product that uses leavening agents (baking powder, baking soda, or both) to achieve a coarse grained texture.
Muffins are generally sweet, thought not as sweet as cupcakes which are identical in shape. They can have plain tops, or have a crumbly top layer of streusel but they are never frosted like their sweeter cousin is.
They are quick to bake up and easy to modify by adding in ingredients such as berries, fruit, chocolate chips, or nuts.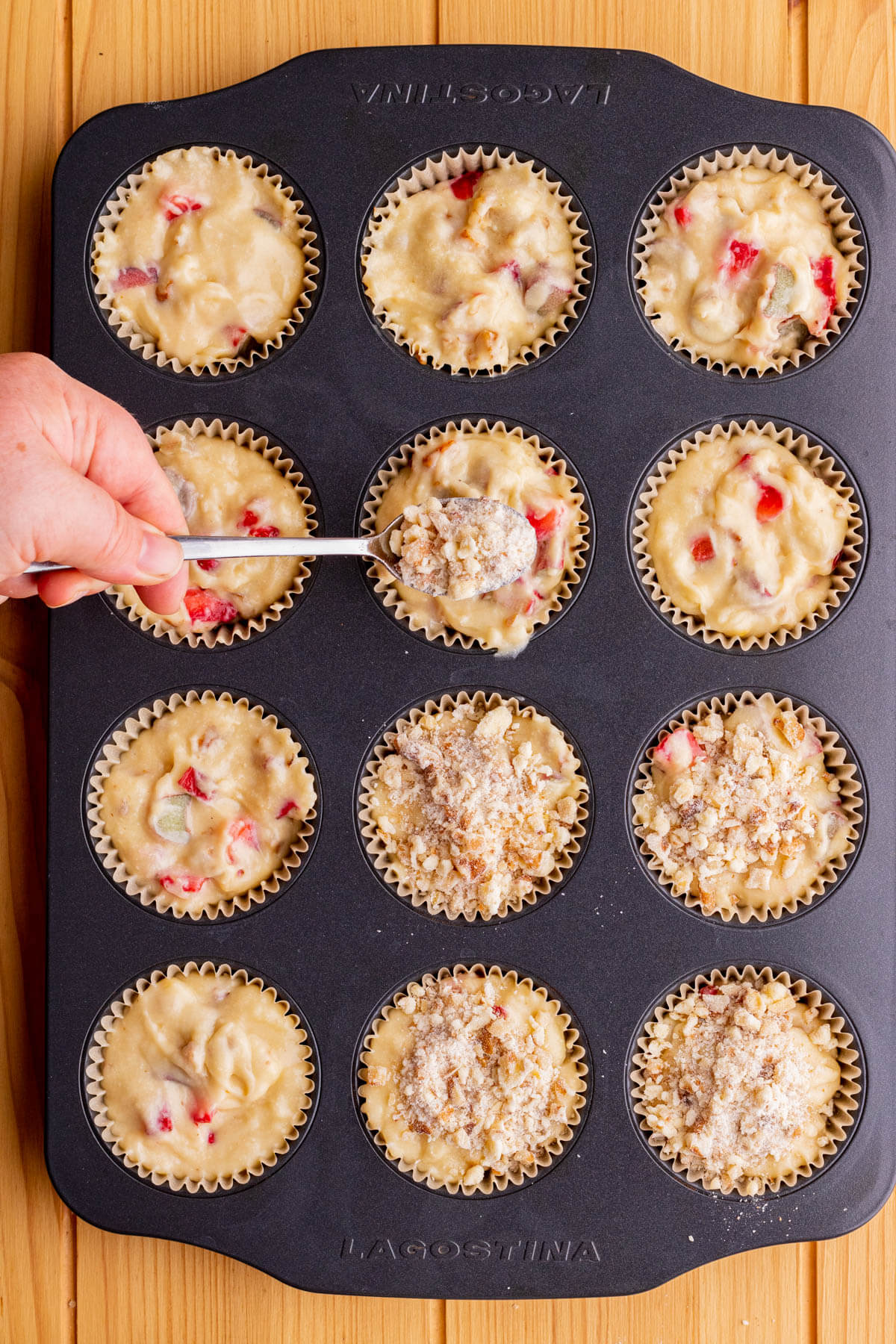 Strawberry Rhubarb Muffin Ingredients
All the usual baking ingredients are in these muffins. Leave out the strawberry and rhubarb, and you still have a great muffin base. However, I suggest that you add in your own fruit or berries, as they will add both flavour and moisture to the muffins.
Flour
Granulated Sugar
Brown Sugar
Baking Powder
Salt
Eggs
Milk
Butter
Walnuts
Strawberries
Rhubarb
Why two sugars? Each style of sugar plays a different role in this recipe. The white sugar helps to aerate the batter when it is creamed with butter, while the brown sugar combines with butter and flour to make a crunchy streusel topping.
While many muffin recipes call for baking soda and baking powder as leavening agents, this recipe only uses the latter. Baking powder includes an acidic component and can stand on its own in baking. It does not need an additional acid (such as buttermilk or yogurt) to activate.
In general, the percentage of milk fat does not matter in this recipe. Use whatever milk you have in your fridge, bet it dairy or otherwise. The same goes for butter. However, I do suggest using unsalted butter in most baking as this makes it much easier to control the amount of salt in the recipe.
Feel free to leave out the walnuts to make this recipe nut free or substitute them with either chopped pecans or almonds.
Try to find the ripest strawberries you can. Sweet red strawberries will give the muffins maximum flavour and moisture.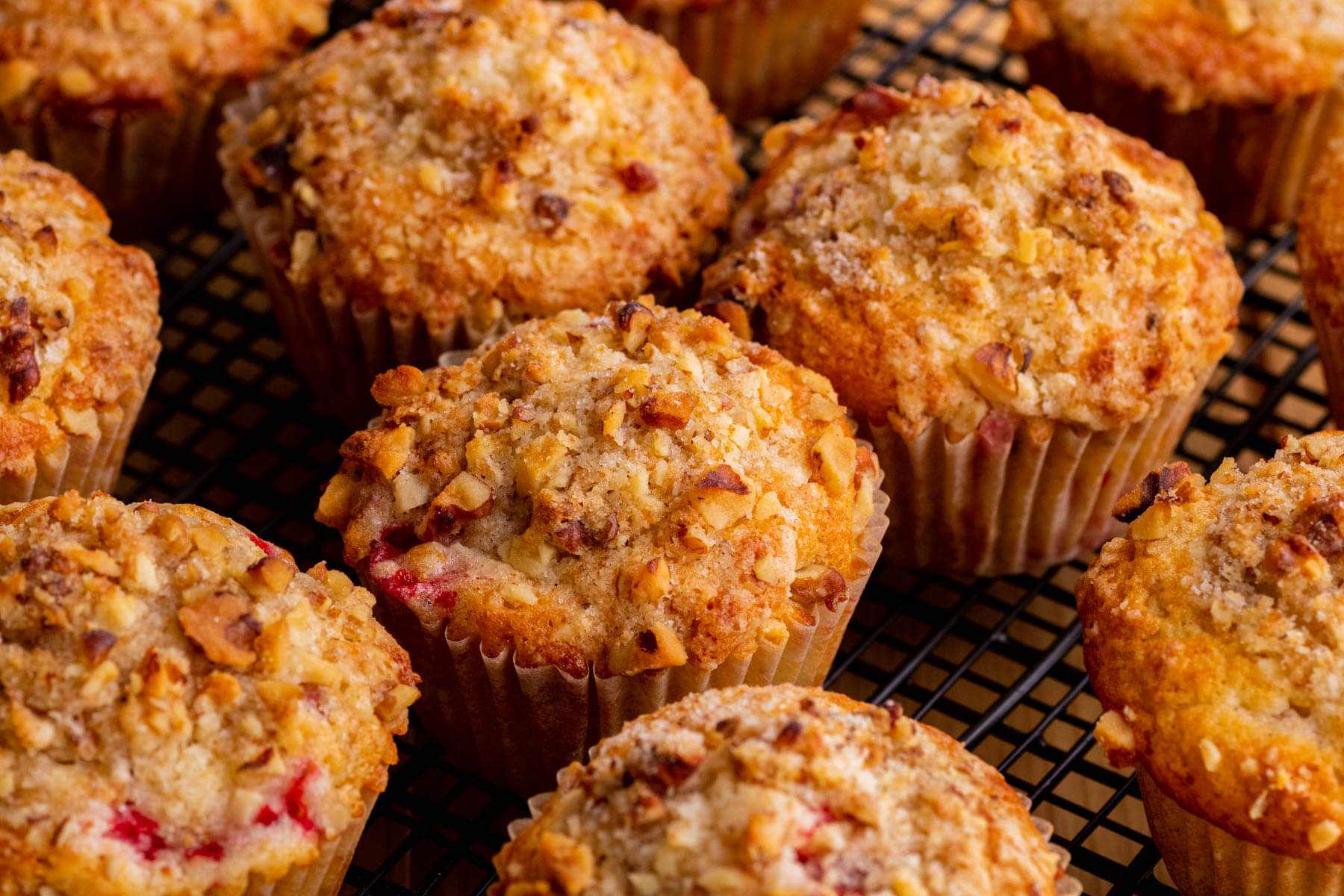 What is Rhubarb?
Rhubarb is a hardy herbaceous perennial that grows from thick underground rhizomes. Although it's classified as a vegetable, the edible stalks, or petioles, are used as a fruit in a variety of sweet recipes.
The stalks may be bright red, or green (or both) in colour depending on the amount of anthocyanins present. They can be eaten raw, though are quite tart in flavour so are best when combined with sugar and other fruits such as strawberries or raspberries.
Rhubarb was originally cultivated in China where it played (and remains) an important role in Chinese medicine. From there, the herbaceous plant traveled along the Silk Road to Europe and the Mediterranean.
The high cost of import, coupled with the ease of growth and increasing demand led to widespread cultivation in the UK. Today rhubarb is widely grown in both northern and southern hemispheres.
Note that rhubarb leaves should never be consumed as they contain a high level of oxalic acid while is slightly poisonous and may lead to kidney stones. Fatal and non fatal rhubarb poisoning may be caused not by oxalates, but rather by an additional, unidentified toxin.
How to Bake Strawberry Rhubarb Muffins
Begin by making the streusel topping so that it is ready sprinkle on top of the batter before baking.
Place the flour, sugars, butter, and salt into the small bowl of a food processor. Pulse until the mixture resembles coarse crumbs. Add the walnuts and pulse until the walnuts are desired size. Set aside.
Preheat the oven to 425F and line a muffin pan with paper liners. Next, mix the flour, baking powder, and salt together in a small bowl. Set aside.
In the large bowl of a stand mixer, cream the butter and sugar together until the mixture becomes pale. Add the eggs one at a time, then add the milk.
Gently stir the dry ingredients into the wet ingredients only until it the batter comes together. Do not overmix. Fold in the the walnuts, strawberries, and rhubarb.
Next, use a measuring scoop to evenly distribute the muffin batter amongst the paper lined muffin cups. Top each cup of batter with 1 tablespoon of the streusel topping.
Bake at 425F for 15 minutes or until an toothpick inserted into the middle of the muffin comes out clean (no more than 18 minutes).
Allow the muffins to cool in the pan for 5 minutes, then remove and place on a wire rack to cool completely.
Muffin Tin Liners vs. Greasing the Pan
Muffins bake up quickly in muffin tins which can either be lined with paper, aluminum, or silicon cups or simply greased. Lining the pan makes it so much easier to remove the baked muffins.
Choosing how to line the pan depends upon what kind of muffin you want to end up with. If you want a muffin with a crusty bottom, use either butter, oil, or cooking spray to grease the muffin cups.
I'm a fan of using paper muffin cups. It's so much easier to remove the baked muffins and clean up is a breeze. I also find that the liners help keep the muffins nice and moist.
Are Strawberry Rhubarb Muffins Healthy?
I'm not entirely sure why this recipe works with just 6 tablespoons of butter but it does. So, that alone makes this recipe quite a bit healthier than many muffin recipes with at least one cup of oil. Note that there is still a fair amount of sugar in these muffins.
Rhubarb is rich in antioxidants such as anthocyanins (which are what make a beautiful red colour) and is a very good source of vitamin K1 and a moderate source of calcium. While it does not have much in the way of essential nutrients, it's an excellent source of fiber.
Strawberries are also a rich source of antioxidants, along with Vitamin C, potassium, folic acid, and even more fiber. They are thought to help protect your heart, prevent strokes, and guard against cancer.
Join Me for Saturday Brunch!
Join the Saturday morning newsletter and get cozy with a cup of coffee. Inside you'll find free recipes, giveaways, and more. It's such a delicious way to start the weekend!
By clicking subscribe, you agree to share your email address with the site owner and receive emails from the site owner.