A simple Strawberry Rhubarb Jam recipe to celebrate the classic Spring flavour combination of sweet ripe strawberries and tart rhubarb.
There's nothing like Spring produce after a long winter. While I look forward to early treats such as wild ramps and white asparagus, cooking with rhubarb is one of life's true pleasures.
Strawberry Rhubarb Jam
This gorgeous ruby jam is packed full of fresh ripe red strawberries and stewed sour rhubarb. Though rhubarb can be paired with other fruits, there really is no better flavour combination than strawberry and rhubarb.
The flavours of the two ingredients really compliment each other extremely well, resulting in a full flavour explosion on your tongue. There's a reason I have so many strawberry rhubarb recipes here on the blog!
While I love this jam on toast or freshly baked scones, there are so many ways to enjoy it. Try a spoonful on plain yogurt, your morning oatmeal, or a bowl of vanilla ice cream.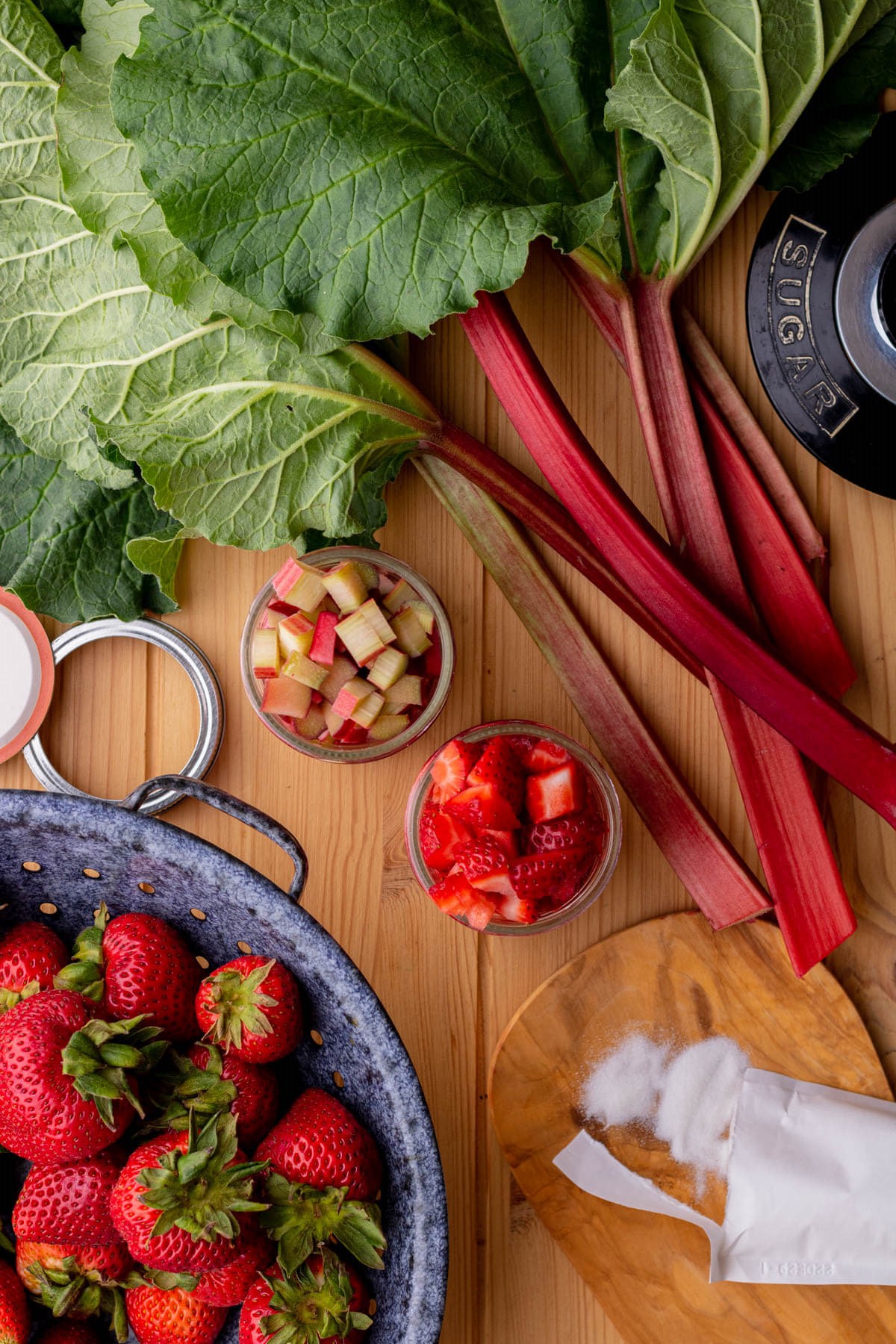 My jam making career began around forty years ago with Strawberry Rhubarb Jam. Back then, I was an enthusiastic kitchen helper at my grandmother's side, smashing strawberries and stirring cooling jam.
Twenty years later, as a young mom, I wanted to share my love for this classic with my family. In fact this jam was one of the first preserves I made for my little family, along with Pickled Carrots.
Now, I'm thrilled to say that the batch of jam in this post has made it's way into the hearts of family and friends. Our eldest son immediately ate his slathered all over freshly baked strawberry rhubarb muffins. I love it when food traditions carry on through generations!
Ingredients for Strawberry Rhubarb Jam
Strawberries
Rhubarb
Lemon Juice
Sugar
Pectin
The ingredients list for this jam is short…and sweet. For this reason, I highly recommend that you source the very best produce available. Sun ripened red strawberries are so sweet when in season.
Rhubarb can be very tart or sour, and sometimes it is stringy when it matures. Red rhubarb varieties contain less anthocyanins and have a sweeter, more intense flavour than green varieties.
Choose the variety according to your own flavour preference. If you like a sweeter jam, choose red rhubarb. If you want a sour or tart flavour profile, select green rhubarb.
Can I Use Frozen Fruit to Make Jam?
Yes! You can totally make this jam using frozen strawberries, frozen rhubarb, or both. Prepping and freezing the fruit while it's in season allows you to make the jam when it is convenient for you.
It's truly the best of both worlds; produce at its peak of flavour combined with a cool winter kitchen that smells amazing.
I recommend thawing the frozen rhubarb at room temperature for 30-60 minutes before use. Additionally, it's best to completely thaw the strawberries before use in order to mash them to the proper consistency.
Why is Pectin Important in Jam?
Pectin is an important component in jams and jellies because it is what makes the jam set. This naturally occurring soluble fiber is found in fruits and vegetables, especially apples and citrus peels.
All jam contains pectin in some form, whether it is an added product or a natural component of the fruit. Jam recipes that claim they are 'pectin free' are lying.
So, how exactly does pectin make jam gel? It's thickening ability is a function of pectin's chemical structure and how it reacts when added to a liquid.
Since rhubarb is a very low pectin vegetable (yes! it's a vegetable), I prefer to add packaged pectin to my strawberry rhubarb jam.
Is Added Pectin in Jam Healthy?
In general, jam is not a health food. It's full of sugar with most of the benefits coming from the fruit. However, pectin is a naturally occurring soluble fiber that does have some benefits to your digestive system.
Nutritionally, pectin has almost zero benefits when it comes to minerals or vitamins. However, it may offer several benefits as a soluble fiber:
Pectin may improve blood sugar and blood fat levels.
Some initial studies have indicated that pectin may bind with a reduce certain types of cancer cells.
Weight management: Fiber helps you feel fuller for longer so you are less likely to over indulge.
Soluble fiber helps to relive constipation.
It contains healthy bacteria which can decrease inflammation and improve gastrointestinal symptoms.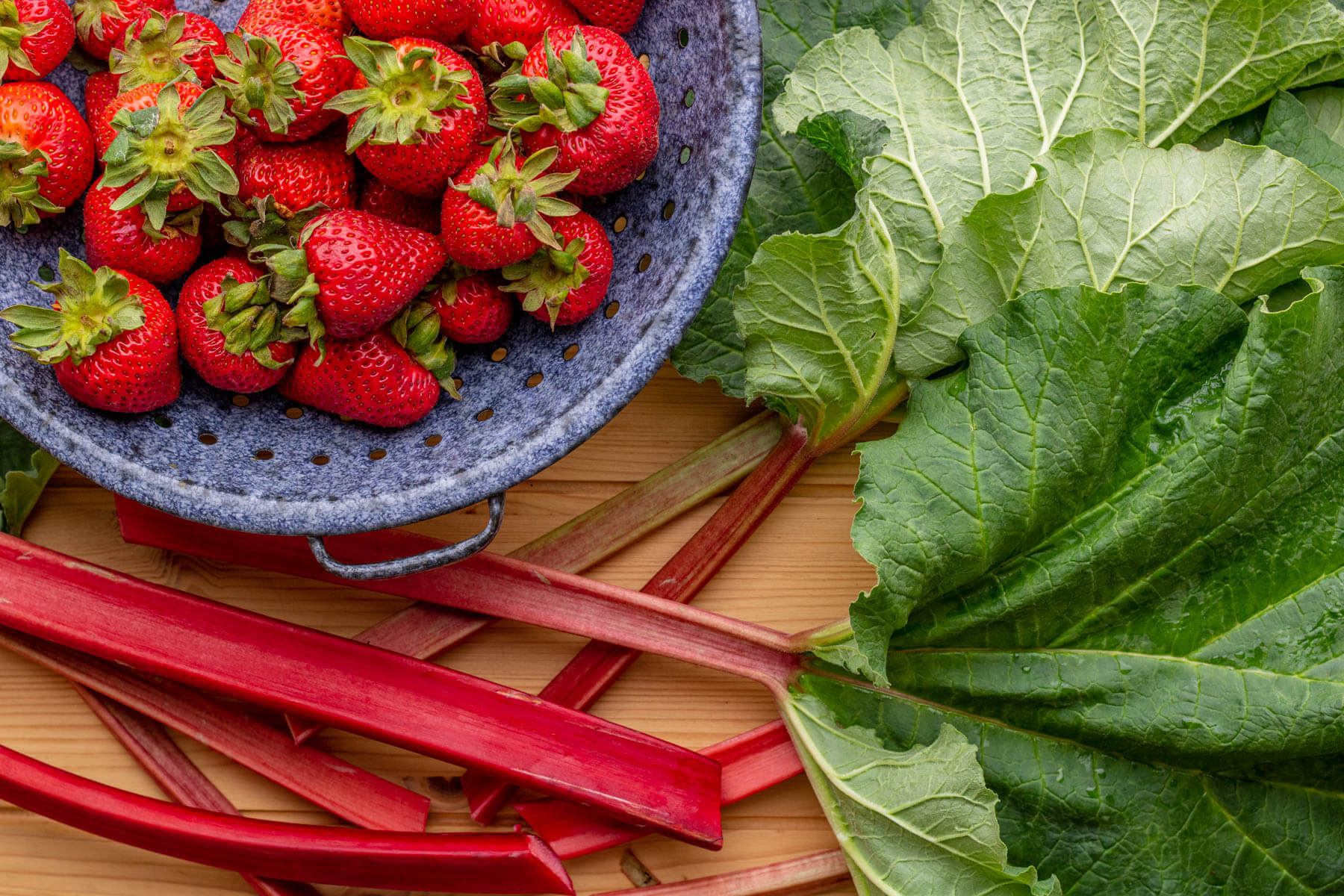 Preparing Fruit for Strawberry Rhubarb Jam
For any jam, properly preparing and measuring the fruit is the most basic way to ensure success. 5-6 cups of strawberries becomes 2 1/2 cups of mashed strawberries once they are de-stemmed, de-hulled, chopped, and mashed.
Large, mature stalks of rhubarb should be sliced lengthwise (possibly a few times depending on size), then sliced cross-wise into 1/2 inch pieces.
Keep a close eye on how much water content the fruit contains, as you may need to adjust the amount of lemon juice in the recipe later on.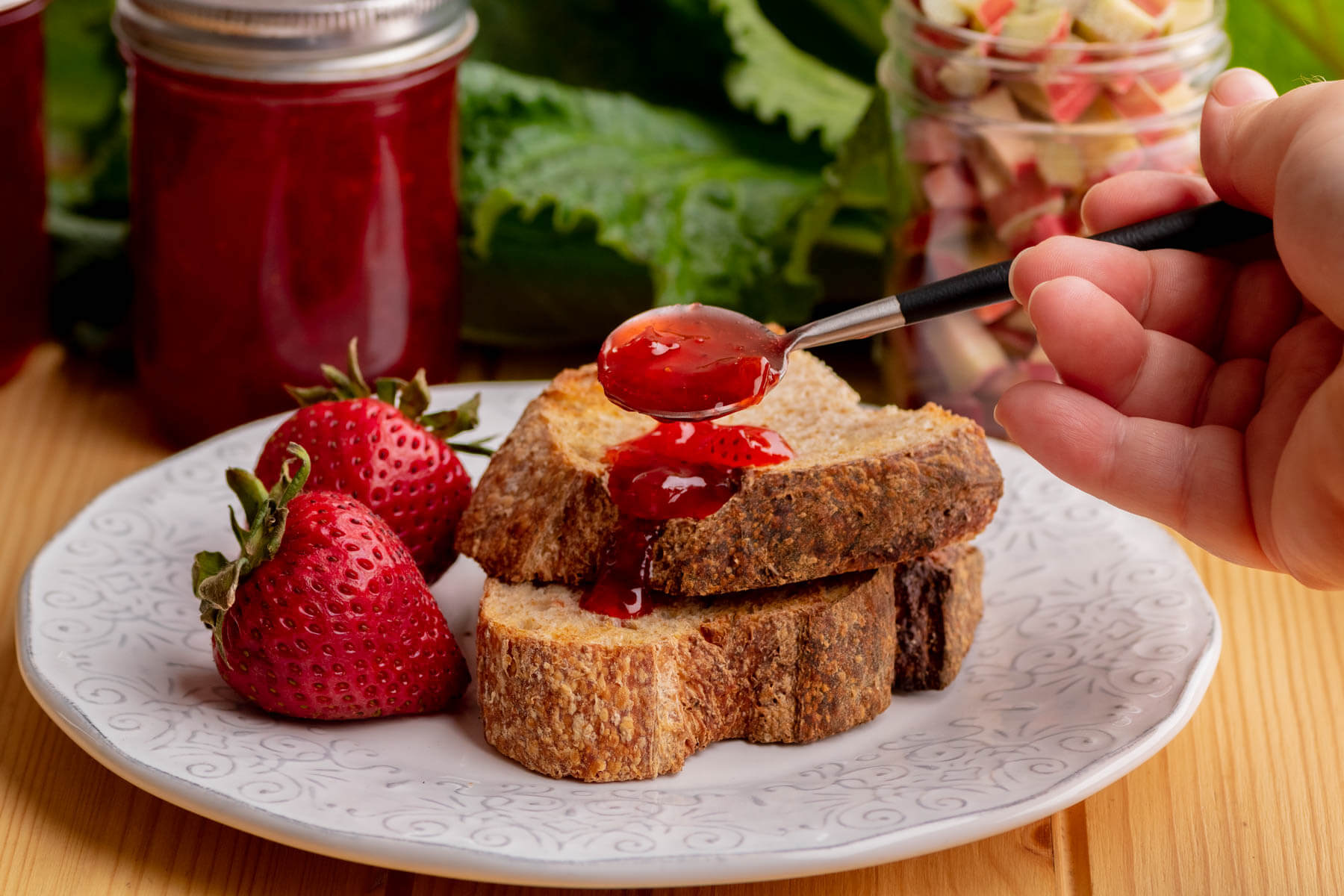 How to Make Strawberry Rhubarb Jam
Once the fruit is ready to go, set it aside while you inspect, wash, and sterilize the jars. At this time you can also fill a water bath canner with hot water if you wish to preserve the jam this way. Set it to boiling over high heat while you make the jam.
Sterilize the clean jars upside down in a tray of water in a 225°F oven for 10-15 minutes. Place the clean lids and rings went into a pot of boiling water along with the tongs and measuring cup. Ensure that everything that will touch the jelly or jars during the process of filling the jars is sterilized.
Keep the sterilized equipment hot while you make the jam. Place the prepared fruit in a large pot and add pectin and lemon juice. Measure out the 4 1/2 cups of sugar. Heat the fruit, stirring constantly over medium heat until it comes to a full rolling boil.
Add the sugar all at once and continue stirring until the jam returns to a full rolling boil. Allow to continue for a full minute, then remove from heat. Stir for 5 minutes, skimming any foam that surfaces off the top of the hot jam.
Remove the hot half pint jars from the oven using jar tongs, and carefully fill the jars leaving 1/4 inch head space. Wipe the jar rim with a clean cloth, then screw the hot lid and ring on until it is just tightened (but not too tight).
While I usually leave the jars to seal, then cool overnight without using the water bath method, some people prefer to also water bath the jars. To do so, lower the jars into the boiling water (ensure the jars are covered in one inch of boiling water) and process for 10 minutes, or according to altitude. Remove and allow to cool overnight.
Always check to make sure each jar has sealed properly. If not, store the unsealed jars in the fridge. Properly sealed jam will keep for a year or more in a cool, dark place.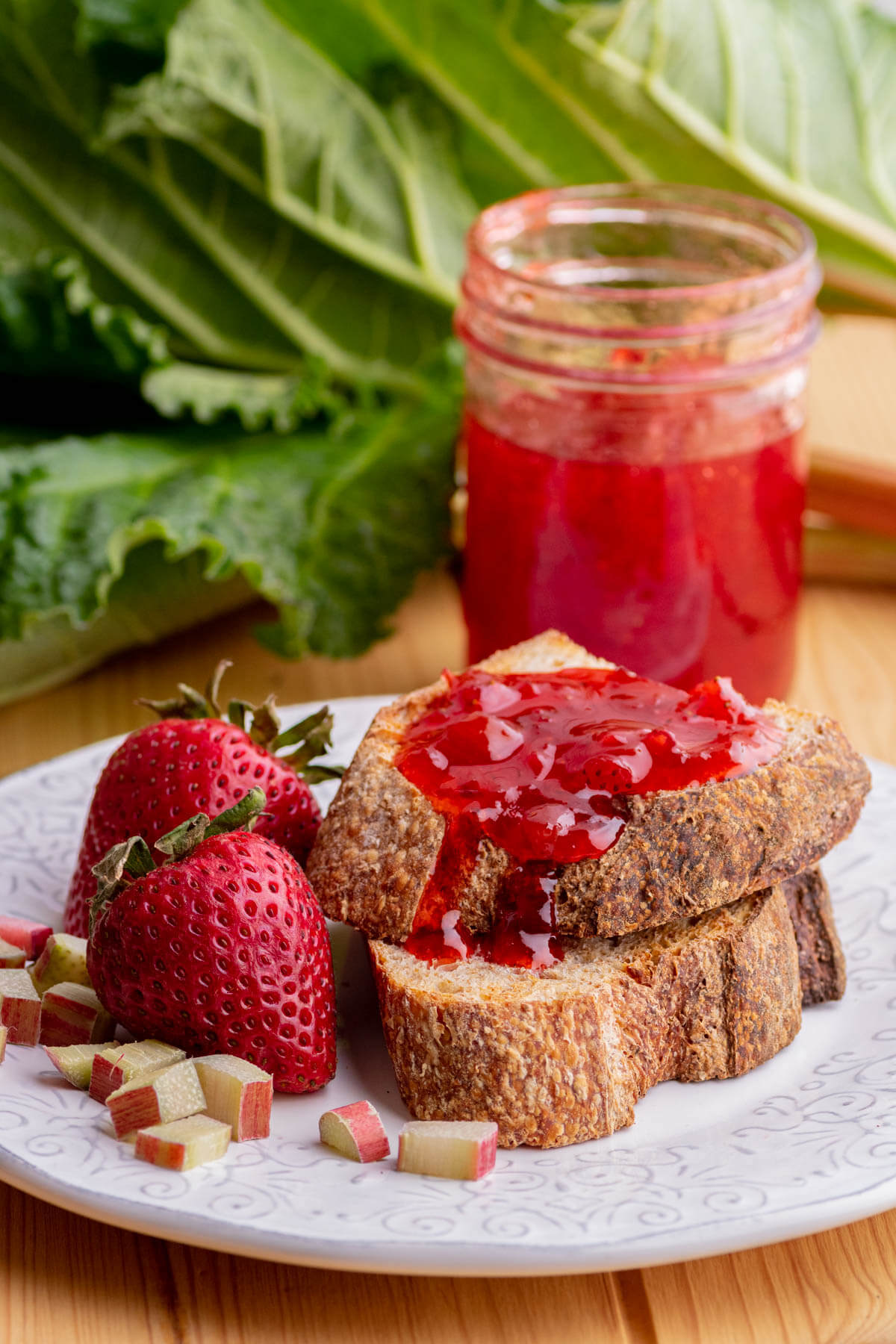 How to Fix Runny Jam
It happens to the best of us. The amount of liquid in fruit can vary from batch to batch, which in turn may affect the pectin's ability to gel. If, after 48 hours, the jam still hasn't set, you can enjoy the jam as a syrup or you can re-do the batch.
Bear in mind that everything will need to be cleaned and sterilized a second time. Open the jars and pour the contents back into the jam pot. For every 4 cups of runny jam, add another 1/2 cup of sugar and 1 tbsp powdered pectin.
Allow the mixture to boil again, this time for 5-10 minutes as it needs to reduce. Periodically check for thickening using the 'plate test'.
What is the Jam Plate Test?
Place a small plate in the freezer before you start the jam. Allow it to chill while the jam reduces. After 5 minutes place a 1/2 tsp hot jam on the cold plate.
Allow it to sit for a few minutes then run a spoon along it to see if it has set. If it hasn't, replace the plate in the freezer and boil the jam longer before you try the test again.
When the jam is ready, stir and skim for 5 minutes, then repeat the filling process again using sterilized equipment. Hot water bath if desired.
If you make this Strawberry Rhubarb Jam recipe, I'd love to hear about it in the comments section or in the ratings. Be sure to follow me on Facebook and Pinterest for my latest recipes. Also, if you do make this recipe, please share your photos and tag me on Instagram. I hope you like this recipe!
Yield: 7 half pint jars
Homemade Strawberry Rhubarb Jam
A simple Strawberry Rhubarb Jam recipe celebrating the classic flavour combination of sweet ripe strawberries and tart rhubarb.
Ingredients
5 cups ripe strawberries; mashed down to 2 1/2 cups total
2 cups rhubarb; chopped
2 tbsp lemon juice
1 package Pectin
4 1/2 cups granulated sugar
Instructions
Inspect, wash and sterilize 8 half pint (250 ml) jars and lids (I like to do a few extras as described here)
Wash, core, and chop strawberries. Wash and chop rhubarb.
Smash strawberries in layers in a big pot. Add the rhubarb.
Add pectin, lemon juice, and stir well.
Turn stove to medium-high and stir as mixture heats up.
Once it comes to a rolling boil (see photo), add sugar all at once then allow to return to a rolling boil. Boil for one more minute.
Remove from heat and continue stirring another 5 minutes. Skim any foam that accumulates on the surface.
Carefully ladle into hot jars, wipe the rims with a clean cloth, and cover with lids. Make sure rings are snug but not too tight.
Allow to cool overnight. Check seals and refrigerate any lids that have not sealed.
Notes
*If you prefer to use a hot water bath to seal the jars, fill a water bath canner (with a jar rack) with water at the beginning of your jam session to allow it to come to a full boil.
After step 8, lower the jars into the boiling water (ensure the jars are covered in one inch of boiling water) and process for 10 minutes, or according to altitude.
Nutrition Information:
Yield:
57
Serving Size:
2 tbsp
Amount Per Serving:
Calories:

67
Total Fat:

0g
Saturated Fat:

0g
Trans Fat:

0g
Unsaturated Fat:

0g
Cholesterol:

0mg
Sodium:

2mg
Carbohydrates:

17g
Fiber:

0g
Sugar:

16g
Protein:

0g
Nutritional calculation was provided by Nutritionix and is an estimation only. For special diets or medical issues please use your preferred calculator.