Got leftover BBQ Chicken? Treat your family and friends to these mouthwatering BBQ Chicken Nachos finished with a selection of all their favourite toppings. Don't forget the cheese!
These nachos are the perfect game day snack or quick dinner idea featuring leftover Instant Pot Pulled Chicken. Serve with a side of Guacamole and your favourite Pineapple Margarita.
Pulled BBQ Chicken Nachos
These super tasty pulled BBQ Chicken Nachos are packed with bites of sweet n spicy chicken, sweet pickled and fresh jalapenos, green onions, and tomatoes all covered with a blanket of melted cheese.
With a prep time under 15 minutes and less than 10 minutes of cook time, you can get dinner on the table in record time. These cheeky nachos are another leftover chicken dinner winner!
Did you know that nachos were invented by a Mexican…for an American (in Mexico!). Though they are the ultimate Tex-Mex dish, they slightly resemble Chilaquiles, a popular Mexican breakfast dish.
Ingredients for BBQ Chicken Nachos
The beauty of making your own nachos right at home is that all you need is a baking sheet and oven. Additionally, you can modify the ingredients according to what you have on hand.
While this particular combination of chicken, cheese, diced tomatoes, green onions, fresh and candied jalapenos is delicious, you can replace any (or all) of the ingredients, including the chicken! Turn taco night into nacho night by using Saucy Crockpot Taco Meat instead of chicken.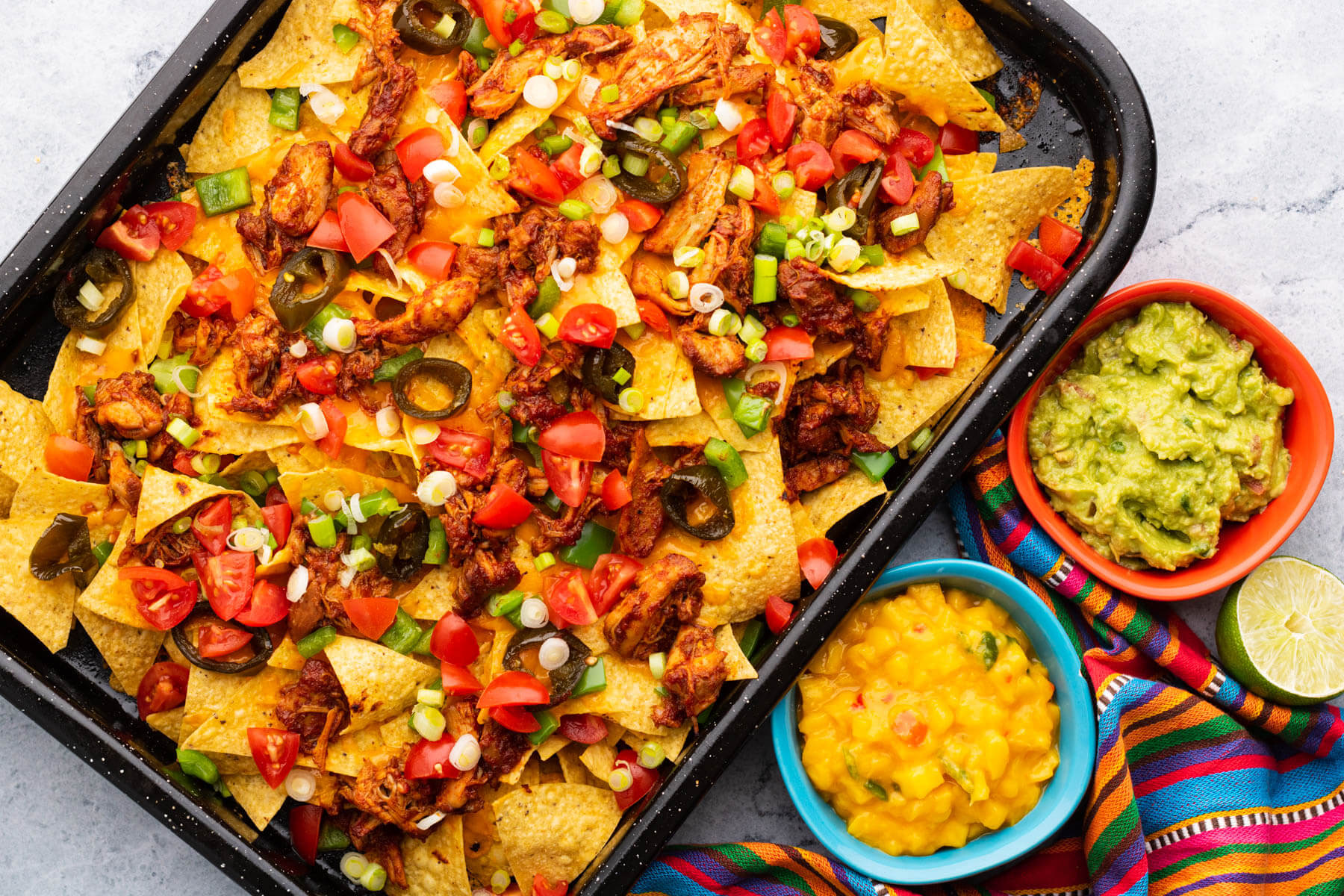 Tasty Nacho Toppings
Leftover pulled BBQ Chicken really makes the flavour of the nachos sing. I always make extra shredded chicken from this recipe, just so I can make these nachos. However, you could shred a store bought rotisserie chicken in a large bowl, pour some barbecue sauce over top and mix it all up. It's all good!
Nachos are also a great way to use up stale tortilla chips because they are reheated and will crisp right back up. I always buy low salt tortilla chips because that is what we prefer.
Besides the chicken and tortilla chips, the other toppings are little more than suggestions. Use whatever you have on hand. I suggest finely diced red onions, black beans, marinated banana peppers, pineapple chunks, and black olives in addition to the topping in the recipe card.
Finally, choose a cheese that melts well and has enough flavour to stand on its own but not overpower the nachos. For these nachos, I used shredded cheddar cheese however, Monterey Jack cheese is a common choice for nachos.
How to Layer Nachos
Let's talk layering. This is the single most important skill you need to know before making your own nachos. If you have ever eaten your way through the top layer of nachos to find a layer of plain tortilla chips underneath, you will know what I'm talking about.
I know it may seem like a lot of work, but layering the nachos ensures that each and every bite has tasty bits of chicken and toppings.
To layer nachos, simply divide the toppings (and cheese) that need to go in the oven according to the amount of layers you want in the nachos. Always end with a small top layer of hot toppings and extra cheese.
Save the cold toppings (green onions, diced tomatoes, cilantro) to add when the nachos come out of the oven. Lastly, serve any sauces (salsa, pica de gallo, or guacamole on the side to prevent soggy nacho syndrome.
How to Make BBQ Chicken Nachos
Preheat your oven to 375 F. Next, spread a single layer of chips on a sheet pan or baking sheet. Scatter 1/3 chicken, jalapenos, and candied jalapenos over top the bottom later then top with 1 cup shredded cheese.
Top with another layer of tortilla chips, then another 1/3 chicken, jalapenos, and candied jalapenos plus another cup of cheese. Repeat, and top the final layer with 2 cups of shredded cheese.
Bake in a 375 F oven until the cheese is melted and chicken is sizzling, about 8-10 minutes. Top nachos with diced tomatoes and chopped green onions. Serve with fresh mango or pineapple salsa, guacamole, and sour cream.
Tips for Making the Best BBQ Chicken Nachos
For extra crispy tortilla chips, pre bake them in a 350 F oven for a few minutes. Let cool before layering.
Layer tortilla chips and toppings so that every bit is delicious.
Bake the nachos instead of Broiling them. Baking ensures that all the toppings are heated through, not just the ones on the top.
Serve liquidy dips on the side, for dipping!
Join Me for Saturday Brunch!
Join the Saturday morning newsletter and get cozy with a cup of coffee. Inside you'll find free recipes, giveaways, and more. It's such a delicious way to start the weekend!
By clicking subscribe, you agree to share your email address with the site owner and receive emails from the site owner.
If you make these BBQ Chicken Nachos please be sure to leave a comment and/or give this recipe a rating! Be sure to follow me on Facebook and Pinterest for my latest recipes. Also, if you do make this recipe please tag me on Instagram, I'd love to see what you guys are making! Thank you so much for reading my blog.