Velvet Falernum, Orgeat, and Rum gathered together to capture the Essence of Tiki with The Friday Flame Tiki Cocktail.
Aloha Spirit
One day we went to Maui and we never really came back. Our bodies are located in Calgary but our minds (and spirits) reside beside the ocean watching the sun go down as palms sway in the breeze. The funny thing is Maui would never have entered my mind as a travel destination but our son (and daughter-in-law) insisted they needed to be married on a beach at sunset. I always say that 'mother knows best' (because I'm a mom, duh) but in this case my son was wise beyond his years. I fell in love with Maui…hard.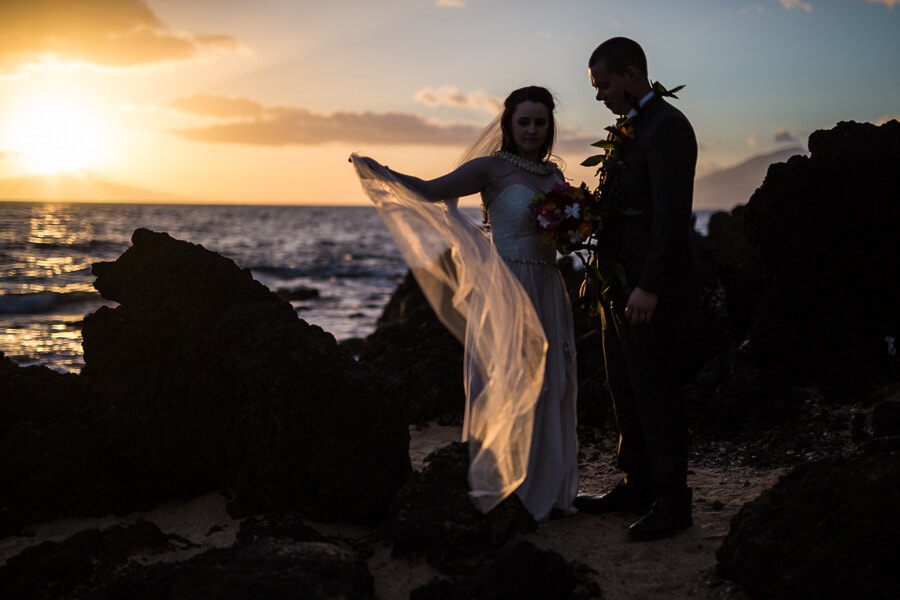 Photo by Cole Hofstra
That Tiki Spirit Hit Hard
For the last two months I've been wearing my Maui gear; cool swirly skirts, palm tree print blouses, khakis, and beach sandals as the weather allows it…and it does because, damn…this summer is a scorcher! The only souvenirs I brought home from our trip were a new daughter and a two-face Tiki mug. I had no reason for buying it other than I thought it was a kitschy throwback to some really wild island days and because it seemed like a 'proper' souvenir one would bring back from Hawaii. He sat on our shelf for a few weeks before I started to crave rum. Mr Tiki mug was sending Tiki vibes and I was receiving.
Turning Tiki
One Thursday night I just looked at my hubby and said, "Hey, do you want to make some Tiki cocktails?" TBH I have NEVER seen him jump off the couch that quickly and within minutes I had him zesting and juicing a bag of limes. I think this is where our lines got crossed though, because he seemed to think we were just going to make a cocktail and that was it. What I really meant was, "Hey, do you want to join me on a new life path where we become obsessed with everything Tiki?" Because that's what it is, it's an OBSESSION.
How Our Tiki Cocktail Adventure Began
We began by making simple syrup and Velvet Falernum which is an infusion of limes, almonds, fresh ginger, lime zest, sugar, cloves, and rum (!). Then I began making orgeat syrup, which is a multi-day process similar to making almond or any other nut milk but requires multiple soaking/massaging cycles. Yes, I massaged nuts. It soon became apparent to hubby that he wasn't getting a damn cocktail that night and he was bitterly disappointed. I realized I was losing my partner in crime and allowed him to break from script and make himself a Moscow Mule. He was momentarily appeased.
How to Begin a Rum Collection
When the orgeat and velvet falernum were ready, we set upon our Tiki adventure together. What we didn't realize is that (Holy Hell) there are so many kinds of rums. We couldn't really make too many drinks from our tiki cocktail book because we weren't very well stocked with rum varieties.
As with all hobbies, one must invest a little money in order to delve further into the depths of madness. So, we bought rum (s); Gold Rum, Aged Rum, Demerara Rum, Dark Rum, White Rum, Spiced Rum, Rhum Agricole, and Coconut Rum. Pretty much the only rum we don't have is over proof rum because I am still looking for it.
Other Tiki Cocktail Essentials
It's a good thing we already have a pretty well stocked liquor cabinet so we had some nifty extras such as Amaretto, Cointreau, King's Ginger, Absinthe, and Green Chartreuse to use as added flavours to our cocktails. It was enough to delve deeper into some serious tiki cocktails, anyway. Other tiki essentials are fresh squeezed citrus juices, some bitters, and you can never EVER forget the garnish. Sometimes the garnish includes a flashy stir stick, crazy straw, or parasol but you can get pretty creative with just fruit.
Our Tiki Cocktail Inspiration
One of the cocktails in our tiki book really caught my eye because it has a hollowed out lime half filled with green chartreuse as a garnish. The green chartreuse is lit on fire and allowed to burn for a few seconds before being tipped into the cocktail. Who wouldn't want to try a flashy cocktail like that? The cocktail I created for Connecting Over Cocktails (a blogger cocktail creative extravaganza) uses this same garnish, some rum (okay a lot of rum), my home made blueberry jelly, velvet falernum, lime juice, white rum, and demerara rum. It's called The Friday Flame.
How to Make Velvet Falernum
If you would like to make your own Velvet Falernum (and you should, it's not difficult) here is the recipe from Tiki Cocktails: 200 Super Summery Drinks by David Adams.
Makes 750 ml
Ingredients
2 tbsp blanched slivered almonds
40 cloves; crushed
3/4 cup white rum
9 limes; zested
3 1/4 inch piece of fresh ginger; peeled and sliced
1 1/2 cups sugar
1 1/2 oz. fresh squeezed lime juice
1/4 tsp almond extract
Method
Toast the almonds in a frying pan over medium heat until they become golden. Transfer to a clean quart jar.
Add the rum, lime zest, and ginger. Shake vigorously and leave to steep at room temperature for 24 hours.
Strain the mixture through a muslin cloth, taking care to squeeze every last bit out. Discard the solids.
In another clean jar, combine the sugar with 3/4 cup warm water and shake until the sugar is dissolved.
Add the rum mixture to the sugar water along with lime juice and almond extract. Shake well.
Mixture will keep in fridge for up to one month.
I'm pleased as Rum Punch to be a part of Connecting Over Cocktails with some very amazing and talented bloggers…this month our theme is fresh, seasonal summer fruit! Check out the other great fruity boozy concoctions from the other participating bloggers:
Sean Bromilow at Diversivore Currant Gin & Tonic with Maraschino Liqueur
Justine at Justine Celina Watermelon Frosé Cocktails
Dana at Killing Thyme Blueberry Lemon Vodka Fizz
Jen from Mud on Her Boots Honeyed Black Currant Cordial
Samantha at My Kitchen Love Spiked Peach Iced Tea
Jessica at Cooking in My Genes Cherry Bourbon Lemonade Smash
If you make this Friday Flame cocktail, I'd love to hear about it in the comments section or in the ratings. Be sure to follow me on Facebook and Pinterest for my latest recipes. Also, if you do make this recipe, please share your photos and tag me on Instagram. I hope you like this recipe!
Pin The Friday Flame Tiki Cocktail HERE.
The Friday Flame Tiki Cocktail
If you make this Friday Flame Tiki Cocktail recipe, I'd love to hear about it in the comments section or in the ratings. Be sure to follow me on Facebook and Pinterest for my latest recipes. Also, if you do make this recipe please share your photos and tag me on Instagram. I hope you like this recipe!
Yield: 1 drink
The Friday Flame
Blueberries. Rum. Lime. It's Tiki time!
Ingredients
1 oz white rum
1 oz demerara rum
.5 oz fresh squeezed lime juice
1 tbsp blueberry jelly; warmed up
1 oz. velvet falernum
green chartreuse
1/2 lime (keep squeezed out shell from juice for flaming garnish)
blueberries for garnish
Instructions
Place an old fashioned or mint julep glass in the freezer and allow to chill for at least half an hour.
Arrange fruit for garnish.
Place first five ingredients in a cocktail shaker and give it a dry shake (with no ice) for about ten seconds.
Add ice to shaker and shake until the shaker becomes frosty.
Place loose ice in glass and strain cocktail over ice.
Place garnish on glass, fill lime with green chartreuse and light with a match or lighter.
Allow to burn for 15 seconds, then gently blow out and tip liquid into the cocktail.
Nutrition Information:
Yield:
1
Serving Size:
1
Amount Per Serving:
Calories:

323
Total Fat:

0g
Saturated Fat:

0g
Trans Fat:

0g
Unsaturated Fat:

0g
Cholesterol:

0mg
Sodium:

8mg
Carbohydrates:

20g
Fiber:

1g
Sugar:

12g
Protein:

0g
Nutritional calculation was provided by Nutritionix and is an estimation only. For special diets or medical issues please use your preferred calculator.