Celebrating the Lunar New Year in the Year of the Pig? Here are 33 auspicious recipes that feature pork; the other white meat. If you are into recipe roundups and are wondering how to cook with an Instant Pot, check out this handy 25 Beginner Instant Pot Recipe Roundup. Or, explore savoury lemon recipes in this 56 Bright and Beautiful Savoury Lemon Recipes roundup. citrus
Local Pork Stars
The rising price of beef and chicken has nudged many consumers towards the other, often less expensive white meat; pork. Others have begun to include more veggie forward mains into their diets. I love my meatless dinners, like this Lentil Tajine with Whole Roasted Cauliflower but I also enjoy meat at meals. Supporting local pig farmers ensures that your meat based meals contain the very best, humanely raised pork. Read about my local pork stars, Christopher and Jessica from Bear and the Flower Farm here.
Celebrating Lunar New Year
This year, Lunar New Year festivities begin February 5th with the Spring Festival and end on February 19th with the Lantern Festival. Lunar New Year is primarily celebrated by East Asians of Chinese, Korean, Vietnamese, Tibetan, and Mongolian descent. There are other countries such as Japan that may celebrate the Lunar New Year as a result of their history even though they no longer follow the lunar calendar.
The Year of the Pig
This year those who celebrate the Lunar New Year are welcoming the Year of the Pig. How very fortunate for us, that the pig is one of the most delicious of the Chinese zodiac animals. With this in mind, I have strung together some of the most delicious Asian pork recipes from bloggers all over the world.
Ground Pork Recipes
Ground pork is a common ingredient in Asian pork recipes, from dumplings and stir frys to lettuce cups (San Choy Bao) and sticky rice. It's easy to work with and is really versatile. During Lunar New Year a plate full of plump and juicy pork dumplings are eaten to ensure the new year is full of prosperity and wealth.
Crispy Homemade Egg Rolls with a Sesame Ginger Dipping Sauce Meaghan
Instant Pot Chinese Sticky Rice with Sausage from Urvashi at Two Sleevers
Kimchee Pork Dahn at Pancakes Savor the Best
Great Cuts of Pork
In general, pork is considered lucky or brings the promise of progress. Those born in the year of the pig are said to have great personalities and are blessed with good fortune throughout life.
From a large braised pork hock to cha siu pork loin, I promise you there are endless ways to enjoy delicious (and lucky!) pork in the following Asian pork recipes.
Chinese Braised Pork Hock in Black Bean Sauce by Brian from Krumpli
Bun Thit Nuong Vietnamese Grilled Pork with Rice Noodles
Hoisin Glazed Pork Loin by Blair at The Seasoned Mom
Slow Cooker Asian Pulled Pork Sliders by Amy from House of Nash Eats
Vietnamese Pork Noodle Bowl Danielle at Went There 8 This
Crispy Instant Pot Caramelized Pork Ramen Danielle at Went There 8 This
Dan Dan Noodles by Brian from Krumpli
Pork Belly
Pork belly is one of the most popular cuts of pork used in Asian pork recipes. At Lunar New Year (and every day cooking!), it is prized for it's rich pork fat goodness and ease of preparation. This succulent cut is fabulous when braised, roasted, steamed, salted, cured and stir fried.
Sticky Belly Pork Burgers with Quick Pickled Vegetables from Nicky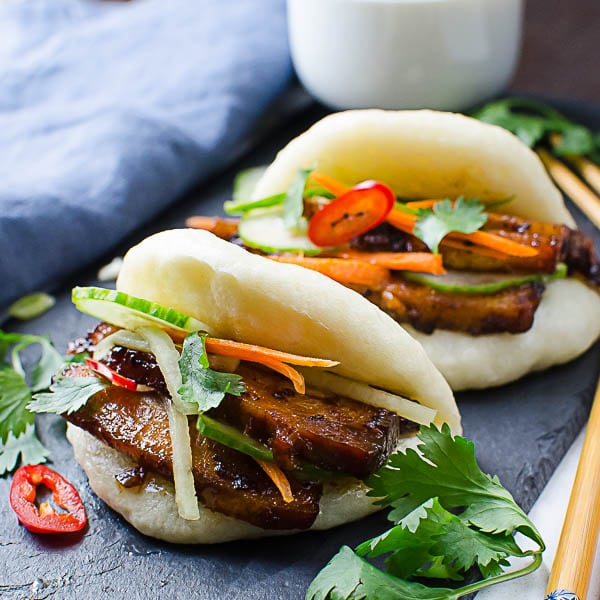 Bulgogi Pork Belly Bao by Lisa from Garlic and Zest
Pork Ribs
Is there anything better than succulent, meaty, fall-off-the-bone pork ribs? From the very traditional Kimchi Braised Pork Ribs to the Smoked Pork Ribs with Asian Spice Rub, you're sure to find a favourite rib recipe here!
Smoked Pork Ribs with Asian Spice Rub by Mary at Vindulge
Kimchi Braised Keto Whole 30 Pork Ribs Jean at What Great Grandma Ate
Pork Chops
Pork Chops or as I like to call them, little piggy steaks, offer the best bang for your buck. They're simply wonderful braised or marinated then grilled. During Lunar New Year you will often see them served 'Shanghai Style' coated in crumb and deep fried. This is a more historic interpretation as oil used to be in short supply…making this dish a treat only eaten on special occasions. These days, it seems every day can be feast day with these delicious Asian Pork Recipes!