This baked hot and cheesy Shrimp Scampi Dip dip goes beyond delicious. It's a mouthwatering dip filled with all the flavours of the classic appetizer.
As a tasty appetizer, this dip is shrimply amazing! Then again, I love anything that has shrimp in it. I could eat a bucket of these Golden Fried Coconut Panko Shrimp and we all crave Vietnamese Shrimp Salad Rolls at least twice a week!
Baked Shrimp Scampi Dip
Shrimp Scampi dip is a garlicky, cheesy, creamy seafood delight. It's packed with little salad shrimp and topped with bubbling cheese perfection. This little appetizer dip oozes flavour in all the best ways.
It may be rich and decadent, but the garlic and lemon cut through all the richness and accent the dip in a beautiful way. The flavours sing together in a way that makes you dip once, then come back for more again and again.
Serve this shrimp dip for your next gathering, or eat it on your own. No one is judging.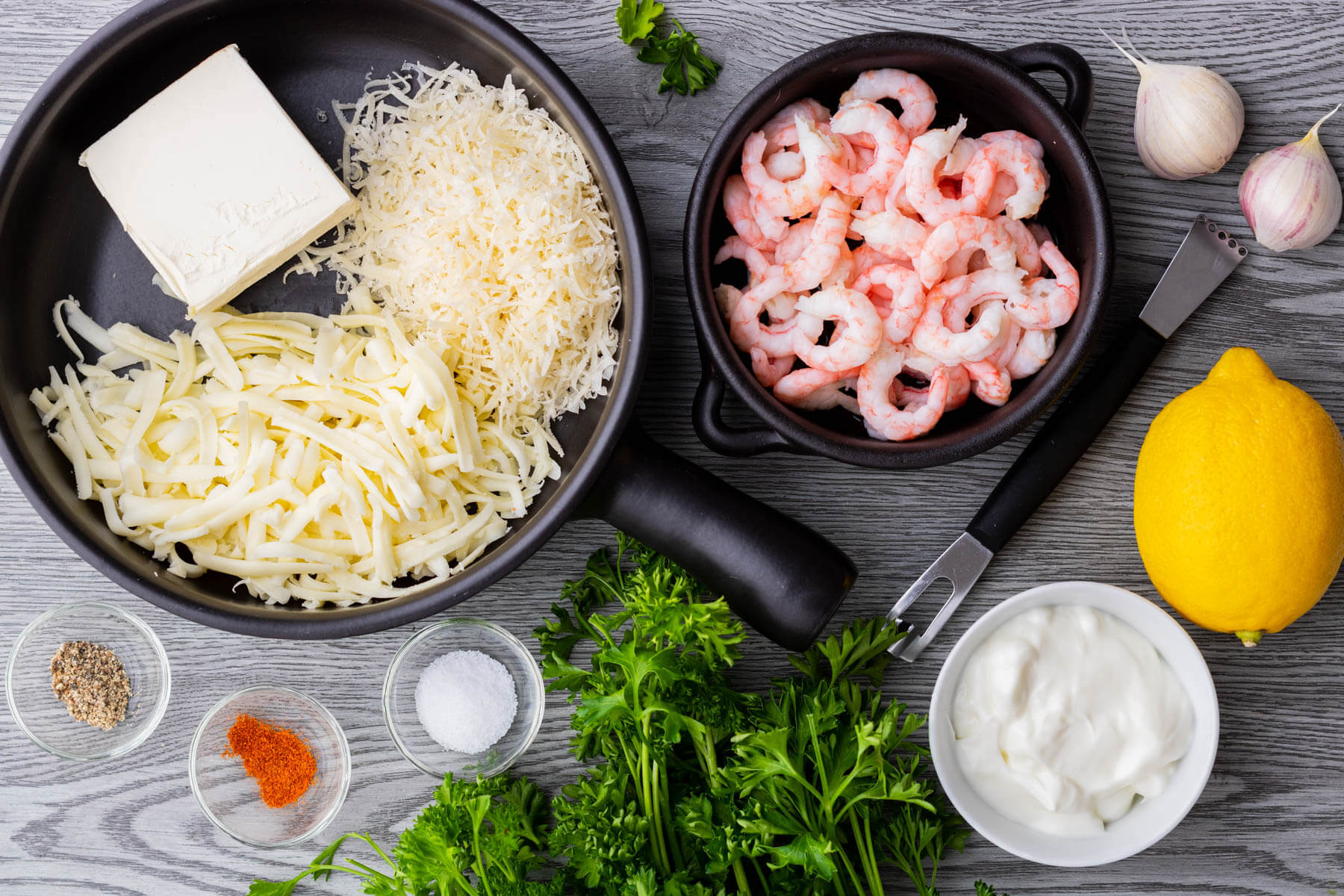 What is Shrimp Scampi?
Shrimp Scampi is a much loved Italian American appetizer with simple, yet flavoursome ingredients including garlic, butter, Parmesan, white wine and lemon juice.
The original preparation featured Scampi (singular Scampo), otherwise known as Dublin Bay Prawns or Norway Lobsters. These crustaceans are actually small lobsters, not shrimp, that live in the briny depths of the Mediterranean, in the northeastern Atlantic, and the waters of North Africa to Norway and Iceland.  
Shrimp Scampi is most often served as a hot appetizer on it's own, with bread, or as a delicious pasta dish. However, the term 'scampi' has become more of a style or preparation as chicken, lobster, or scallop can also be prepared in a similar manner.
This dip takes the flavours of a creamy Shrimp Scampi to a whole new level. In it, I've replaced the butter with even. more. cheese. It's made with shrimp, which makes an acceptable substitute for 'scampi'.
Ingredients
I don't know what I like the most about this delish dip. Could it be the blend of three cheeses that make it so creamy and gooey? Or is it the kick of lemon and bright fresh herbs? When each and every scoop contains a succulent shrimp or two, I consider it a winner.
Cream Cheese
Mozzarella
Parmesan Reggiano
Garlic
Lemon
Fresh Parsley
Shrimp
Sour Cream
Cayenne Pepper
Salt and Pepper
While this shrimp scampi dip recipe features a blend of cream cheese, mozzarella and Parmesan Reggiano, other great Italian cheeses such as asiago, provolone, pecorino, or Romano could replace the Parmesan.
Other than the shrimp, garlic is probably the most important flavour in this dip. The fresher the cloves, the better the flavour will be. I highly recommend sourcing locally grown garlic if you can, or even growing your own like I do. The two large garlic cloves in the photo are my homegrown garlic and they equal four regular sized cloves.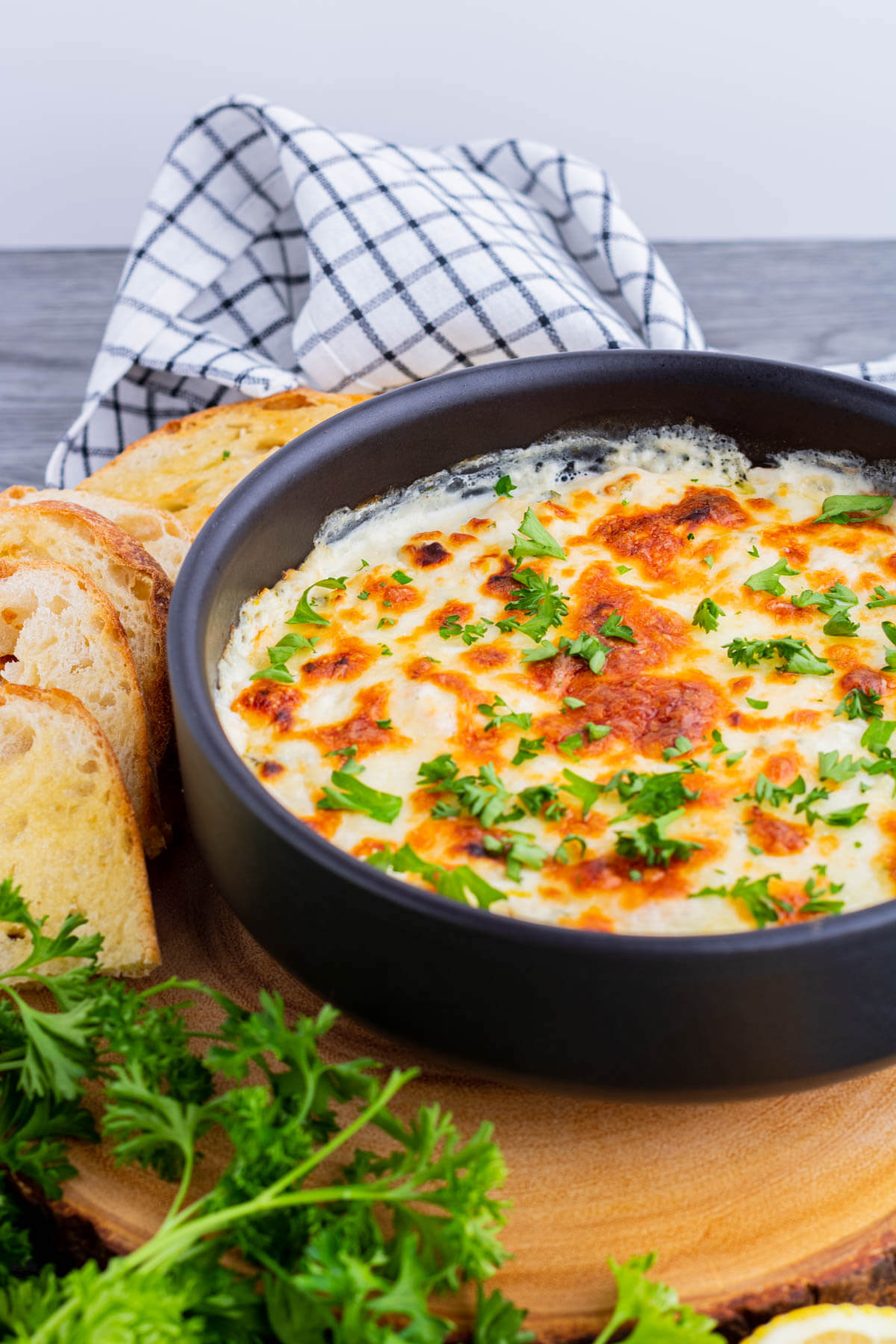 While most scampi style dishes include white wine, this dip does not. Lemon zest and lemon juice play the part of the wine and help cut through the richness.
This not meant to be a spicy dip. The amount of cayenne pepper is just enough to round out the flavour, not place your taste buds on high alert.
What Kind of Shrimp are Best for Shrimp Scampi Dip?
Let's talk shrimp. There is a whole variety available for purchase including cooked or raw shrimp, peeled and deveined or whole, and sizes ranging from jumbo shrimp to salad shrimp. If possible, use sustainably farmed or fished shrimp to support worldwide Oceanwise conservation efforts.
For this recipe, I prefer cooked peeled salad shrimp. This size of whole shrimp is small enough to fit on a cracker or baguette slice and no chance of serving uncooked shrimp by accident. The cheese gets all melty and gooey while the shrimp is gently warmed up to temperature.
Of course, any kind of shrimp will do in this recipe, even whole shrimp if you peel, devein, and cook it prior to adding to the cheese. I suggest sautéing the raw shrimp with the garlic over medium heat until they turn pink.
Additionally, chop up jumbo to medium shrimp so it's easier to scoop up bits of shrimp in each bite of dip.
How to Make this Dip
Maximum flavour with minimal effort is one of the best things about this dip. Once the garlic has been sautéed, all of the ingredients are simply mixed together in an oven proof baking dish then baked to golden perfection.
Preheat the oven to 375 F. Drizzle a bit of olive oil in a frying pan and sauté the minced garlic until it is fragrant and slightly translucent. Do not burn or it will become bitter.
In an oven safe baking dish or cast iron skillet, mix the softened cream cheese together with half of the mozzarella all of the Parmesan cheese. Add the sour cream, chopped parsley, lemon zest and juice, cooked shrimp, garlic, and cayenne pepper. Season with salt and pepper.
Mix the ingredients together, then top with remaining grated mozzarella cheese. Grate more Parmesan over top if you have it then bake it in a 375 F oven for 10-15 minutes. When the cheese turns golden brown and the dip begins to bubble, it is ready!
Dip it While it's HOT
Shrimp Scampi Dip is meant to be served hot and gooey, straight out of the oven. It is a good idea to have either crackers or toasted slices of baguette all ready to go while the dip is hot.
Make Ahead/Leftovers
You won't have leftovers, so I'm not even going to go there. If this dip isn't gobbled up within 5 minutes of leaving the oven, I will be extremely surprised.
However, it is really easy to whip up this shrimp scampi dip a day ahead of time then bake it just before you are ready to serve it.
Simply mix the dip up according to recipe instructions, then cover the baking dish with aluminum foil or plastic wrap and refrigerate it instead of baking it.
When you are ready to bake it, remove the covering and place in a 375F oven. Add 10 minutes to the baking time if you are starting with a fridge temperature dip.
Yield: 4-6 servings
Cheesy Baked Shrimp Scampi Dip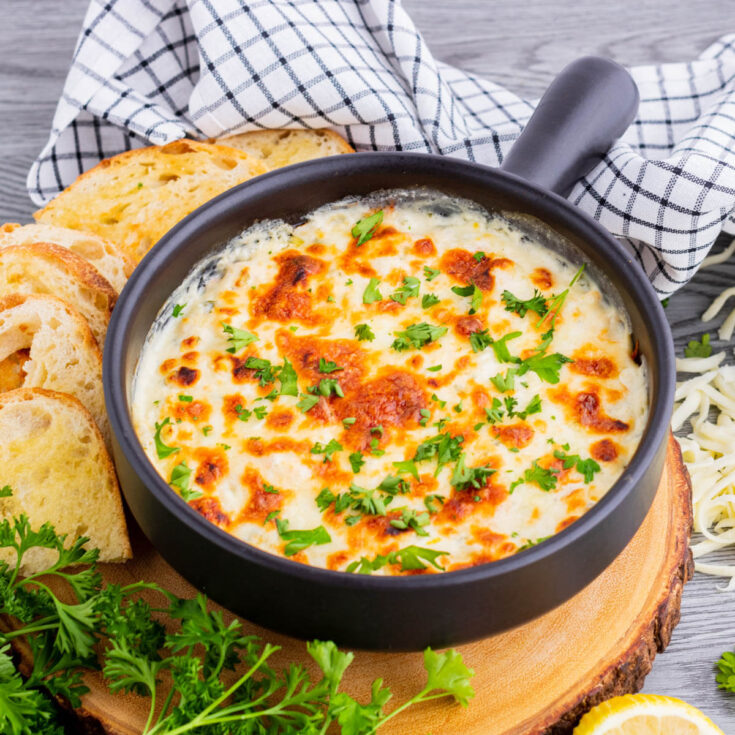 This baked hot and cheesy Shrimp Scampi Dip dip goes beyond delicious. It's a mouthwatering dip filled with all the flavours of the classic appetizer.
Ingredients
olive oil
2-4 cloves garlic; finely minced (about 2 tbsp)
4 oz cream cheese
1 cup Parmesan Reggiano; finely grated
1 1/2 cups mozzarella; grated
1/2 cup sour cream
1 cup (or slightly more if you like) cooked salad shrimp; peeled 
1 lemon; zested and juiced
1 tsp salt
1/2 tsp freshly ground pepper
1/4 tsp cayenne pepper
4 tbsp fresh parsley; chopped
Instructions
Sauté the garlic in a little olive oil until it is soft and fragrant. Preheat oven to 375 F.
Place the cream cheese in a medium glass bowl and warm slightly until it is soft. This should take 20 seconds in a microwave or a few minutes in a double boiler.
Add the Parmesan, sour cream, and half of the mozzarella. Stir well.
Add in the shrimp, garlic, parsley, zested lemon peel, lemon juice, and seasonings. Mix well and pour into an oven safe baking dish.
Top with remaining mozzarella (and grated Parmesan if you like!)
Bake for 10-15 minutes or until the top cheese is golden brown and the dip begins to bubble.
Serve with crackers or a sliced baguette.
Nutrition Information:
Yield:
6
Serving Size:
1
Amount Per Serving:
Calories:

342
Total Fat:

28g
Saturated Fat:

13g
Trans Fat:

0g
Unsaturated Fat:

12g
Cholesterol:

110mg
Sodium:

1113mg
Carbohydrates:

7g
Fiber:

0g
Sugar:

2g
Protein:

17g
Nutritional calculation was provided by Nutritionix and is an estimation only. For special diets or medical issues please use your preferred calculator.