As the weather turns cool, stay warm and cozy inside with a plate of these Cinnamon Walnut Cookies dipped in your favourite warm beverage. Best of all, the warming spices fill your home with the most irresistible aromas as they bake in the oven.
There's nothing that warms a home more than something delicious baking in the oven. Grab your mixing bowl and bake up a vintage Apple Dapple Cake or this classic Italian Ricotta Pear Crumble Cake. Save a slice for me!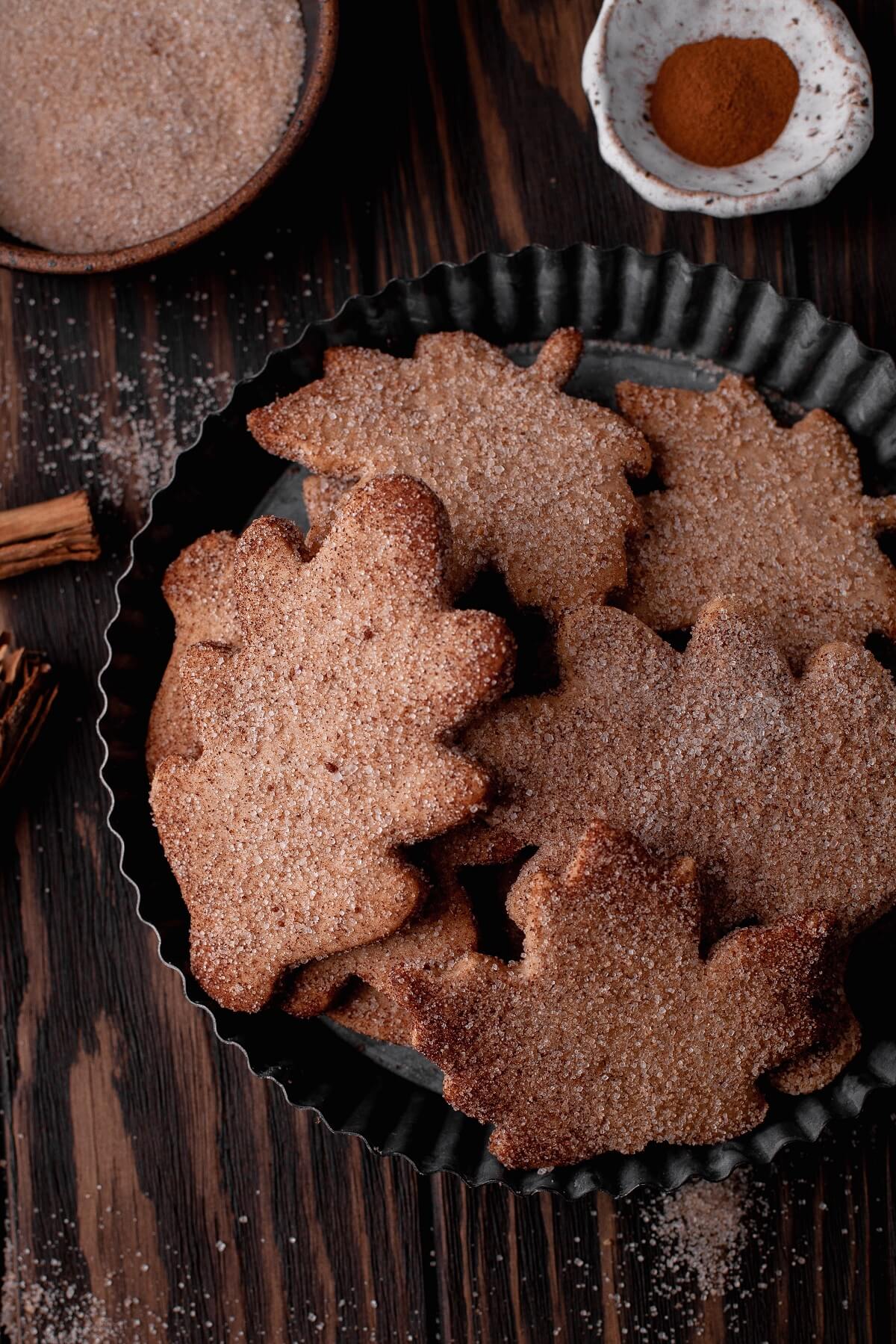 Cinnamon Walnut Cookies
Cinnamon Walnut Cookies are nothing short of magic. The dough is simple to make and bakes up oh, so buttery and nutty. The light dusting of cinnamon sugar makes these fall themed cookies look like something out of a woodland fairy tale.
These cookies don't last long in our home and I'm sure they won't last in yours, either. The nutty butter flavour combines with the warming sugary coating to make them irresistible. They are fabulous when dipped in milk, hot chocolate, coffee, or tea!
Even though this batch of cut out cookies has a fall theme, you can use any shape of cookie cutter to fit your baking theme. They would make excellent Christmas Stars or Snowflakes, or would be wonderful as heart shaped cookies for your Valentine.
Tips for Cut Out Cookie Success
Before we begin, here are some helpful tips to ensure your cut out walnut cookies are a success. A cut out cookie should have a defined sharp edge in order to keep the shape of the cookie cutter.
Dough temperature is important. If it is too warm, it will be sticky and difficult to roll out. Be sure to use a room temperature egg and softened butter. If you find the dough too sticky, refrigerate the dough for one hour before rolling.
If you need to, you can also chill the rolled dough before cutting the dough and after the cookies are cut out but before baking.
Alternatively, roll the dough out in between two pieces of parchment. Then cut out the cookies and move them on the bottom parchment directly to the baking sheet.
2. Rolling the dough out evenly is important in achieving evenly baked cookies. Press the ball of dough down slightly into a rectangle shape. Then, start rolling from the middle towards the edges until the dough is 1/4 inch thick all over.
3. Flouring the cookie cutters each time before cutting out cookies will help prevent sticking. If you find the dough is sticking in a tight corner, use a chopstick to gently push it out.
4. Oven temperature. Every oven is different. If you find that the cookies are spreading, increase the baking temperature 10-25 degrees for the next batch.
5. For even baking, rotate the cookie sheet halfway through. Never place raw dough on still warm baking sheets as they will start to warm and spread.
6. Allow hot cookies to cool slightly before moving them. This will prevent the soft, hot cookies from breaking. Remember that you will still need the cookies warm in order for the cinnamon sugar coating to stick.
Ingredients for Cinnamon Walnut Cookies
There's nothing extraordinary about the simple baking ingredients in these cookies, but somehow they taste like magic.
Flour
Brown Sugar
Butter
Baking Powder
Walnuts
Egg
Vanilla Extract
Granulated Sugar
Ground Cinnamon
Besides all purpose flour, this recipe contains brown and granulated sugar. However, each sugar performs a different role. The brown sugar combines with the butter and brings a deep caramel, or toffee like flavour to the cookies.
The granulated, or white sugar combines with cinnamon to make a tasty and textural outer coating. Together they give these cookies a sparkly appearance.
You may have noticed that there is no salt in this recipe. This is because the butter contains salt. However, if you prefer to use unsalted butter, please add at least 1/2 teaspoon of salt to the dough.
These walnut cookies are leavened slightly with a bit of baking powder and an egg. In most baking recipes it is important to use a room temperature egg for proper dough consistency.
When baking with nuts, always check that they are still fresh and have not gone rancid. Walnuts are especially notorious for a bitter flavour if they are too old. I've found this out the hard way. The solution is to store nuts in the freezer, or just buy a small bag as needed.
How to Make Cinnamon Walnut Cookies
Mixing up this cookie dough is as easy as 1,2,3. Like most cut out cookies, success depends on dough temperature, moisture, and even rolling.
Since you will be rolling out this dough, I highly recommend to process the nuts in a food processor until they become almost as fine as the brown sugar (see ingredients photo).
Mixing Up the Dough
Preheat the oven to 350 F and line a baking sheet with parchment paper. Okay, maybe do two.
Mix the flour, brown sugar, cinnamon, baking powder, and finely chopped walnuts in a large bowl. Set aside.
Using a stand mixer fitted with a paddle attachment, cream the butter and brown sugar together until they are completely smooth and creamy. Next, with the mixer on low speed, add the egg and vanilla.
Add the dry ingredients to the the butter mixture and combine until the dough comes together onto the paddle. Turn the dough out onto the counter and roll it out into an even rectangle with 1/4 inch thickness.
Cut out the cookies and place them onto the prepared cookie sheets. Gather the unused dough together, wrap it in plastic wrap, and refrigerate the dough while you bake the cut cookies.
Let's Bake Cinnamon Walnut Cookies
Bake the first pan of cookies for 15-20 minutes, until the edges turn slightly golden. While they are baking, mix up the sugar and cinnamon topping.
Remove the cookies from the oven (place the second tray in the oven) and coat them in the cinnamon sugar while they are still warm. Re-roll the dough from the fridge and cut out the 'extra' cookies.
Place the extra walnut cookies on a lined cookie sheet, then bake them when the second tray comes out of the fridge. Dust all the cookies with the cinnamon sugar topping and place them on a wire rack to cool completely.
How to Store Walnut Cookies
Keep the Walnut cookies in an airtight container on your kitchen counter for up to two weeks. Alternatively, they will keep for up to three months in the freezer when stored in an airtight container.
Join Me for Saturday Brunch!
Join the Saturday morning newsletter and get cozy with a cup of coffee. Inside you'll find free recipes, giveaways, and more. It's such a delicious way to start the weekend!
By clicking subscribe, you agree to share your email address with the site owner and receive emails from the site owner.
If you make these Cinnamon Walnut Cookies, please be sure to leave a comment and/or give this recipe a rating! Be sure to follow me on Facebook and Pinterest for my latest recipes. Also, if you do make this recipe, please tag me on Instagram, I'd love to see what you guys are making! Thank you so much for reading my blog.