This homemade stuffing recipe is the classic holiday side dish you are looking for! Passed down through generations and featuring simple ingredients with perfect poultry seasoning flavour. Stuff your turkey, chicken, or just make a large pan full and bake separately.
If you're looking for a classic homemade bread stuffing recipe, look no further! My mom's recipe is so easy to make and is the perfect side dish for a delicious turkey dinner over the holidays.
Our family loves stuffing so much, I always make a pan of it to go alongside a bowl of Spinach Stuffing Balls and the Green Bean Casserole. 
My Mom's Homemade Bread Stuffing Recipe
Today I'm so pleased to share my mom's Homemade Bread Stuffing recipe with you. It's such a classic side dish made with simple ingredients but it's the perfect side dish alongside a roasted turkey or chicken dinner.
The aroma that fills your home as it cooks is unmistakable to anyone who visits. Breathe deeply and enjoy the mouthwatering scent of classic bread stuffing as it bakes inside or alongside your main.
What Ingredients Are in This Homemade Stuffing Recipe?
This stuffing is a very basic recipe made with six ingredients plus seasonings. All you need is a loaf of bread, some celery and onion, chicken stock, and butter.
What makes this stuffing so very delicious is a good amount of poultry seasoning and aromatics such as celery and onions.
Poultry seasoning is a blend of herbs and spices that includes a combination of dried ground sage, savoury, thyme, rosemary, marjoram, black pepper, and nutmeg.
Ground cloves and either celery seed or salt may also be a part of the blend. 
If it's been a while since you've replaced the poultry seasoning, I highly recommend buying a new tin of this holiday essential. Fresh spices make for the most aromatic stuffing.
What Bread is Best For This Homemade Stuffing Recipe?
In short, you can use any bread you like in stuffing as long as it's stale. I prefer whole wheat or sometimes white bread in my stuffing.
Bread with seeds or seasonings may change the flavour of the stuffing and sourdough makes the stuffing taste too sour.
Cornbread stuffing is absolutely delicious as well, especially when it also contains sausage.
Making stuffing is a great way to use up the ends or heels of bread. Start collecting unused bread a few weeks before you intend to make it so it can dry out.
Tear the bread up into smaller pieces and let it dry out in a pan on top of your fridge.
If you forget and are stuck for time, tear a loaf of bread into pieces and dry them out in your oven. If the bread isn't dry, you may end up with overly mushy stuffing and the texture can be quite off-putting.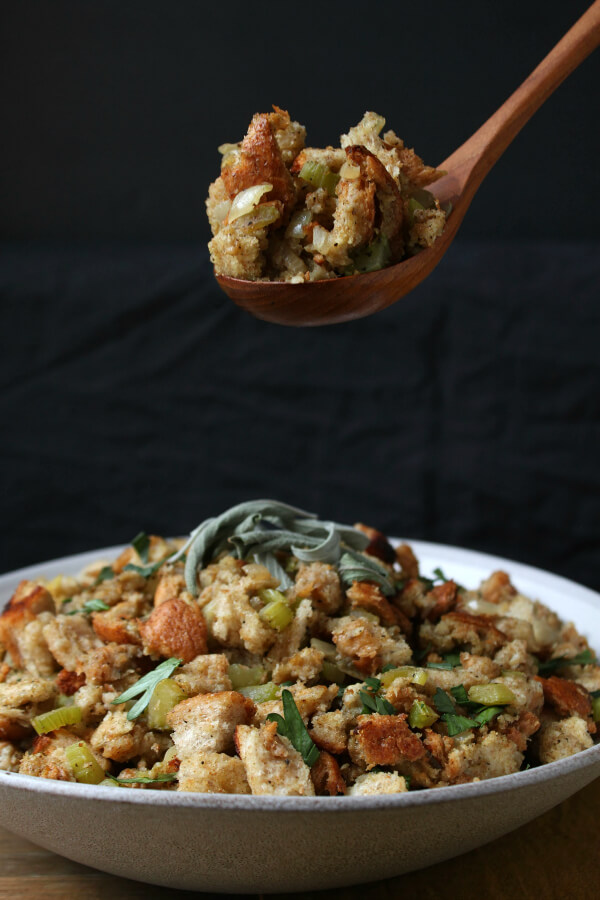 How To Make Perfect Homemade Stuffing
Once you have all the stale bread ready to go, you're ready for the next step; the vegetables. I like to small dice my onion and celery before I sauté them in butter.
Sautéing the vegetables until they become soft and translucent is very important step. If you skip it, you'll end up with crunchy, uncooked vegetables in the finished dish. 
To finish, add the poultry seasoning and sauté for a minute or two for maximum flavour. Next, add the vegetables to the torn bread then season with salt and pepper.
Lastly, drizzle melted butter and chicken broth over the bread mixture and mix well.
Test the moisture level by gripping a handful of the mixture. If it clumps together, it's perfect. If not, just add a bit more plain water or stock until it begins to stick together.
Variations on Homemade Stuffing
This is a very basic recipe and many people often add other ingredients to suit their personal tastes.
Some enjoy the texture that nuts or water chestnuts bring to the dish, or the flavour of dried cranberries.
Adding proteins such as sausage, turkey giblets, and even oysters are also popular. I've never had oyster stuffing but I bet it's delicious! 
How to Store and Reheat Leftover Stuffing
On the rare occasion we have leftover stuffing, I store it in either a plastic bag or lidded container. It should last for up to 5 days when stored in this way.
The easiest way to reheat it is to pop it into the microwave for 1 or 2 minutes. Alternatively, reheat it stove top in a frying pan or in a foil covered casserole in a 350 F oven for 10-15 minutes.

Yield: 10
Homemade Stuffing Recipe
This homemade stuffing recipe is the classic holiday side dish you are looking for! Passed down through generations and featuring simple ingredients with the perfect poultry seasoning flavour. Stuff your turkey, chicken, or just make a large pan full and bake separately.
Total Time
1 hour
5 minutes
Ingredients
1 loaf bread; torn into 1-2 cm pieces and dried overnight.
4 sticks green celery (preferably with some leaves); finely diced
1 medium onion; finely diced 
1/2 cup unsalted butter; melted
1/2 cup chicken stock
poultry seasoning
salt and pepper to taste
Instructions
The night before, tear up the bread and let it dry out on the counter overnight.
In the morning, sauté the celery and onion until they become soft and the onion becomes translucent.
Place bread, vegetables, butter, stock, and poulty seasoning in a large bowl and season. Mix it up well and place in a 9x12 glass baking dish. Cover with aluminum foil and bake at 350 F for 30 minutes.
After 30 minutes, remove foil and broil until the top becomes golden.
Notes
If you want to use this stuffing in a turkey, please refer to this Turkey post for cooking times.
Nutrition Information:
Yield:
10
Serving Size:
1
Amount Per Serving:
Calories:

294
Total Fat:

12g
Saturated Fat:

6g
Trans Fat:

0g
Unsaturated Fat:

5g
Cholesterol:

25mg
Sodium:

431mg
Carbohydrates:

39g
Fiber:

2g
Sugar:

5g
Protein:

7g
Nutritional calculation was provided by Nutritionix and is an estimation only. For special diets or medical issues please use your preferred calculator.