Preserve your wild ramp harvest all year long with this easy sweet (and spicy) pickled ramps recipe. Store them in the fridge, or process them in a hot bath.
Foraged spring greens are a seasonal treat with a very short harvesting window. Enjoy the fresh flavours of Stinging Nettle in a this verdant Nettle Soup with Potato and Leek. Or, preserve wild leeks (or ramps) in an easy Wild Ramp Pesto.
Sweet Pickled Ramps
Though fresh ramps are delicious in so many ways, it is a real treat to save a few to enjoy all year long. The best way to do this is by pickling them in a sweet brine.
Ever had pickled red onions, or grabbed the last garlic clove from the pickle jar? Then pickled ramps are definitely for you! They are sweet and sour, yet still retain a certain pungent garlic flavour, just as any other allium would.
Use the pickled ramps in a quick relish or slice them for sandwiches or burgers. They make a great accompaniment to rich roasted meats as part of a zesty gremolata or chimichurri style topping.
What are Ramps?
Ramps, also known as wild leeks, wood leeks, ramsons, or wild garlic, are an edible wild onion green that is foraged in early Spring. They consist of one or two flat wide green leaves, a rose coloured concave stem and a white bulb all of which are edible.
During ramp season (from late April to early May), ramps grow in large patches in shaded, moist, wooded areas; primarily deciduous forests. They are native to North America, growing mostly in the Eastern states, along with the Canadian provinces of Manitoba, Ontario, and Quebec.
Ramps remain an important early Spring source of food and medicine for eastern Indigenous peoples, including the Ojibway, Cherokee, Iroquois, and Potawatomi tribes.
Medicinal uses include cures for Spring colds or croup, earache relief, a Spring detox to clean out worms in children or even to relieve bug bites and stings.
How to Harvest Wild Ramps
This ephemeral delicacy grows in close groups strongly rooted just beneath the surface of the soil. This makes them quite easy to forage, so responsible harvesting is strongly encourage to prevent eradication.
They are a protected species in some areas, like Quebec, where there is a personal harvest limit of 50 plants per year. There is no legal commercial sale of ramps in Quebec allowed, however every year they are sold illegally on the black market.
Here are a few tips for responsible ramp harvesting:
Pick from the centre of the ramp patch so that it will continue to spread outward.
Choose the fat bulbed ramps to allow the smaller plants to become more established.
Only take what you need. Leave at least half of the population so they may go to seed and continue growing for years to come.
Lastly, and most importantly…never pull the entire plant out of the ground. Instead, use a knife to cut the bulb off just above the root cap. Yes, the ramps that I bought included roots and all. Sadly, commercial foragers don't always stick to sustainable harvesting habits.
How to Clean Wild Ramps
Ideally, the ramp is responsibly harvested and there are no roots with attached clumps of dirt. However, this is not always the case. Luckily it is really easy to clean wild ramps.
Simply grip the bulb with your thumb and forefinger. Next, grab the area just above the root ball and give it a little twist. It should come off easily.
There may be a light brown or greyish sheath around the bulb. It is easily peeled off so that only the bright white smooth bulb remains.
Soak the ramps in a sink of cold water, paying attention to where the two leaves meet as dirt often collects there. Use a salad spinner to remove excess water, then air dry for an hour or two.
To make pickled ramps, separate the bulbs from the leaves right where the pink stem ends. Store the leaves wrapped in paper towel in the fridge for a later use.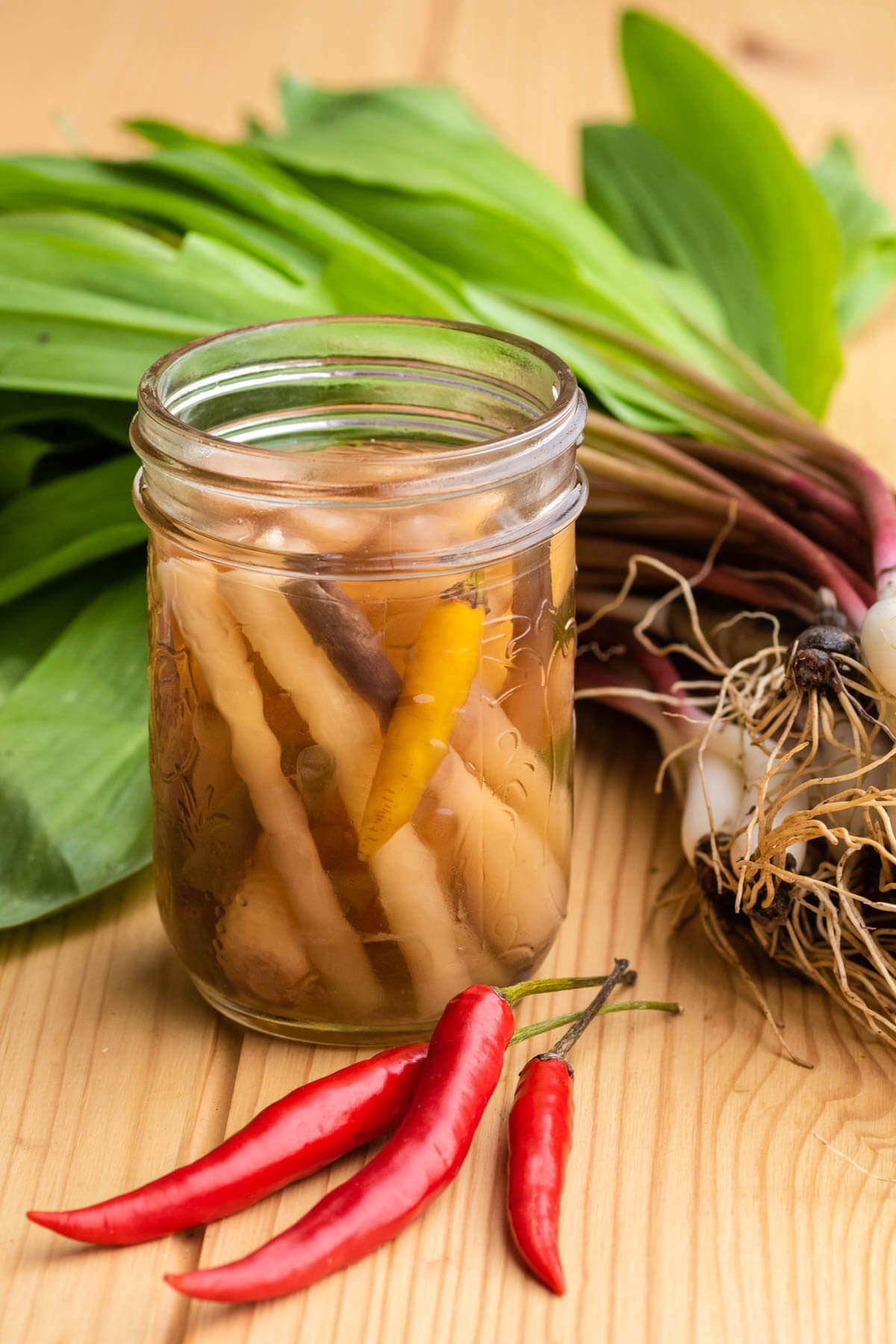 Ingredients for Pickled Ramps
This sweet pickling recipe is so simple! The main components are a simple sweet pickle brine and fresh ramp bulbs. Adjust the brine to your taste by adding a hot Thai red chili to make a sweet ramp pickle with a bit of heat.
wild ramps
vinegar
sugar
salt
water
black peppercorns
Thai red chili
The type of vinegar you use may determine how much sugar you add to the brine. Apple cider vinegar can be quite sweet on it's own so feel free to reduce the sugar slightly.
White pickling vinegar also makes a great brine, though you will need the full measure of sugar to make a sweet brine. I have never used red or white wine vinegar but I'm sure they would also work.
In this recipe, you may use pickling salt and kosher salt interchangeably.
Feel free to substitute chili pepper flakes for the whole Thai chilis, if you prefer. Or, leave out the spice altogether.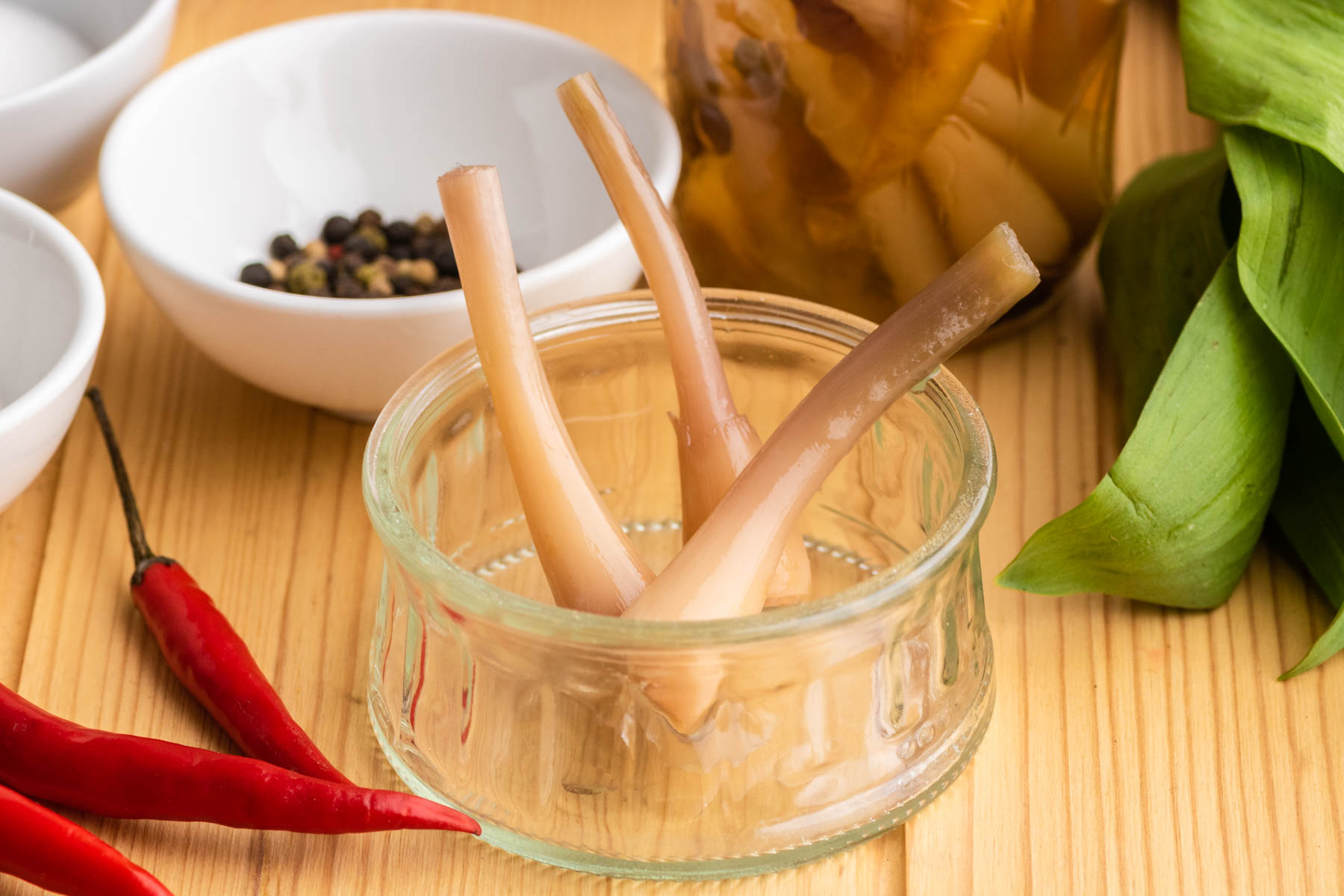 How to Make Pickled Ramps
Once the ramp bulbs are clean, it's time to make a simple sweet brine. Place the vinegar, water, sugar and salt in a medium saucepan.
Bring to a boil, and reduce to a simmer until all of the sugar and salt have become dissolved into the liquid. Keep the pickling liquid hot (but not boiling) until you are ready to use it.
Inspect, wash, and sterilize three half pint jars (or even one large quart jar) and lids according to directions HERE. If you plan to hot water bath these pickles, have a canner filled with hot water boiling and ready to go.
Quickly pack the ramps into the hot jars, then add peppercorns and Thai chili (if using). Pour brine over the ramps, leaving 1/2 inch headspace in the jar.
Wipe the rim of the jar to remove any splashed brine, then add the lid and tighten the ring until it is just tight. Do not over tighten.
How to Preserve Pickled Ramps
The easiest way to preserve a small batch of pickled ramps is to store them in the fridge. They will be ready to eat in a few weeks and good for up to a year.
To make them shelf stable, immerse the hot filled jars into a water bath canner full of boiling water. Process for 20 minutes at a rolling boil, then remove and allow to come to room temperature.
Check to make sure all jars have sealed (the lids should be depressed in their centers) and refrigerate any that have not sealed. Allow pickles to sit in the brine for a few weeks. Enjoy!
Join Me for Saturday Brunch!
Join the Saturday morning newsletter and get cozy with a cup of coffee. Inside you'll find free recipes, giveaways, and more. It's such a delicious way to start the weekend!
By clicking subscribe, you agree to share your email address with the site owner and receive emails from the site owner.