French Dip Roast Beef Pinwheels are everyone's favourite beefy sandwich all wrapped up and baked as an appetizer. Enjoy them au jus at your next gathering, game day, brunch, or dinner party.
Baked appetizers are the ultimate comfort food flavour bombs. They usually involve gooey cheese like this amazing Cheesy Baked Shrimp Scampi Dip or buttery flaky pastry like this Holiday Sausage Roll Wreath. They're so tasty, you can't help but have a second helping.
French Dip Roast Beef Pinwheels
These beef pinwheels are my latest obsession. As a farmers' daughter and proud Albertan, I love anything that contains beef. I also love any appetizer recipe that doesn't take all day to make but still looks impressive. From start to finish, these baked pinwheels take just under an hour to make, including the beef dip.
In this appetizer recipe, the beef pinwheels contain thin slices of roast beef stacked with sautéed golden onions and provolone cheese. Those tasty fillings are rolled up in a rich dough, then baked to golden perfection. While they bake, whip up the beefy dipping sauce so you can start dipping as soon as they're out of the oven!
You can serve these Roast Beef Pinwheels hot with au jus for dipping as recommended. However, they make a fun cold addition to any picnic basket or potluck lunch.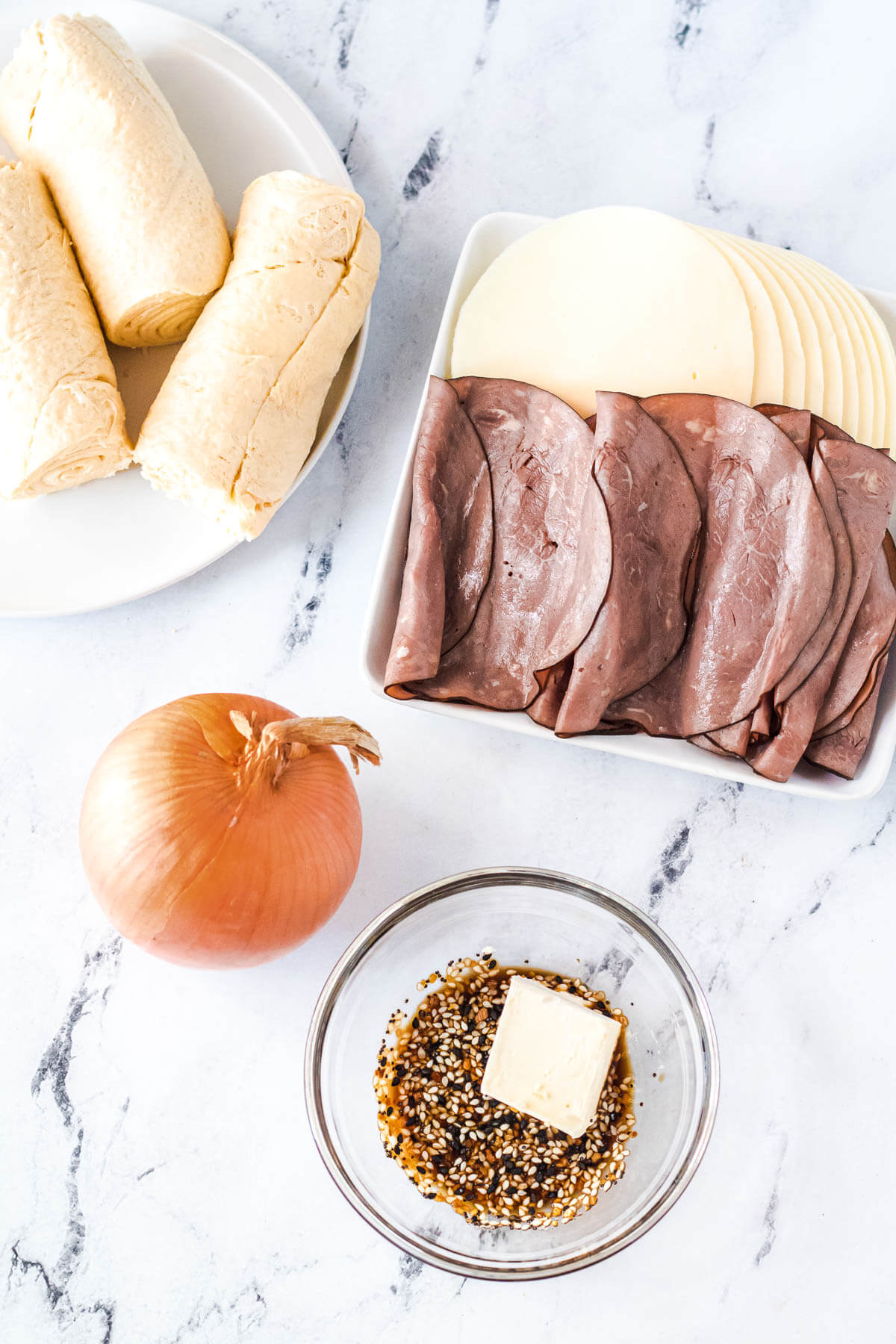 Ingredients
There are no fancy ingredients in this recipe; only a few grocery store deli goods and some canned biscuit dough.
Butter
Onion
Crescent Roll Dough
Provolone cheese
Roast Beef
Worcestershire Sauce
Everything Bagel Seasoning
Beef Stock
Garlic Powder
Onion Powder
Pepper
Every great recipe begins with butter. In this case, the onions are sautéed in butter until they turn a beautiful golden colour. Use either salted or unsalted butter in this recipe. You won't need any special onion, just use regular yellow or white onions in this recipe.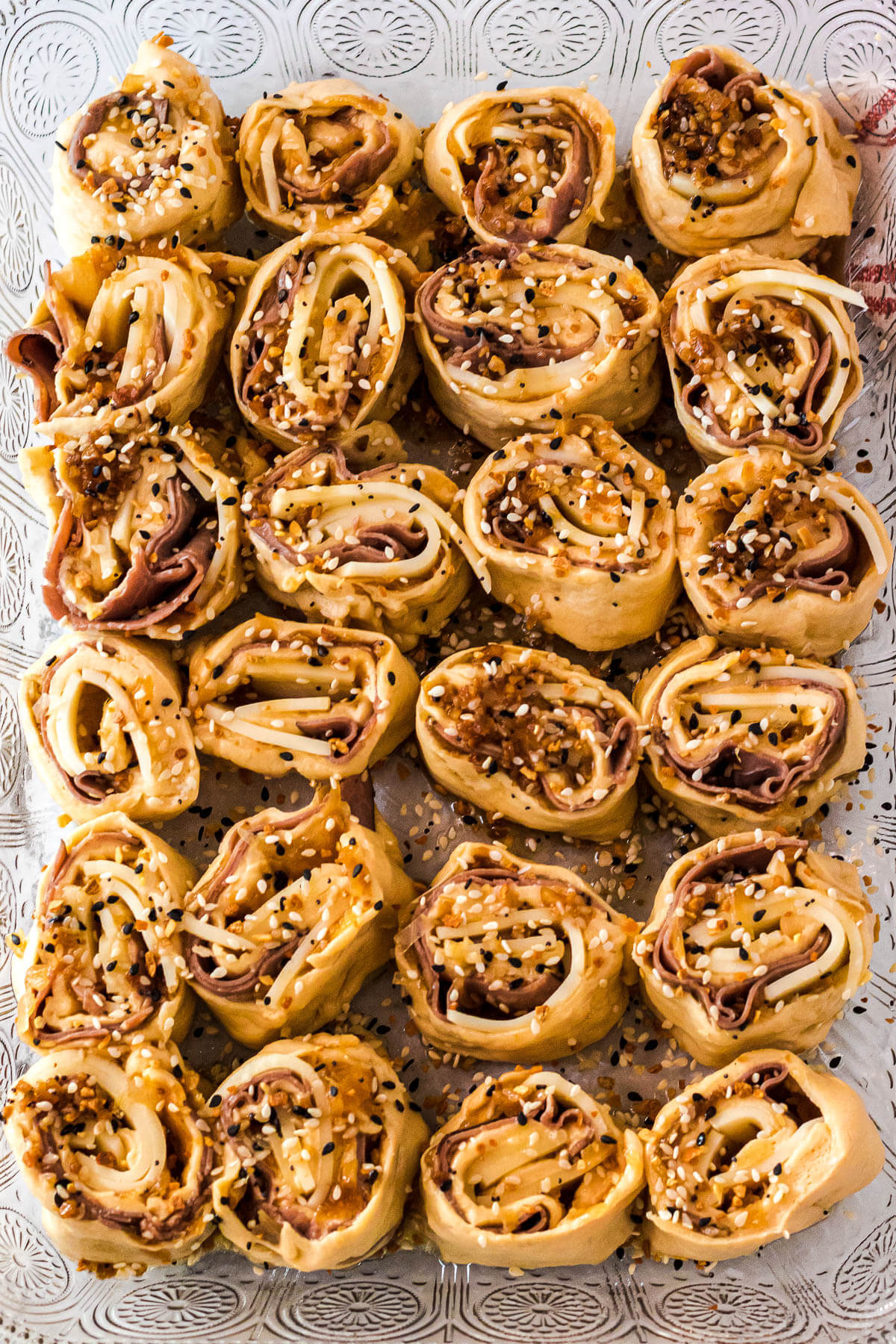 While I'm usually a fan of 'from scratch' cooking, there's something to be said about the ease of store bought Crescent Roll dough. Yes, the kind that comes in a can. This is a quick and easy appetizer, perfect for busy home cooks who may or may not enjoy baking.
Thinly sliced Provolone cheese works really well in this recipe because it melts easily. It also has a nice subtle aroma and flavour. Other cheeses that would work well in place of provolone are thinly sliced mozzarella and fontina.
Similarly, you can head to the deli section of your grocery store for thinly sliced or shaved roast beef. If you have leftover flank steak, you can turn these into flank steak pinwheels or any other cut of steak pinwheel recipe. Use any beef cut as long as it is thinly sliced; such as roast beef, beef tenderloin or even ground beef.
This pinwheels recipe is a great way to use up those beefy leftovers!
Beef and Worcestershire Sauce go so well together that I have used this umami rich sauce twice in this recipe. It serves as a little glaze added just before baking and as a flavour enhancer in the beefy dipping sauce.
Everything Bagel Seasoning is popular for a reason. It adds an interesting finished look to the beef pinwheels while also boosting flavour. If you don't have this seasoning, you can scatter black and/or white sesame seeds and black pepper over the top of the rolls before baking.
Au Jus Ingredients
The most important ingredient in the au jus is high quality, flavourful beef stock. If you can, make your own ahead of time. You may or may not need to doctor it up with garlic and onion powder but a shot of Worcestershire Sauce is highly recommended!
If you cannot make your own stock, try to buy the highest quality stock you can find. I promise, the beef pinwheel/au jus combo is worth using quality ingredients.
How to Make French Dip Roast Beef Pinwheels
Preheat the oven to 350 degrees Fahrenheit and spray a 9 x 13 glass baking dish with cooking spray.
In a medium skillet over medium-high heat, melt 1 tablespoon of butter (or olive oil) and add the minced onions. Cook the onions until they are caramelized and golden in colour. Set aside and allow them to cool to room temperature.
Next, open and unroll the cans of crescent dough on a cutting board and separate the dough into two rectangles. Pinch together all the seams so they become relatively uniform rectangles.
Carefully spread each rectangle with half of the caramelized onions. Next, layer half of the provolone on one rectangle and the other half on the second rectangle. Top each layer of cheese with half of the roast beef.
Roll each rectangle up, starting on the longest side. Pinch the edges of the dough to seal. Finally, use a sharp knife or length of dental floss to cut each roll into 12 slices. I know it seems weird but using unflavoured dental floss is an easy way to cut any kind of roll. I use it to cut cinnamon buns and cheese buns all the time!
To use dental floss: Slide the dental floss under the log of rolled dough until it reaches the centre. Bring the floss ends upward and over the dough, criss crossing them over each other. Pull them tight until they cut the dough in half. Repeat along the length of the dough until it is sliced into 12 pieces. Repeat with the other roll.
Arrange the sliced rolls in the prepared baking dish. Melt the other 2 tablespoons of butter in a microwave. Then, mix in 1 tablespoon worcestershire sauce. Pour the melted butter mixture over the rolls, then scatter the Everything Bagel Seasoning over all. Bake in the 350 F preheated oven until the pinwheels are golden, about 35 minutes.
To Make the Aus Jus/Beef Dipping Sauce
Add the beef stock, remaining worcestershire sauce, garlic powder, and onion powder to a small saucepan. Warm them gently over medium high heat, then season with salt and pepper to taste. Serve the pinwheels warm with au jus for dipping, French Dip style.
Beef Pinwheel Flavour Variations
Vary the cheese: Use thinly sliced mozzarella, fontina, or even cheddar.
Change up the veggies. Instead of caramelized onions, use thinly sliced chopped roasted red peppers, sautéed spinach, or well drained chunky salsa.
Storage and Reheating Leftovers
Cover any leftovers with plastic wrap and store in the fridge for up to three days. Reheat in the microwave or in the oven at 350 F for 7-10 minutes.
Join Me for Saturday Brunch!
Join the Saturday morning newsletter and get cozy with a cup of coffee. Inside you'll find free recipes, giveaways, and more. It's such a delicious way to start the weekend!
By clicking subscribe, you agree to share your email address with the site owner and receive emails from the site owner.
If you make these French Dip Roast Beef Pinwheels, please be sure to leave a comment and/or give this recipe a rating! Be sure to follow me on Facebook and Pinterest for my latest recipes. Also, if you do make this recipe, please tag me on Instagram, I'd love to see what you guys are making! Thank you so much for reading my blog.