Learn how to make Spaetzle, the ultimate German comfort food side dish. These easy homemade flour and egg noodles are delicious with stews, in soups, and alongside roasted meats with gravy.
Disclosure: This post is part of a partnership with Life's Simple Ingredient. All opinions and experiences are my own.
Spaetzle are delicious fresh out of the pan, and they freeze nicely too. Make them ahead of time to serve with quick weeknight Instant Pot Chicken Paprikash or to add to soups and stews.
My family also loves eating them with other German comfort foods such as Beef Rouladen (Rinderrouladen) and Braised Red Cabbage. It's so good and the amazing aromas bring everyone to the table extra hungry.
Homemade Spaetzle
Is there anything more comforting than homemade noodles? The simple pleasure of combining flour with egg and salt is pure magic. No matter where you live, noodles are beloved.
As a kid, I remember being in awe when my grandpa made homemade spaetzle noodles off a wooden board. He took great care to get the batter just right. If the batter was too runny, it wouldn't cut and roll off the board…too thick and the noodles would be stodgy and dense.
Though I've never learned to cut my noodles off a board, I still am very careful to get the batter consistency just so. Once you master this one step, you will be well on your way to learning how to make spaetzle.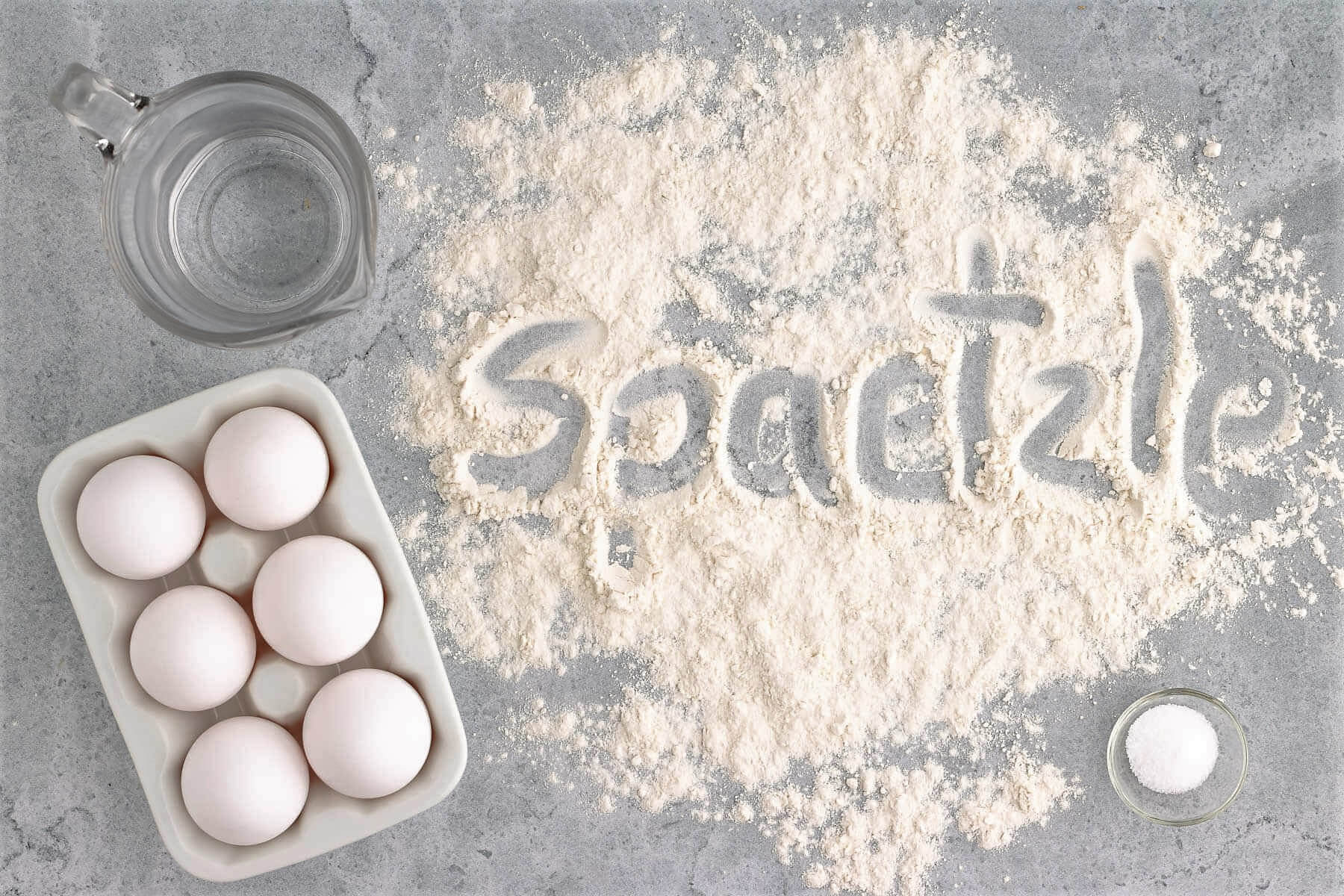 A great spaetzle noodle should be slightly chewy, but not too dense or firm. The mild, slightly salty flavour is meant to support a flavourful main dish rather than steal the show. However, there's just something about spaetzle that takes an ordinary soup or stew to the extraordinary.
What is Spaeztle?
Spaetzle (shpetz-le) is the most popular homemade pasta in southern Germany. It is a simple noodle that consists of flour, salt, eggs and milk (or water). Early versions were made with a high protein coarse ground flour such as spelt, reducing the need for (expensive) eggs.
These simple egg noodles were originally hand formed, resulting in a shaped dumpling that resembled sparrows or 'spatzen'. As 'spaetzle' is the diminutive form of 'spatzen', the name literally means 'little sparrows' in German.
German spaetzle is mostly served as part of a savoury meal; with stews, mixed with sauerkraut or cheese, or with lentils and sausages. Kaesespaetzle, a version of grated Emmental cheese, golden fried onions and egg noodles is a favourite comfort food not to be missed!
Sweet variations exist, too. These sweet versions are served in either late summer (with cherries) or the fall (with apples). In both dishes, the spaetzle is dressed with clarified, browned butter, sugar, and cinnamon then served with the seasonal fruit for dinner.
This beloved egg noodle also exists in Austria, Switzerland (Spätzli), Hungary (Nokedli), Slovenia (Vaseršpacli), and the Alsace region of France. The batter can sometimes include mixed pork liver, spinach, or finely grated cheese.
What is Spaetzle Made Of?
Originally spaetzle was made of two simple (and economical) ingredients; coarse protein rich flour and water. However, these days it's more common to make them with all purpose flour, eggs, salt, and either water or milk.
These high protein noodles feature simple ingredients that can be found in most kitchens. For a great flavour twist, you can also add a few tablespoons of fresh chopped herbs such as dill, parsley, or chives.
How to Make Spaetzle
In a mixing bowl, whisk all of the ingredients together until they are thoroughly combined. The batter should be of medium viscosity, not too thick nor too thin. It should have a fair amount of elasticity and a few bubbles.
Allow the flour mixture to sit for 20 minutes before boiling. To cook the spaetzle, bring a large pot of salted water to a boil over high heat. Position the spaetzle maker over the pot of boiling water and allow it to get steamy for a minute or two. This will reduce sticking and allow for easier clean up.
Reduce heat to a simmer. Next, working in batches, pour one third of the batter into the hopper. Immediately begin to slide the hopper back and forth over the boiling water.
Allow the spaetzle to boil a minute or two, then remove with a slotted spoon. It is done cooking as soon as it starts to float in the boiling water. Place spaetzle in a warm buttered dish and toss with butter. Repeat with remaining batter until it is all gone.
Serve immediately or, if you like prefer spaetzle with crispy golden edges (I know you do!), sauté it in butter for a few minutes before serving.
Other Methods
I use a spaetzle maker, however if you don't have one you can still learn how to make spaetzle! Some cooks use a potato ricer, which is kind of like a press most commonly used when making mashed potatoes.
Just dip the potato ricer into the hot water (this prevents the dough from sticking), fill it halfway with batter and press slightly over a large pot of simmering water. Use a knife or scraper to cut the noodles off. Proceed with the recipe as outlined above.
You can also use a simple colander, cheese grater, or any large holed kitchen tool. I don't recommend using a box grater as the result can be a huge frustrating mess. Anything with larger holes and something to push the batter through will work.
To make noodles with the traditional board and knife (or scraper) wet the board then pour a small amount of batter on one end. Hold the board and flatten the batter out with a wet knife.
Next, slice small amounts of batter and push it off the board into the boiling water. Wet the knife in between as needed so the batter doesn't stick.
How to Serve Spaetzle
Spaetzle is quick to make and is a great replacement for most carb-based side dishes, particularly mashed potatoes. It is delicious on its own or under thick meaty stews (like goulash) or in hearty soups.
For a real comfort food treat, make a pan of Kaesespaetzle or German Mac n Cheese. Fry the spaetzle in melted butter until golden, then mix it with cream, Emmental cheese, and fresh herbs. Broil it for a few minutes then top with caramelized onions or crispy fried onions.
When I make spaetzle, I always double or even triple this recipe because it is so good. It can be kept in the fridge and reheated for up to three days and it freezes really well. The best way to reheat it to sauté it in a pan of melted butter.
Join Me for Saturday Brunch!
Join the Saturday morning newsletter and get cozy with a cup of coffee. Inside you'll find free recipes, giveaways, and more. It's such a delicious way to start the weekend!
By clicking subscribe, you agree to share your email address with the site owner and receive emails from the site owner.
If you make this Homemade Spaetzle recipe, please be sure to leave a comment and/or give this recipe a rating! Be sure to follow me on Facebook and Pinterest for my latest recipes. Also, if you do make this recipe, please tag me on Instagram, I'd love to see what you guys are making! Thank you so much for reading my blog.