Looking for an easy, crowd pleasing last minute holiday cookie? These soft and chewy classic eggnog cookies are simple and quick to make. Best of all…they taste exactly like Christmas!
There's no shame in last minute baking…I do it all of the time! Some of my favourite recipes come together at the last minute.
No one has to know that this Dill Pickle Cheeseball was made the morning of the party. Or that the awesome homemade Honey Teriyaki Sauce they are dipping their wontons in only took ten minutes to make!
Eggnog Cookies
If you've been following this blog for even just a short time, you might have seen me wax poetic about Eggnog before. I just love eggnog.
Not just any Eggnog but my favourite (and most requested) Homemade Eggnog made during the holiday season with real eggs and cream.
The cookies are the real deal. They contain simple baking ingredients and the only equipment required is a bowl and wooden spoon (plus muscle power!).
If you love chewy, sweetly spiced cookies then this is the recipe for you. Each spice and flavouring is exactly what I add to my Homemade Eggnog, making this cookie a perfect replica of the classic holiday cocktail.
What Are the Ingredients in Eggnog Cookies?
Is there really eggnog in these cookies? You bet!! Although there is really only a tiny amount, these Eggnog Cookies do actually contain eggnog.
Unsalted Butter
Sugar
Egg Yolk
Eggnog
Vanilla Extract
Flour
Salt
Baking Powder
Cinnamon
Nutmeg
Most cake and cookie recipes ask for unsalted butter. The reason is that most bakers prefer to adjust the salt according to their own tastes. In most recipes you can still substitute salted butter, however do remember to add less salt later on. Always use room temperature or slightly softened butter.
This Eggnog Cookie recipe requires only one egg yolk. This allows these cookies to have an amazing fudgy texture instead of a lighter, airy cake texture that adding egg white would bring.
Use homemade or store bought Eggnog and in a pinch, milk will be fine too. Increase the spices just a smidge if using only milk.
Most people have a bottle of vanilla extract in their pantry. However, if you have a vanilla bean or bottle of paste handy they would be the best option for maximum vanilla flavour. Also, feel free to add some rum extract to achieve authentic eggnog flavor.
This recipe calls for Baking Powder and not baking soda because there are no acidic ingredients (lemon, buttermilk, etc.) added. Baking powder contains sodium bicarbonate (baking soda) and the acid needed to produce a rise.
As always, try to use the freshest spices you have. I remember my mom keeping nutmeg for YEARS…leading me to believe that it didn't have much flavour at all. Once I found whole nutmeg and grated it fresh in every recipe I discovered the joys of fresh nutmeg flavour.
How to Make Eggnog Cookies
One bowl cookie recipes are a lifesaver, especially when you are stretched for time. Mixing up these eggnog cookies couldn't be simpler.
Begin by adding the softened butter and sugar together in a large bowl. Use a wooden spoon and a little elbow grease to cream the butter and together until they reach a fluffy texture.
Next, add the egg yolk, eggnog, and vanilla (and rum if using). Mix the 'wet' ingredients together well.
Now it's time to add the dry ingredients (don't forget to leave out 1/4 cup sugar!). Simply scatter the salt, flour, baking powder, cinnamon, and nutmeg over the wet ingredients and mix the dough well.
The dough should be fairly stiff so that you can portion it out with a cookie scoop or tablespoon. Once portioned into 14 equal amounts, roll each ball with your hands, then dip each one into the reserved sugar.
Arrange each cookie dough ball on a silpat or parchment lined baking sheet. Be sure to allow at least 1-2 inches in between each cookie as they will spread out slightly during baking.
What is the Best Temperature for Baking Cookies?
It is generally accepted that a preheated 350 F oven is best for baking cookies and many other baked goods. This temperature bakes the inside and outside of the cookie evenly.
However, if you prefer chewier cookies try baking them at 325 F. The outside of the cookie will bake just a bit quicker than the outside, leaving the inside to be just slightly underdone.
Of course oven temperatures vary greatly and the time required to bake cookies to your desired doneness is a reflection of that temperature fluctuation.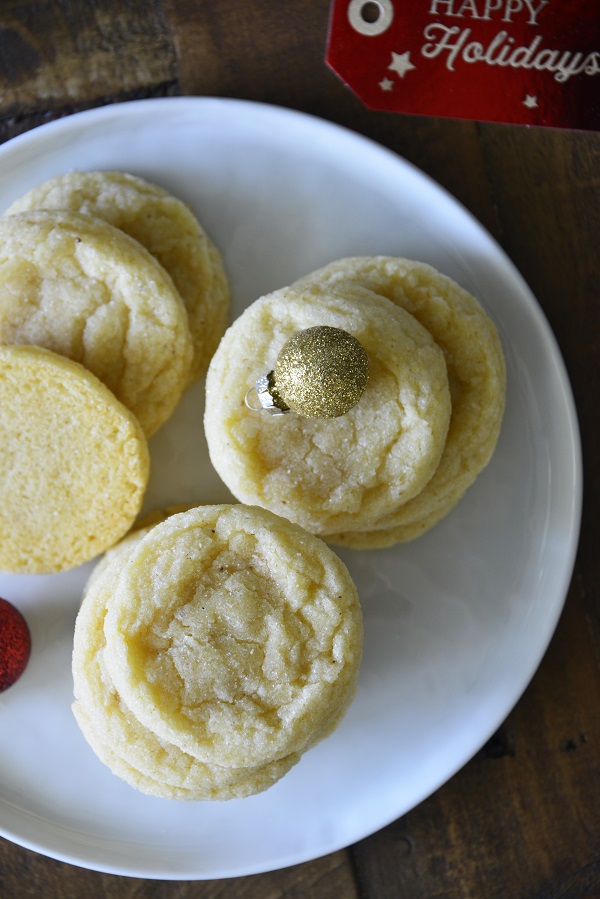 Baking the Eggnog Cookies
Whichever oven temperature you choose, always place the cookie sheet in the centre of the oven and set a timer so you can rotate the baking sheet partway through.
Using the change in appearance of the cookies as a guide is the best way to judge when the cookies are done. I like mine when they are just beginning to turn colour around the edges while others prefer them just set along the outside and just a touch doughy in the center.
Allow the cookies to cool on the baking sheet for ten minutes before removing to a cooling rack.
Storing Eggnog Cookies
Store the cookies in a cookie tin or jar, or any container with a lid for up to 5 days. The cookies also freeze well, making them both a great bake ahead AND last minute cookie.
Yield: 14 cookies
Eggnog Cookies
Looking for an easy, crowd pleasing last minute holiday cookie? These soft and chewy classic eggnog cookies are simple and quick to make. Best of all...they taste exactly like Christmas!
Ingredients
6 tbsp unsalted butter; room temperature
1 cup sugar; divided
1 large egg yolk
2 tbsp eggnog
1 tsp vanilla extract (or 1/2 tsp vanilla bean caviar)
1 1/4 cup flour
1/4 tsp salt
1/4 tsp baking powder
1/2 tsp cinnamon
1/4 tsp nutmeg; freshly ground
Instructions
Preheat oven to 350 F.
In a large bowl, cream butter and 3/4 cup sugar together. Mix in the egg yolk, vanilla, and eggnog.
Scatter the flour, salt, baking powder, and spices over the wet ingredients and mix together well.
Using a 1 1/2 tbsp sized cookie scoop or tablespoon, measure out the dough.
Roll each dough portion into a round ball then dip it in the remaining 1/4 cup sugar.
Place each dipped dough ball on a parchment or silpat lined baking sheet. Space them out so they have a bit of room to spread.
Bake until the cookies are set along the outside and just a touch doughy in the center, about 15 minutes, rotating the baking sheets partway through.
Cool the cookies on the baking sheets, then remove.
Nutrition Information:
Yield:
14
Serving Size:
1
Amount Per Serving:
Calories:

152
Total Fat:

6g
Saturated Fat:

3g
Trans Fat:

0g
Unsaturated Fat:

2g
Cholesterol:

41mg
Sodium:

58mg
Carbohydrates:

23g
Fiber:

0g
Sugar:

15g
Protein:

2g
Nutritional calculation was provided by Nutritionix and is an estimation only. For special diets or medical issues please use your preferred calculator.