Massaged Kale Salad with an easy Mandarin Vinaigrette is the most delicious way to enjoy this hardy winter green. Give those leaves a little extra love makes them so tender and converts even the most intense kale haters to kale lovers!
Eating more fruits and vegetables isn't a chore when they are mixed together in a stunning composed salad. Winter salads can be so tasty and nutritious, like this Pink Grapefruit Endive Avocado Salad or as simple as a Snap Pea Salad with Goat Feta.
Massaged Kale Salad with Mandarin Vinaigrette
YUM YUM YUM! This Massaged Kale Salad recipe has it all. Tender seasoned salad greens, crispy sweet and sour apples, toasted nuts, and beautiful eye catching textural accents.
The crunchy daikon stars and ruby red pomegranate seeds add seasonal inspiration, flavour, and texture to this composed salad. Never heard of Daikon? Read all about it over here.
Finally, the Mandarin Vinaigrette really allows all of the elements to shine together. It's simple to make…just add and shake the ingredients together, then pour.
Massaged Kale Salad
Do you think kale is over hyped? My husband sure does. I've attempted more than a few kale salads at home with mixed results but I know the perfect kale salad exists. Wanna know the secret?
The trick is to soften the kale leaves with oil and lemon. Spend a little time giving kale a little extra love and you'll be rewarded with tender, tasty greens that make a wonderful winter salad base.
And the haters? Converted!
How to Massage Kale
Physically massaging the kale may seem like a strange thing to do but it's a very useful culinary technique. The physical motion breaks down the cell walls of the kale and releases moisture. I use this same technique when I make sauerkraut and kimchi.
It's an easy technique to master. Begin with clean hands (always!) and clean, dry chopped kale (remove the stem first!) in a large bowl. Drizzle oil lemon juice and salt over the kale, then reach in and just knead it.
How long you massage the kale is up to you. Personally, I aim for slightly soft greens that can still hold their shape. Any longer than 2 or 3 minutes and the kale will become wilted and limp. No one loves a limp salad.
Ingredients List
Kale
Olive Oil
Lemon Juice
Salt
Apple
Pomegranate Seeds
Daikon
Sliced Almonds
Parsley
Mandarin Orange Juice
Ginger
Sesame Oil
Honey
Rice Wine Vinegar
Dijon Mustard (optional)
Shallots (optional)
There are many varieties of kale available during fall and winter months. The most commonly found kale in salads is basic green curly kale.
Tuscan kale (cavolo nero, black kale, or dinosaur kale) would be lovely in this salad. The leaves are straighter and slightly more wrinkled rather than curly. It is darker than curly kale and often has a more earthy or nutty flavour with less bitterness.
Russian Red Kale is smaller with flat variegated red leaves. It looks more like mature arugula leaves and has a similar peppery flavour.
Choose any apple variety you prefer. I like a sweet and tart apple such as Pink Lady or Honeycrisp. Apples oxidize rapidly after cutting so place them immediately in a bowl of cold acidulated water so they don't turn brown.
Buy a whole pomegranate and enjoy the adventure! Or splurge and buy them processed in a cup.
For those of you wondering what a Daikon is, it's a mild flavoured winter radish used in South and East Asian cooking. The striking white colour and characteristic crunch makes it a great choice for the cut out stars, however you could substitute apples or a firm white cheese, such as Havarti.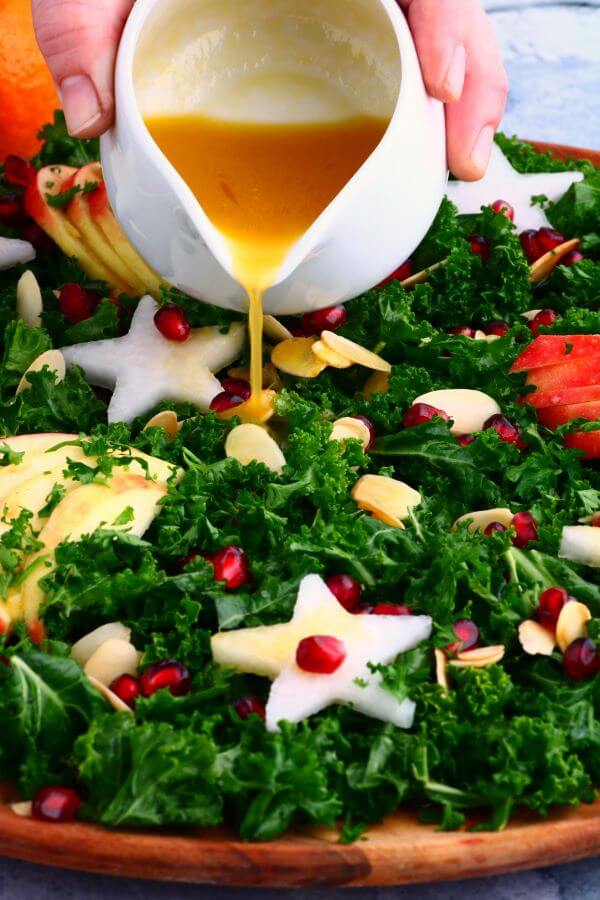 Yes, Kale is a SUPERFOOD
Can something so darn delicious also be healthy? You bet! Kale is a superfood (it contains multiple health benefits) and we all need to eat more of it. Now that you have this great recipe, you can!
Kale is high in fibre and loaded with antioxidants and Vitamin C. It is also an amazing source of Vitamin K and Vitamin A from Beta-Carotene. This nutrient dense cruciferous vegetable is said to help lower bad cholesterol, protect against cancer, heart disease, and type 2 diabetes.
How to Make a Mandarin Vinaigrette…it's SCIENCE
A vinaigrette, or vinegar based salad dressing is one of the simplest to make. There's a simple ratio of vinegar to oil (1:3) that is followed in order to create the perfect emulsified dressing.
This dressing contains a touch more mandarin orange juice and additional sesame oil for a more intense flavour.
The simplest way to make a vinaigrette is to add all the ingredients to a half pint jar, screw on the lid, and give it a good long vigorous shake.
The physical action will cause the vinegar to emulsify into the oil, where it stays suspended in little droplets or particles. The more energy you put into shaking the dressing, the smaller the particles.
Additionally, the smaller the particles present in the dressing the more stable it will be. However, no matter how long or vigorously you shake the emulsion, it will eventually separate.
You can avoid separation a little longer by introducing a stabilizer (such as Dijon mustard) to the vinaigrette. Or, you can just shake the jar again as needed.
How to Dress a Salad
This salad can be composed on a shallow platter or simply mixed in a deep salad bowl. The flavours are the same no matter how the salad looks right?
To dress a composed salad, simply drizzle the vinaigrette over the entire surface and serve with salad tongs. Keep a little reserved dressing for an extra drizzle once the salad has been plated.
Leftover Salad
Unlike many salads, this salad (and most green salads) does not get better if it sits for too long in the fridge. It is best to consume this entire salad once it has been dressed.