Braised German Red Cabbage is a simple side dish made of red cabbage. This sweet and sour favourite is a great compliment for any German meal, serving to cut through the richness of grilled or roasted meats.
Cabbage is often under appreciated but this cruciferous vegetable can be so delicious and versatile when you have the right recipe! It's wunderbar when fermented in traditional Sauerkraut or stuffed with ground meat and rice in Cabbage Rolls with Dill and Roasted Red Pepper.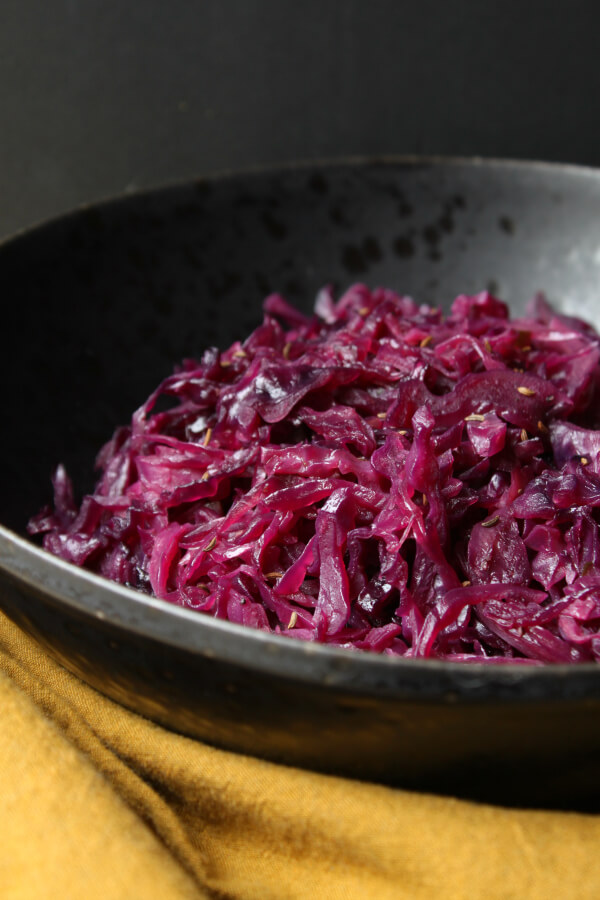 Braised German Red Cabbage
Rotkohl or Blaukraut (red cabbage) is a simple side that is near and dear to every German's heart. If you aren't a cabbage fan, allow me convert you with this recipe!
It's so easy to make this dish ahead of time, in fact it is even MORE delicious the next day. German Red Cabbage is the perfect dish to feed a hungry crowd and best of all, it is very healthy and economical.
This is pure comfort food that is served alongside so many hearty and rich dishes. The acidic component of the cabbage really cuts the richness of these dishes, serving to cleanse the palate. Sometimes I serve it with a batch of freshly baked Pretzel Bites and everyone is thrilled!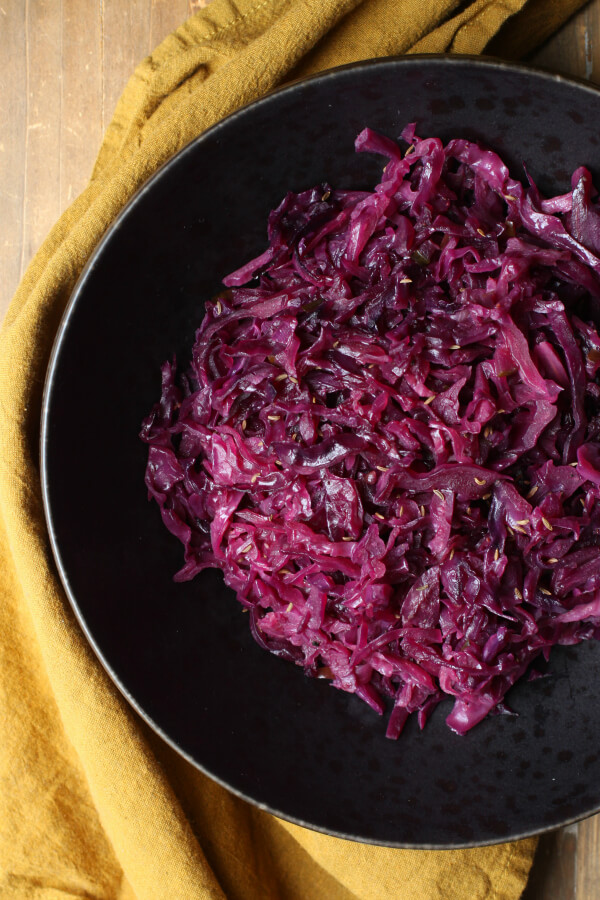 Red Cabbage Health Benefits
While this dish is considered a 'comfort food' it's relatively low in calories, fat, and carbohydrates.
Red cabbage is packed with great nutrients including Vitamins C and Potassium plus other benefits such as folate and special antioxidants (anthocyanins) that are only found in purple-coloured fruits and vegetables.
Cabbage and other cruciferous veggies are more nutritious after they have been cooked. The heat breaks down the plant fibres to release indole, a substance used for prevention of breast cancer, colon cancer, and other types of cancer.
Lastly, ever wonder why eating cabbage and other cruciferous vegetables causes bloating and gas? These veggies contain raffinose and sulforaphane, which become broken down into the sulfurous compounds during digestion.
It turns out that beyond the smells and gas they may cause, these compounds aren't all that bad as they may play an important role in cancer prevention.
How to Make German Red Cabbage
With very little preparation (except the slicing!) and a lot of cooking time, this stunning ruby coloured side dish is table ready.
To begin, remove the wilted outer layers and slice the cabbage in half. Remove the core from each half then cut each in half again. Shred each quarter using a sharp knife, food processor, or mandoline.
Heat the oil in large Dutch oven or heavy bottomed pot and sauté the onion on medium-high heat until it becomes translucent. Add the red cabbage, along with apple cider vinegar, wine, bay leaf, and grated apple.
Reduce the heat to medium-low, cover and simmer for 20 minutes, stirring occasionally.
Next, stir in the jelly then cover and cook for another 20 minutes, stirring occasionally until the cabbage is tender but not mushy.
Lastly, season with salt and pepper. If you prefer, you may thicken the sauce with a cornstarch slurry.
Set the cabbage to one side of the pan and stir one tsp cornstarch into 2 tsp of cold water. Add it to the sauce, and stir over medium heat until it begins to thicken. Stir the thickened sauce into the cooked cabbage and serve.
Flavour Variations
I've made many variations of braised red cabbage, it's just a little different every time I make it. However, this basic recipe is a great place to start creating your own version.
Change it up by adding chunks of apple instead of grated, and use any kind of red jelly you like. Apple cider vinegar adds another hint of sweetness, though you could also use red wine or white vinegar (or lemon juice) with a little sugar.
Next, consider the spices according to your personal preference. Traditionally, the recipe contains whole cloves, a bay leaf, and juniper berries. Sometimes there's also nutmeg. You can use all or none of these flavours.
Lastly, the red wine is entirely optional.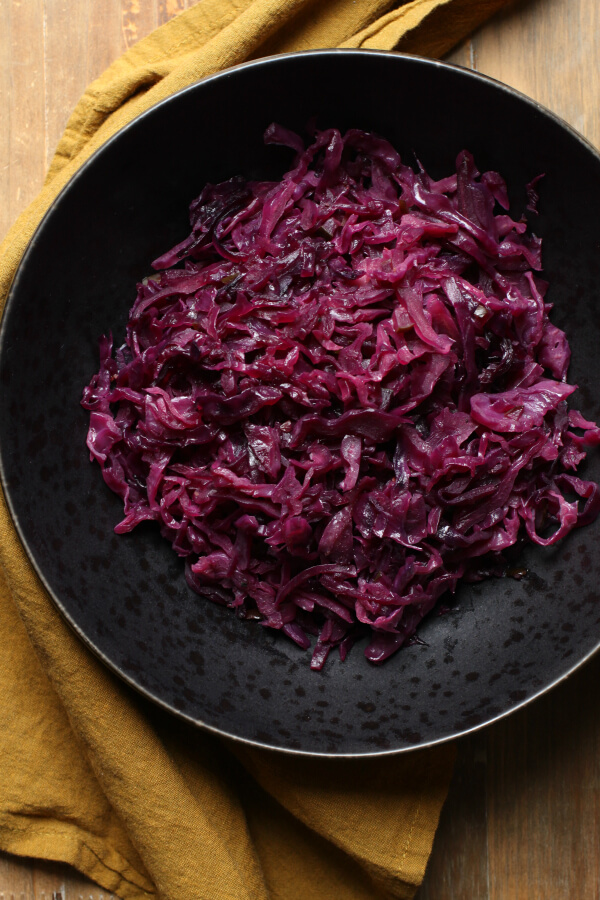 When is the Cabbage Done Cooking?
Deciding when the cabbage is done is entirely up to you. Many traditional German cooks cook it until it is very soft and falling apart. Others like it to have a bit of a bite. My version of German Red Cabbage is somewhere in the middle.
If you love this dish as much as we do, it's a good idea to double the recipe and keep the leftovers handy. The sweet and sour flavour develops as it sits in the fridge for up to a week. After that, you should discard any leftovers.
Great Dish Ideas to Serve with German Red Cabbage
This dish is traditionally served with Spätzle (German noodles) or Kartoffelklöße (Potato Dumplings) alongside rich meats such as roast duck or goose, Rinderrouladen, Sauerbrauten (roast beef) or Jägerschnitzel. Lecker Schmecker!!
Can German Red Cabbage Be Frozen?
Yes, you can freeze this dish to enjoy at a later date. I recommend allowing it to cool to room temperature then placing it in a freezer bag. Remove as much air from the bag as you can, then store it in the freezer for up to a year.
To reheat, thaw the cabbage in the fridge overnight then warm it up in a sauté pan or use a microwave.
Yield: 6 servings
Braised German Red Cabbage
This Braised German Red Cabbage (Rotkohl) is an easy side dish made of red cabbage. This sweet, tart favourite makes a great side for any German meal, grilled or roasted meats, or fish.
Ingredients
1 red onion; small diced
olive oil
1 medium head red cabbage: shredded
1/4 cup apple cider vinegar
1/2 cup wine (optional)
1 apple; grated 
4 tbsp red jelly (strawberry, cherry, red currant, apple, etc.)
bay leaf 
3 cloves (optional)
3 juniper berries (optional)
Instructions
Place onion and olive oil in a large high sided frying pan. Sauté over medium-high heat until onion becomes translucent.
Add shredded red cabbage, apple cider vinegar, wine, bay leaf*, and grated apple. Reduce heat to medium-low.
Cover and continue cooking for 20 minutes, stirring occasionally.
Stir in jelly, cover and cook for another 20 minutes, stirring occasionally until the cabbage is entirely softened.
Season with salt and pepper, then serve.
Notes
*If you enjoy a traditional German flavour also add 3 whole cloves and 3 juniper berries with the bay leaf.
Nutrition Information:
Yield:
6
Serving Size:
1
Amount Per Serving:
Calories:

131
Total Fat:

3g
Saturated Fat:

0g
Trans Fat:

0g
Unsaturated Fat:

2g
Cholesterol:

0mg
Sodium:

9mg
Carbohydrates:

24g
Fiber:

4g
Sugar:

15g
Protein:

1g
Nutritional calculation was provided by Nutritionix and is an estimation only. For special diets or medical issues please use your preferred calculator.