This Mexican Street Corn (Elotes) recipe transports you to the streets of Mexico for a mouthwatering street food treat without ever leaving your backyard.
Summer time and the grillin' is easy. I love it when fresh fruits and veggies hit the grill and hit their maximum flavour potential. Grill yourself up a Smoked Cherry Grilled Radicchio Salad. It's great on it's own or as a side dish for tasty Brined Applewood Smoked Chicken Thighs.
Mexican Street Corn
If you've ever been to Mexico, you know the Elote man, or elotero usually sells only two things; Duros drizzled with Valentina hot sauce and steaming hot Elotes. These are two very authentic Mexican street food treats that are almost impossible to resist!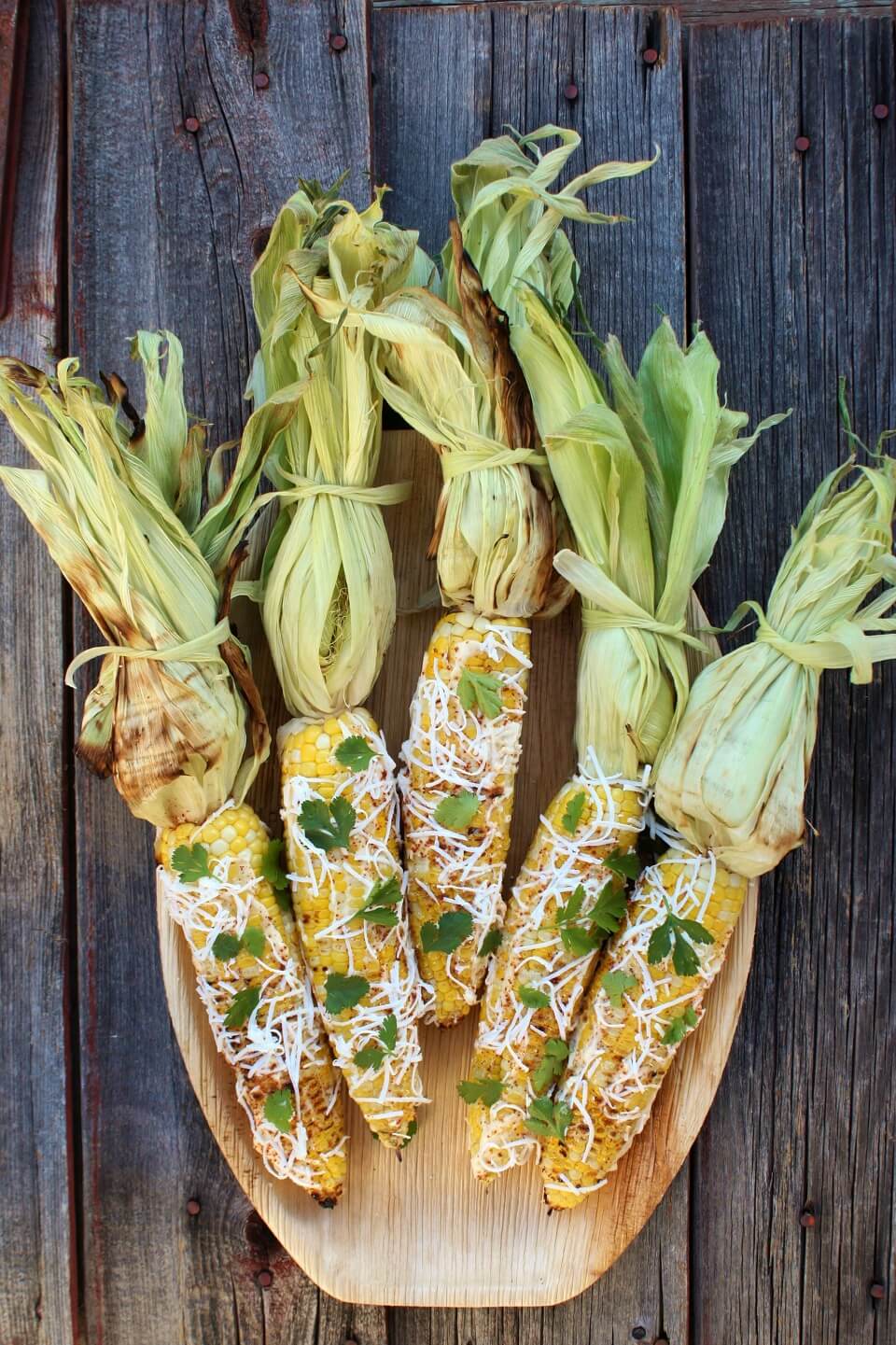 At the height of summer, when corn is at its peak, we'll throw a few cobs on the grill every chance we get. Cooking corn on the barbecue allows it to pick up flavours that it cannot get from boiling or microwaving.
Add Tajine spice, mayonnaise, cotija cheese, cilantro, and a squirt of lime (don't forget the lime zest!) to all that charred goodness and you'll have one tasty side dish for dinner.
All those flavours together are like a fiesta in your mouth, transporting you thousands of miles to the streets of Mexico.
What is Mexican Street Corn?
Mexican Street Corn, or Elote (pronounced eh-loh-tay) is a popular snack sold by eloteros on the busy streets of Mexico. While meso-american countries have eaten elote as part of their diet for thousands of year, Mexican Street Corn, often called Elotes locos is corn on a whole other level.
At all begins with an ear of sweet corn, pre-cooked in it's husk. Then, the cob is peeled and grilled over coals often until the kernels become dark and crunchy. Other versions use boiled or steamed cobs of corn.
The elotero then tops it with additions according to the customer's preference. The most popular condiments are butter, mayonnaise, Tajin seasoning, lime juice, salt, cilantro, and of course cotija cheese. 
Ingredients
fresh corn
mayonnaise
cotija cheese
Tajin
Limes
cilantro
Buy whole ears of corn if you can (not pre shucked). This ensures your corn remains fresh and doesn't dry out as it cooks. Look for fresh green husks and plump juicy kernels.
Lime wedges and chopped cilantro are not optional here. Go a step further and zest the limes for an additional topping. You want this corn to be like a party in your mouth!
And finally, the cheese. Cotija is a firm, dry, salty, cow's milk Mexican cheese named after the town it hails from. Younger cotija is wetter and crumbles like feta whereas older cheese is dryer and is easier to grate.
If you can't find cotija cheese at your nearest grocery store, crumbled queso fresco or feta cheese make great substitutions.
What is Tajin?
Tajin is a popular Mexican dry seasoning made with three hot peppers (chiles de árbol, guajillo and pasilla), dehydrated lime, and salt. I first had it on a perfectly ripe mango, but you can use it on pineapple, strawberries, melon, cucumber and corn (including popcorn!). We also enjoy it as part of our spicy margarita rimmer.
How to Prepare Corn to Make Mexican Street Corn
While Authentic Elote Mexicana has a wonderful smoky bite from charcoal grilling, you can cook the corn any way you like. You can even add some char to boiled or microwaved corn by grilling them on high heat until they turn colour.
Corn on the Grill
The best way to grill an ear of corn is to leave the husk on and place it on a very hot grill. If you start with really fresh green husked corn, there is no need to soak it first. Keeping the entire husk on (silks included) will protect the corn from drying out.
Preheat the grill to 550 F and place the corn directly over the hot burners. Grill covered, turning the cobs occasionally so that the husks are charred on all sides. This should take 15-20 minutes.
Let the grilled corn cool for a few minutes, then remove the silks and charred husks.
Simple Boiled Corn on the Cob
This is how I grew up eating corn and it is the simplest way to prepare it. It was always my job to shuck the corn and I took great pride in shucking a clean cob of corn, free of all the silks.
Bring a large pot of salted water to a boil, then add the shucked corn. Boil the cobs for 8-10 minutes or until they become tender. You'll want to dry the corn before adding any toppings for best adhesion.
How to Microwave Corn on the Cob
It's always fun to experiment with new flavours and techniques. Just last year I started cooking corn, husks and all in the microwave. It's much easier to just zap them in there for about 5 minutes, instead of peeling them raw and boil a huge pot of water.
After 5 minutes in the microwave, grab the stem end and push the cob right out. If it doesn't remove easily, put them back in the microwave for a few more minutes.
Putting it All Together
Place the mayonnaise in a small bowl and have the tajine shaker nearby. Next, place toppings (chopped cilantro, cotija cheese) in separate containers with another clean plate close by. Finally, zest the lime and slice it into wedges.
To assemble the Elotes, use a pastry brush to slather the mayo onto a cooked, dry cob of corn. Season it all over with the tajine spice.
Next, hold the coated corn over the clean plate and scatter the toppings evenly over the entire surface, turning as you go. Place each elote on a platter, then drizzle with crema, if using.
Serve warm with a lime wedge.
How to Eat Mexican Street Corn
Mexican Street Corn is best eaten straight away, preferably with a napkin. Sometimes the husk is left on to make a convenient handle but mostly it is served on stick.
Who doesn't love street food on a stick?! There is no clean or graceful way to eat corn on the cob, you just have to go for it and damn the consequences.
Of course if you want to be really fancy, or if you are unable to eat it straight from the cob, cut the corn kernels off the cob with a sharp knife. If you mix it with all the same ingredients as your elotes but eat it in a cup, just call it esquites like the locals do. Any way you eat this corn it's crazy delicious. 

Yield: 5 Cobs
Easy Mexican Street Corn Recipe
This version of Mexican Street Corn, or Elotes, transports you right to the streets of Mexico for the ultimate taste sensation without ever leaving your backyard.
Ingredients
5 cobs fresh sweet corn
Mayonnaise
Cotija cheese; shredded (or feta)
Tajin spice
fresh cilantro
fresh lime wedges (to serve) 
Instructions
Prepare the corn by shucking off any dry or brown husks. Do not remove all of the husks.
Place whole cobs in the microwave and cook on high for 5 minutes. Pre-heat grill.
Remove from microwave and carefully peel back husks. Tear off one small strip and use it to tie the bunch of husks back. This makes a handy place to hold the corn.
Place cobs on hot grill, making sure the husks are not over direct heat. Grill until the corn becomes slightly charred. About 5 minutes.
Slather mayonnaise all over the corn. Shake Tajin (or chili lime spice mixture) all over the corn.
Hold corn over serving platter and scatter shredded cotija cheese (or feta) all over. Garnish with lime zest and cilantro. Serve warm with a lime wedge.
Nutrition Information:
Yield:
5
Serving Size:
1
Amount Per Serving:
Calories:

133
Total Fat:

5g
Saturated Fat:

2g
Trans Fat:

0g
Unsaturated Fat:

3g
Cholesterol:

7mg
Sodium:

205mg
Carbohydrates:

21g
Fiber:

3g
Sugar:

4g
Protein:

5g
Nutritional calculation was provided by Nutritionix and is an estimation only. For special diets or medical issues please use your preferred calculator.