This version of Mexican Street Corn, or Elotes, transports you right to the streets of Mexico for the ultimate taste sensation without ever leaving your backyard.
Fresh Corn on the Farm
Fresh corn on the cob in season is a wonderful thing. Sweet and juicy, it's a real late summer treat. My mom always tried to grow corn but never really had any luck at it. It just wouldn't grow in her soil. Meanwhile, 10 kilometers away, my grandma always had a bumper crop. When the time was right, we were always invited over for a feed of nothing but boiled corn smothered in butter.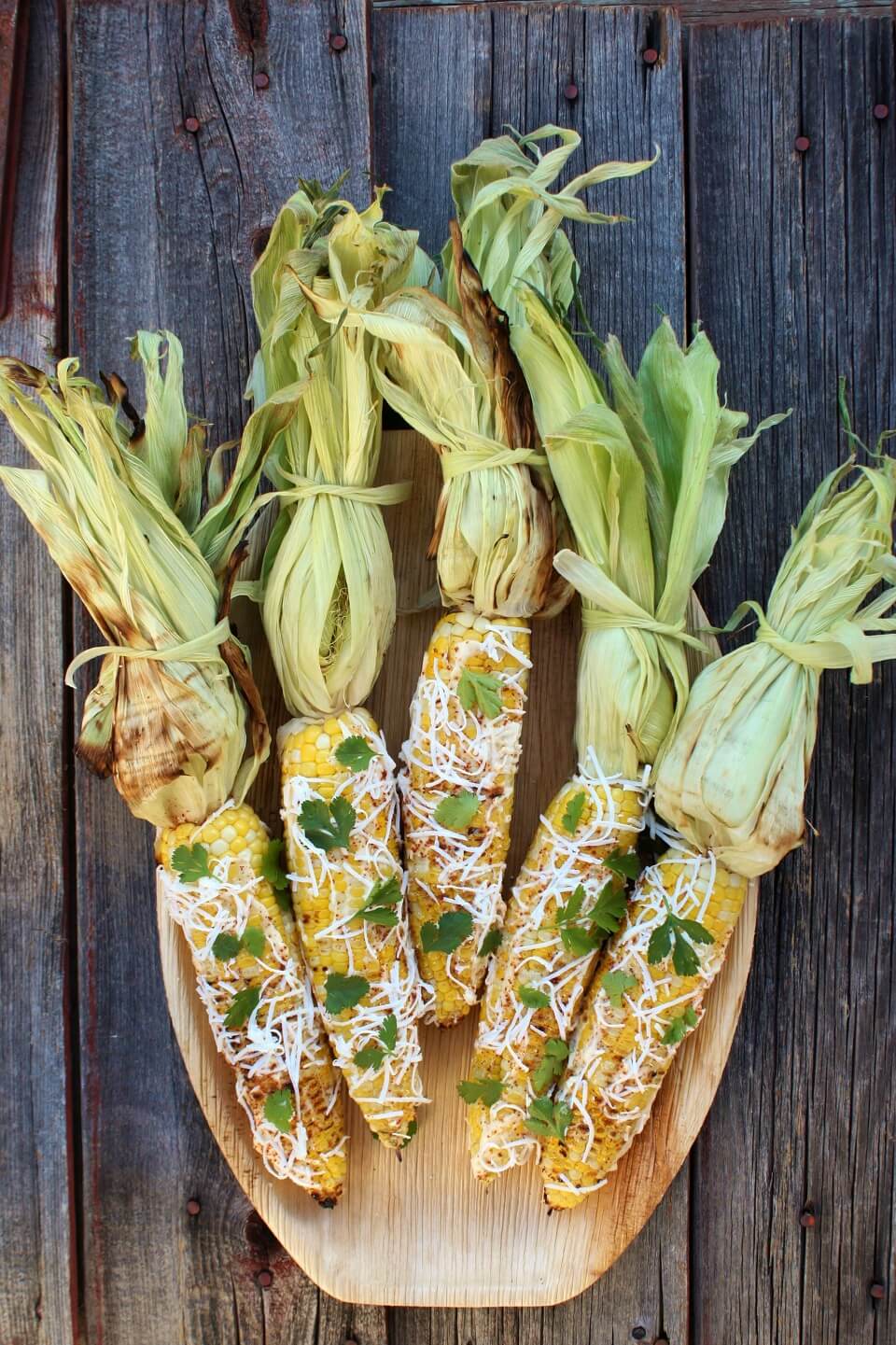 A New Way to Eat Corn On the Cob
While butter is always better, it's always fun to experiment with new flavours and techniques. Just last year I started cooking corn, husks and all in the microwave. It's much easier to just zap them in there for about 5 minutes, instead of peeling them raw and boil a huge pot of water. Especially when it's hot in the kitchen! After 5 minutes in the microwave, just grab the stem end and push the cob right out. If it doesn't remove easily, put them back in the microwave for a few more minutes.
Mexican Street Corn
While meso-american countries have eaten elote as part of their diet for thousands of year, Mexican Street Corn, often called Elotes locos is corn on a whole other level. This more well known version begins with a cob pre-cooked in it's husk. Then, the cob is grilled over coals often until the kernels become dark and crunchy. The elotero then tops it with additions according to the customer's preference. The most popular condiments are butter, mayonnaise, chile powder, lime juice, salt, and of course cotija cheese.
How to Eat Mexican Street Corn
Mexican Street Corn is best eaten straight away, preferably with a napkin. Sometimes the husk is left on to make a convenient handle but mostly it is served on stick. Who doesn't love street food on a stick?! There is no clean or graceful way to eat corn on the cob, you just have to go for it and damn the consequences. Of course if you want to be really fancy, or if you are unable to eat it straight from the cob, cut it directly off the cob with a sharp knife. If you mix it with all the same ingredients as your elotes but eat it in a cup, just call it esquites like the locals do. Any way you eat this corn it's crazy delicious.
Grilling Dishes from Dish 'n' the Kitchen
Dinosaur Eggs AKA Spicy Meat Bombs
Grilled Peach Fruit Salad with Burrata and Lime Vinaigrette