I have a confession to make. I have been interested in the big 'O' for quite some time now. It's not Oprah, it's okra**. Probably not as exciting as what you were thinking of hey? I'm going to go out on a limb here and say that most readers here have never had okra. You may know that it is a vegetable, known to be slimy and somewhat bitter. Maybe that is off putting enough to keep you away from it for good. For me, it is a challenge. My family has never had okra and so when I saw the really green, fresh looking small okra at T&T on Monday I grabbed a bunch. And so with okra on my mind today, I googled. I hit upon recipes for stewed okra, fried okra, baked okra. This recipe had to be perfect. This recipe had to be delicious and not slimy the first time or I would risk forever my family's wrath upon the innocent little vegetable.
A great online place to find basic recipe ideas is Allrecipes.com. What is even better are the comments  or reviews of each recipe that you find if you scroll down the page. Today I found what I was looking for there,  way at the bottom.  The suggestion was quite familiar as this is basically how I always make my asparagus and my family loves it. I figured if they love the asparagus version, why not try it with okra?  Here is the recommendation from Allrecipes.com user 'Nancygrace' for roasted okra:
In a bowl, I mixed the olive oil with balsamic vinegar,  garlic powder and salt, added quartered, halved small (seeded) tomatoes, a chopped onion and the okra and tossed to coat. I baked it on a cookie sheet until the vinegar caramelized, then lightly sprinkled it with shredded Parmesan cheese and returned it to the oven for 5 minutes to melt. 
I followed her instructions using minced garlic instead of powdered and omitted the onion.  Kid two came into the kitchen at this point and had a hairy fit exclaiming, "Ew! Chilies and tomatoes, I'm not going to eat that!" I just smiled and let her think they were chilies. I didn't want her to go upstairs and google 'okra' and come back down with preconceived notions. I roasted the okra/tomatoes at 425F for about 25 minutes until they were nice and brown. Brown is good!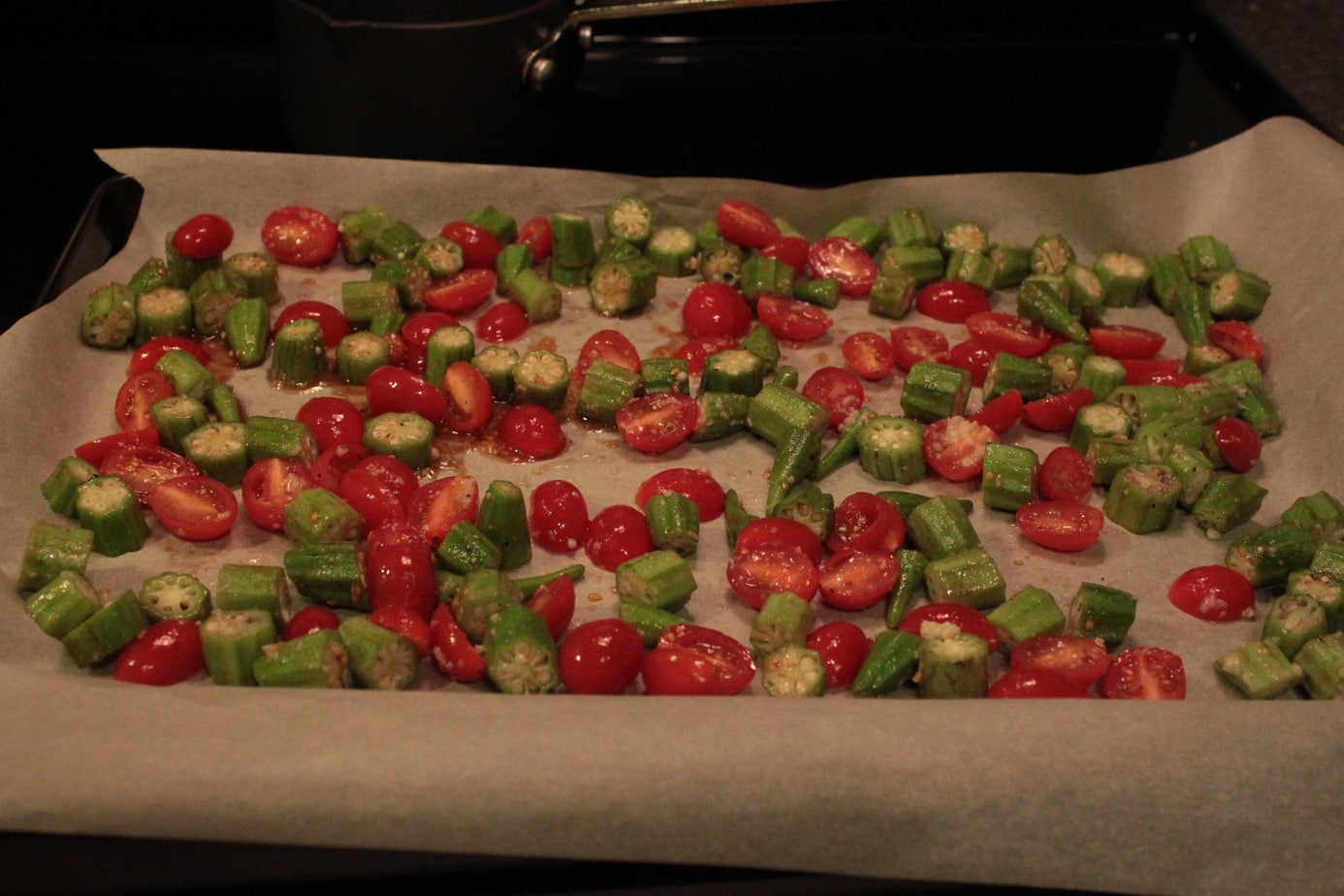 Then I boiled Campanelle and sauteed the chorizo. When the pasta was done boiling I added it to the chorizo to brown it up a bit and get that delicious 'juice' all over it. Then I added the roasted okra/tomatoes. Each plate was finished with some EVOO (Picual*), Parmesan and well seasoned.
I have to say that it was delicious! That same earthy/green grassy smell that emanated from the raw okra was evident in it's flavour. It wasn't slimy or bitter and I was very happy to have paired it with the tomatoes, balsamic and chorizo. With Parmesan added how could you go wrong?
The fresh Campanelle, chorizo, and Picual Extra Virgin Olive Oil were purchased today at Soffritto.  They have many varieties of olive oil and specialty vinegars available for tasting and bulk purchasing.
*While much of the Picual EVOO from the Picual variety of olives comes from Spain, this particular oil is from Australia. Which makes it even better in my opinion!
**Interesting facts about okra:
1)Though called by many different names, okra is used in dishes all around the world, from gumbo (USA), the Caribbean, to Africa, the Philippines, Spain and Portugal, India and Pakistan, the Middle East and many other parts of Asia. Apparently, Saskatchewan is the only place that DOESN'T eat it!
2)Okra is high in fibre, antioxidants, folate,Vitamin C, Calcium, and Potassium
3)Some cultures prefer the 'slimy' vegetable in stews and soups whilst others prefer to avoid this texture. Rapid cooking (stir frying), adding acids, keeping the pods whole, and extreme slow cooking (gumbo) are ways to avoid the 'slimy' texture.
4)While mainly utilized in a savoury manner, okra is technically a fruit.
(source:wikipedia)