This Tasty Apple Sausage Stuffing will quickly become your new favourite holiday side dish. It features classic stuffing ingredients along with large bites of savoury English sausage and sweet bits of apple. Stuff your turkey, chicken, or just make a large pan full and bake separately.
During the holidays, our family always gobbles up the stuffing. To keep everyone satisfied, I always make two kinds of stuffing: My famous Spinach Stuffing Balls and a more Traditional Style Stuffing. Sometimes there's even enough for leftovers!
Tasty Apple Sausage Stuffing
How do you describe your ideal turkey stuffing? Does it have large cubes of moist buttery bread with crispy edges and a sage forward poultry seasoning? If it does, then you are in luck.
This Apple Sausage Stuffing is all of the above and more! Finely chopped fresh and dried herbs flavour the day old bread while large bites of pork sausage and apple accent in contrast and in flavour.
Essentially, this stuffing recipe makes the classic dish my family has been making for generations, along with a little twist. It can be stuffed and cooked inside your holiday turkey or baked separately in a baking pan.
Turkey Stuffing Safety
I come from a long line of turkey stuffers. However, in more recent years, there have been questions raised about whether it is safe to cook a turkey stuffed. During roasting, the stuffing absorbs the raw turkey juices and is unsafe to consume unless it reaches 165 F.
To safely stuff your holiday turkey, pack the stuffing loosely inside the turkey cavity immediately before roasting. This allows the heat to move around the stuffing and keeps it from getting too moist.
Then, check the internal temperature by inserting a thermometer through the meat and into the center of the dressing. Since you're looking for an internal temperature of 165 F., there is a chance the rest of the turkey may have reached a higher temperature and thus, be overdone.
The solution is to cook the Thanksgiving Stuffing in a separate baking dish. There will be cross contamination with turkey juices and less chance the turkey will be overcooked.
Apple Sausage Stuffing Ingredients
This stuffing is a very basic recipe made with simple ingredients. What makes this stuffing so very delicious is a good amount of poultry seasoning and aromatics such as celery, garlic, and onions. The sausage and apple bring a whole new dimension to this classic stuffing.
Bread
Celery
Onions
Garlic
Dried Summer Savory
Poultry Seasoning
Sausage
Apple
Chicken Stock
Butter
Cream
Salt
Pepper
Let's start with the savoury trio of aromatics. Onions, celery, and garlic are essential for a flavourful stuffing. Just say no to powdered equivalents!
Poultry seasoning is a blend of herbs and spices that includes a combination of dried ground sage, savoury, thyme, rosemary, marjoram, black pepper, and nutmeg. Fresh spices make for the most aromatic stuffing so if you've had your for a while, now is the time to replace it.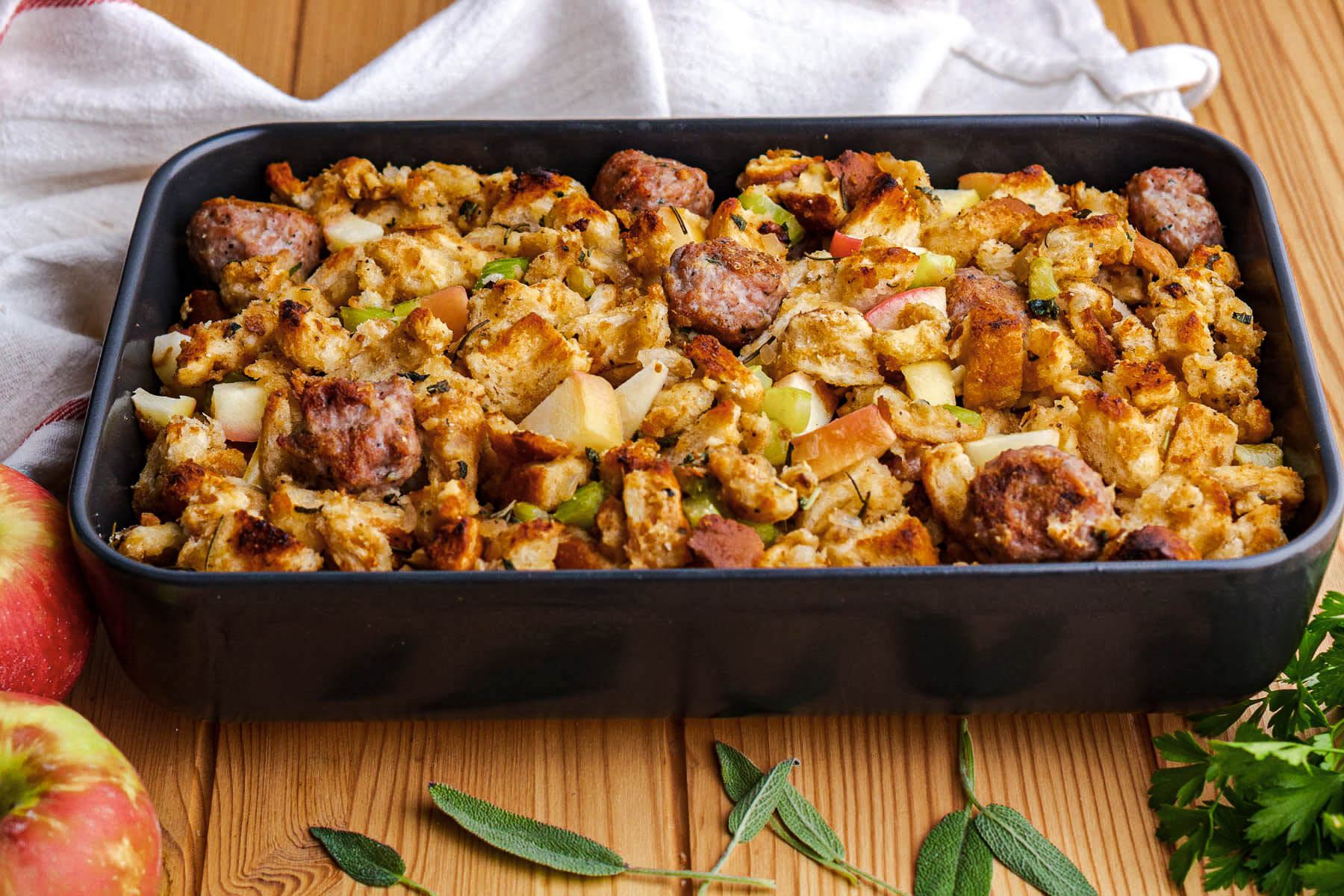 Summer savory is a northern hemisphere herb. It is especially popular in Eastern Canada where it often replaces sage in dishes. It's also one of several herbs de provence. It may be difficult to source, so feel free to add in some chopped fresh sage, thyme, and rosemary if you have them.
The flavours in English sausage really pair well with summer savory, poultry seasoning, and apple. However, mild Italian sausage or even breakfast sausage would also work well. Or, try a pork and apple sausage for extra apple flavour!
It's important to have just the right amount of moisture in stuffing. A good test for the moisture level is to gently squeeze a handful of the mixture. If it clumps together, it's perfect.
If not, just add a bit more cream or stock until it begins to stick together (but not so much as to make it mushy). Feel free to omit the cream and add more stock, if you prefer.
What Kind of Bread is Best for Turkey Stuffing?
In short, you can use any bread you like in stuffing as long as it has been properly dried. I prefer whole wheat, or white bread but not sourdough bread as I don't love the sour flavour in my stuffing.
Cornbread stuffing is absolutely delicious with sausage stuffing, though the dressing will have a slightly sweet flavour.
How to Make Apple Sausage Stuffing
The night before (or earlier if you remember), tear bread up into smaller pieces and let it dry out on a baking sheet overnight.
If you forget and are stuck for time, tear a loaf of bread into pieces and dry them out in your oven. If the bread isn't dry, you may end up with overly mushy stuffing and the texture can be quite off-putting.
Sauté the vegetables, along with one tablespoon of melted butter, in a frying pan until they become soft and translucent. Add the finely chopped garlic, poultry seasoning, and savory. Sauté a few more minutes and season with salt and pepper then set aside.
Remove the sausages from their casings and break them into one inch pieces. Fry them in the same frying pan until they are golden brown and cooked through.
Place the torn bread cubes in a large bowl and add in the softened vegetables with the seasonings. Pour the cream, chicken stock, and rest of the melted butter into the bowl.
Add sausage, then core and chop the apples to add in last. Mix well, and test the moisture level, adding more stock as needed.
Place the stuffing in a 9×12 prepared baking dish. Cover with aluminum foil and bake at 350 F for 30 minutes. After 30 minutes, remove foil and broil until the top becomes golden.
How to Store and Reheat Stuffing Leftovers
Store leftover stuffing in the fridge for 3-5 days. Reheat fully in a microwave or place in a covered baking dish and reheat in a 350 F. oven for 10 to 15 minutes.
Join Me for Saturday Brunch!
Join the Saturday morning newsletter and get cozy with a cup of coffee. Inside you'll find free recipes, giveaways, and more. It's such a delicious way to start the weekend!
By clicking subscribe, you agree to share your email address with the site owner and receive emails from the site owner.
If you make this Tasty Apple Sausage Stuffing recipe, please be sure to leave a comment and/or give this recipe a rating! Be sure to follow me on Facebook and Pinterest for my latest recipes. Also, if you do make this recipe, please tag me on Instagram, I'd love to see what you guys are making! Thank you so much for reading my blog.